Posted: Oct 02, 2013 10:00 AM
Oversize totes and roomy shoppers have made the handbag rounds the last few seasons, but fall is welcoming the structured bag. These geometric handbags are on trend and roomy enough for a mom on the go.
Why you need a structured bag
Tempted to pick up another roomy tote this fall? Shoppers and slouchy bags offer lots of room for moms, who often find themselves toting extra water bottles and abandoned toys alongside wallets, cell phones and itemized schedules with corresponding notes — but they can look sloppy or turn into a black hole of mints and miniature cars. Structured purses provide a little more form with the same amount of room, adding fashion and function to the space moms require.
What to buy if you're feeling blue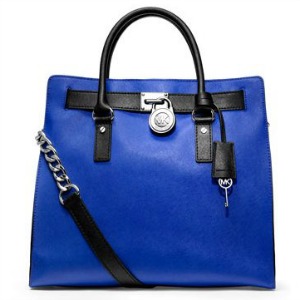 The Hamilton Saffiano Leather Tote by MICHAEL for Michael Kors is a leather bag that combines jewel-toned sapphire blue with classic black leather detailing (Macy's, $358). 18K gold hardware gives the bag an elegant finish that pairs well with the ladylike feel of a structured bag.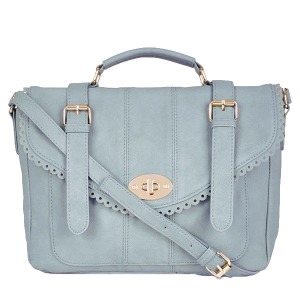 A scalloped edge adds extra femininity to the ice blue Topshop Cutwork Trim Satchel (Nordstrom, $68). The faux-leather bag can be worn cross-body or carried by the structured handle. The silver hardware lends a cool finish to the pale blue bag, crafted from easy-to-clean polyurethane.
Try a structured bag in neutral tones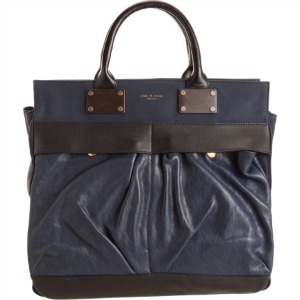 If you're looking for a splurge bag this fall, the Large Pilot Bag from Rag & Bone will be a favorite for years to come (Barneys New York, $925). Soft navy lambskin accented with black cowhide, a sleek double handle with detachable shoulder strap and a zippered external pocket to keep your most importable belongings safely accessible all make this bag a must-have for handbag lovers.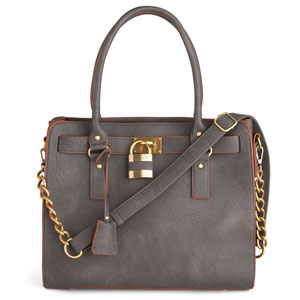 ModCloth's Full Course Load Bag in Charcoal is designed to get university students through a day of classes but is perfect for busy moms (Modcloth, $98). The polka-dot lining is bright enough to see even the very bottom of the bag, and the rust-colored piping adds a tiny pop of visual interest to the gray handbag.
Structured bags in standout shades
Brown leather may not seem like a daring choice for a new handbag, but the Lafayette Satchel by Cole Haan stands out from the crowd (Zappos, $328). With the combination of brown and black leather, modern geometric lines and Cole Haan's signature logo, this bag will make an impression this fall while finding a permanent place in your wardrobe.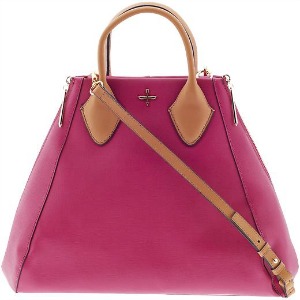 Make a statement with the Yves Medium Satchel by Pour La Victoire (Piperlime, $385). Neutral details pop against the fuchsia leather, but the unique beauty of this bag is in the triangular structure. Taking the concept of the structured bag and infusing it with a fresh shape makes this an exciting accessory choice this fall.
More about fall fashion
How to wear white this fall
Styling tips for boyfriend jeans
How to wear leather at any age