Posted: Oct 16, 2013 8:00 AM
This season the style is to incorporate leather (or faux leather) into your everyday outfit. From leather details on pants to a fit-and-flare dress, this is one trend not to pass up.
Wearing leather used to be just for members of a rock 'n' roll band and not your average mom picking up their kids at school. Thank goodness times have changed and leather is an easy and chic way to glam up your wardrobe or add a little edge to a ho-hum outfit. Another thing that has changed about leather is the way it's worn. A leather jacket is classic and timeless but now we're seeing leather incorporated as a detail on everyday items like jeans and dresses. Here's a look at a few ways that as a mom, you'll be able to pull-off this new leather trend.
Casual chic
Yes, even T-shirts and sweatshirts are getting in on the leather trend this season. If you're not quite sure about wearing leather, there's more ways than one to try it out before you jump into the trend with both feet. For example, try a leather-trimmed T-shirt with your everyday skinny jeans and moto boots for a casual daytime look. You probably won't notice the difference from your other T-shirts but you'll get a lot more compliments. If you're ready to give the trend a thumbs up, try this sweatshirt top with a pencil skirt and booties for date night with your honey.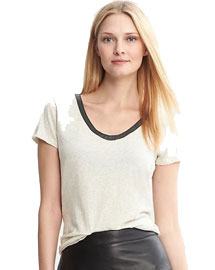 Bailey44 Stolen Bride Sweatshirt Top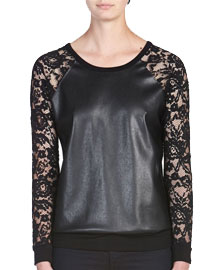 Dressed up
With holiday parties just around the corner, a leather skirt or dress is a great way to showcase your style. While real leather can be very pricey, especially when it comes to a dress or skirt, faux-leather is not only animal friendly but also budget friendly. With both of these dressy pieces priced under $80, it makes the leather trend something that everyone can afford to wear. If you're a fan of the trend, the leather dress can be worn to every occasion on your calendar this season and looks great paired with fall's leopard print heels.
Ark & Co. Vegan Leather Cutout Dress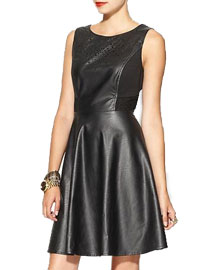 Leather details
When it comes to leather, just a little can make a big statement. Mixed material items like a cotton T-shirt with leather capped-sleeves add dimension to an everyday outfit. As a stay-at-home mom, it's easy to talk yourself into wearing a leather T-shirt, while a dress may be harder to convince yourself that you'll wear it enough. For work, it's easy to pair the T-shirt and the faux leather jacket with a pencil skirt and ankle boots for a stylish look that goes from 9 to 5 and even for happy hour after.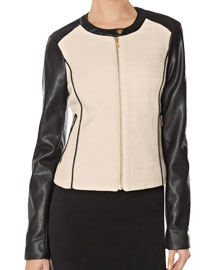 More on fall fashion trends
How to wear white into fall
Fall accessories: From punk to pearls
Can you really wear leather this fall?