Posted: Nov 06, 2013 7:00 AM
There might have been a time when fashion frowned on wearing your sterling silver earrings with gold bangles, but fashion likes to break its own rules. Mixed metal accessorizing focuses on the purposeful combination of gold, silver and other metal finishes.
I have two favorite necklaces — at least this month — one is gold and one is sterling silver. There are days I wear them together, and though they're definitely not trendy necklaces, a year ago I wouldn't have mixed the metals at all. Mixed metals add depth and interest to jewelry, and these eight pieces will give you the option of just how big of a statement you want to make with your jewelry.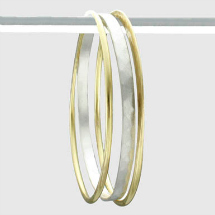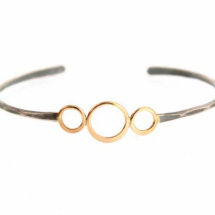 If you're unsure about mixing metals, bracelets are the perfect place to experiment — particularly bangles. Three bangles make up the Marjorie Baer Three Hammered Bangles Bracelet. The two gold and single silver bangles show lovely detail when seen up close — the thicker silver bangle shows hammered detailing, while one of the gold bangles has a small twist.
The 3 Gold Ring Oxidized Silver Cuff is deceptively simple yet marries gold and silver in a single cuff. The various sizes of the three gold rings center the handmade cuff on your wrist, while the oxidized finish of the rest of the bracelet allows for elegant depth. This is a piece with which you can fall in love easily — it's small enough to wear daily or could be paired with bangles for a real statement.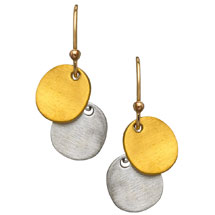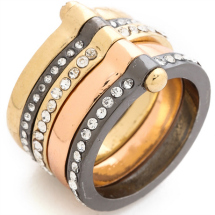 The Philippa Roberts Jewelry Gold and Silver Tiny Ovals Drop Earrings are simple enough to wear with everything from a boat neck sweater and jeans to a little black dress. The small gold and silver discs let you choose which direction to take the rest of your accessories — both gold and silver will work with this style. The rich gold is the perfect touch of warmth to have next to your face during the winter months.
Mixed metals and two sizes of crystals make this Club Monaco Monique Stacking Ring fun to slip on your finger for a sparkling girls' night out. Three metal finishes and three rows of crystals on the five connected rings provide visual interest for this piece.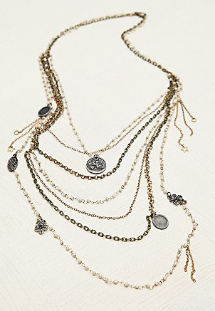 Each bit of the Multi Charm Rosary seems simple. Yet when all of the layers of mixed metal chains and delicate charms are put together, this is an inexpensive way to try out the mixed metal jewelry trend in a big way. Wear it with a deep v-neck or let it peek out from between your blazer lapels. Either way, this necklace will add polish to your look.
From the time she designed her first mixed metal jewelry pieces, Rachel Dooly has married industrial stones, various metals and unexpected materials to build Gemma Redux into a design studio always looking for innovative accessory pairings.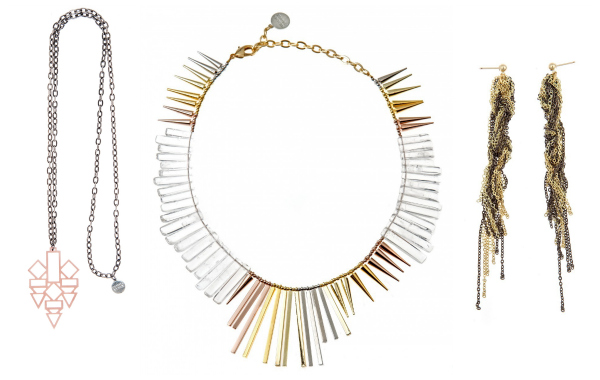 The clean, geometric lines on the Mayan Rose Gold Pendant Necklace add lightweight shine and a warm finish to the classic pendant necklace ($164). For something with more dramatic impact, try the Priya Crystal Necklace ($387). Silver and four different gold finished spikes and bars contrast beautifully with crystal quartz, giving the necklace both industrial and ethereal qualities. Yellow gold, green gold and gunmetal chains twist together to form the Kadi Earrings, a versatile piece that can transition from day to night simply by sweeping up your hair and letting the earrings shine ($216).
The bottom line
Like the materials from which they're made, mixed metal jewelry pieces can be dressed up, down or any which way. You'll find you can pair them with virtually any piece of your wardrobe and completely transform your outfit — so pick up one or two pieces this winter and let them update last year's winter favorites.
More about jewelry trends
Store your jewelry with this DIY earring holder
Trendy accessories from punk rock to pearls
Accessorize with this pretty and practical jewelry