Posted: Nov 21, 2013 10:00 AM
No mom jeans allowed! We have rounded up the hottest celebrity mom denim looks you can incorporate into your own fall wardrobe. From Jessica Alba's chic distressed denim to Kate Middleton's must-have skinny jeans and Gwen Stefani's printed denim, we have found the hottest trends in jeans that you will love this fall!
It's jean and sweater weather! We have rounded up the hottest denim trends this year, courtesy of some of our favorite celebrity moms.
Jessica Alba's boyfriend jeans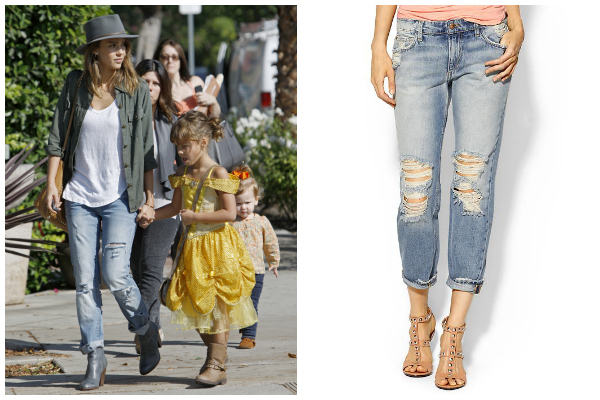 Boyfriend jeans are a must-have in your winter wardrobe. They are not only trendy, but comfortable to boot! Jessica Alba, seen here with her daughter Honor, looked casually chic as she paired her distressed boyfriend jeans with a white tee, button front top and booties. Boyfriend jeans have a more relaxed fit than regular jeans and are worn cuffed or rolled up, making them the perfect choice to show off your new booties or embellished flats.
Copy her look with Joe's Easy High Water Jean (Piperlime, on sale for $87).
Kate Middleton's dark skinny jeans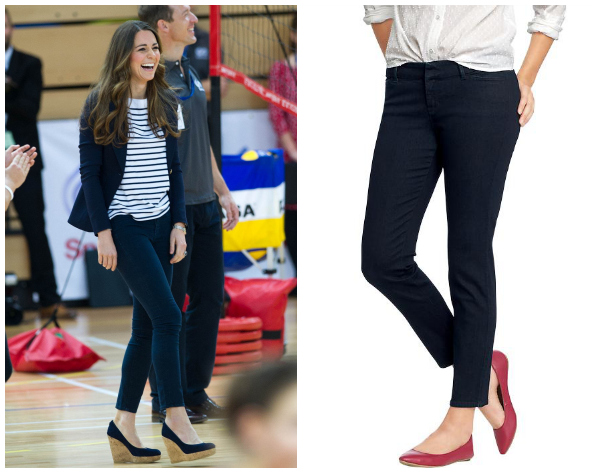 New mom Kate Middleton was spotted this month looking classic, yet chic, wearing her favorite dark skinny jeans paired with a navy blazer and wedges. The Duchess of Cambridge is wearing her favorite cropped J. Brand 811 Mid-Rise Skinny Leg Jeans (J Brand Jeans, $169), which have just the right amount of stretch to make them both flattering and comfortable.
You can also copy her look in these budget-friendly Old Navy The Diva Skinny Ankle Jeans (Old Navy, $29).
Gwen Stefani's printed jeans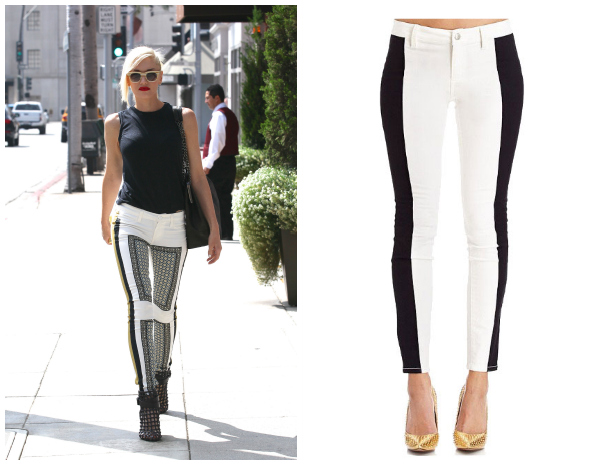 Gwen Stefani looks fierce in these black and white printed jeans paired with woven leather booties and her signature red lipstick. Printed jeans were a hot trend last season and they are showing no signs of slowing down. Pair them with a solid top to give your look a lot of pizzazz.
Stefani is wearing the amazing Paige Verdugo Printed Skinny Jeans, which retail for $543. Gulp! Even if you have the dough to spend on her jeans, they are no longer available. Lucky for us, you can copy her trendy look with the Beth Colorblock Skinny Jean (2B Store, $45). These jeans from 2B are awesome because they have black colorblocking along the side contrasted with the white on front which instantly slims and trims!
Hilary Duff's studded denim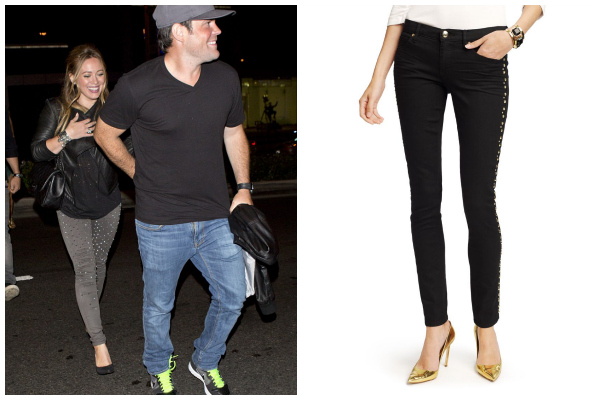 Hilary Duff is wearing the coolest trend to hit the stores this winter — studded denim! This is the perfect way to add a little edge to your style. Duff, who has an adorable son named Luca, is wearing the droolworthy Denim of Virtue Dexter Steel studded jeans, which retail for $298.
They are currently sold out; however, copy her edgy style with the Juicy Couture Studded Straight Rolled Jean (Juicy Couture, on sale for $99 from original price of $198).
Victoria Beckham's flared jeans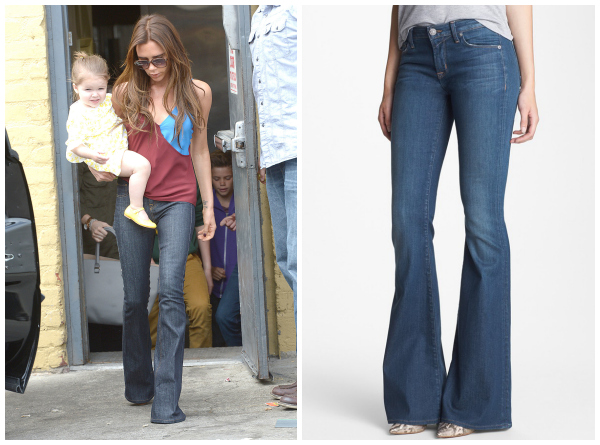 Fashionista Victoria Beckham was recently spotted out with her daughter Harlow looking polished and chic wearing dark flared jeans — which means they are officially back in style! Flared jeans are great for moms who are working on losing the baby weight because the flared leg design instantly balances out and slims your hips and thighs. They also make you look taller, as well!
Copy her look with the Hudson 'Mia' Flare Leg Jeans (Nordstrom, $198).