Posted: Jan 10, 2014 8:00 AM
Awards shows aren't only about the movies. The red carpet parade is the main attraction for many viewers, and Hollywood stars know their dress choices will be cheered or jeered. Before this year's Golden Globes, look back at some of the red carpet hits of past years.
The Golden Globes show television packs a fashion punch
The Golden Globe Awards have been looked at in the past as a warm up to the red carpet at the Academy Awards. The Oscars focus on movies which means the red carpet could miss out on some of these gorgeous gowns that television stars have worn to the Globes.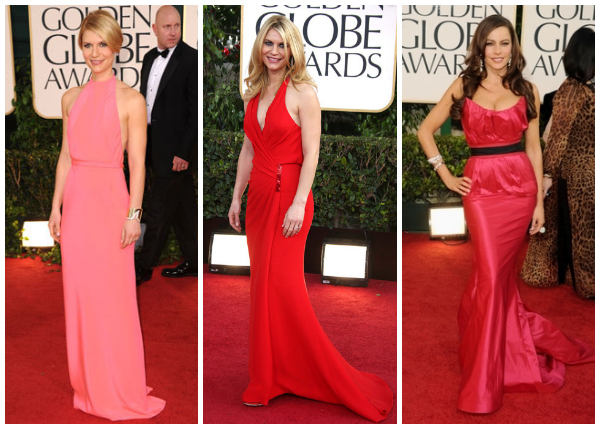 Claire Danes went sleek, coral and utterly fabulous in 2011. Moms, however, appreciate the way she worked with her new-mom body at the 2013 Golden Globe Awards. A wrap-waist dress in a bold shade of red flatters and provides about as much comfort as one can expect from an awards show gown.
Sofia Vergara plays up her curves, choosing dresses that flaunt her figure instead of trying to mold it into the ultra-slim look of many celebrities. We love her 2011 choice, where the dark belt cinches her waist and the bright color is as much of an accessory as the giant bauble weighing down her hand.
Neutral colors can shine with the right fit
Fashionable stars prove time and again that neutral shades can be just as stunning as the latest color trends. White and black are classic colors that let the fit and shape of a gown make a statement. Neutrals also allow for more variation in both jewelry and makeup decisions, so stars can be as traditional or cutting edge as they'd like without worrying about clashing with a jewel tone.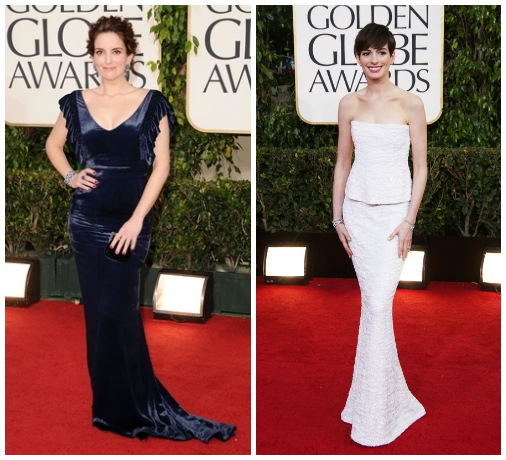 In 2011 Tina Fey wore a navy gown with a wide v-neck and slight train. The almost-black sheen is sleek and slimming. Anne Hathaway dove into the opposite end of the neutral pool with a slim white gown in 2013. Topped with her pixie cut, Anne's minimalist look allowed her smile to take center stage.
Baby bumps take on the red carpet
Each year, mamas-to-be find ways to look spectacular through an entire awards show. If you think the show seems long from your couch, imagine dressing your pregnant belly in formal wear and posing for countless photos! Flowing gowns have worked well in the past, from Natalie Portman's rose-appliquéd gown in 2011 to Kristen Bell's embellished goddess gown in 2013.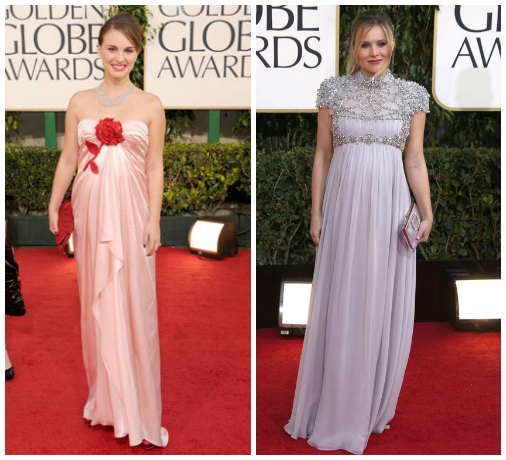 Predicting this year's fashion winners
The fun thing about red carpet fashion is the unexpected twists and turns stars take with their looks. If we had to put our money on a few hits at this year's Golden Globe red carpet, there are two actresses we're dying to see.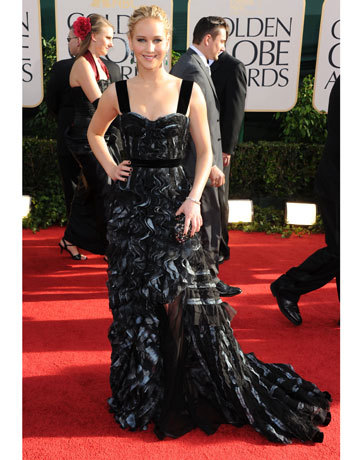 Kerry Washington will be dressing a bump this awards season, and with her impeccable fashion choices she's sure to wow with her pregnancy style. Jennifer Lawrence made headlines recently, not only for her performance in The Hunger Games: Catching Fire but for her candid remarks about her conscious decision not to fall into the Hollywood trap of dieting her way into an ultra-thin mold. Since wearing this dramatic, ruffled gown in 2011, Lawrence continues to take risks on the red carpet, and we can't wait to see what she does at this year's Golden Globe Awards.
More about celebrity fashion
Celebrity mom looks for less
Celebrity moms wearing denim
Steal Sara Rue's celebrity maternity style
Image credits: WENN