Posted: Feb 19, 2014 10:00 AM
Find out how to reduce synthetic chemicals and be radiant! Joanna Runciman's
The Radiant Woman's Handbook
explores the connection between sleep, food and reducing toxins. We spoke with Joanna about her starting tips for those looking to up their natural skin products and their… radiance!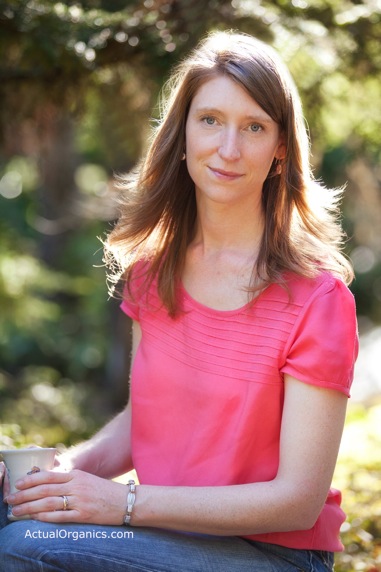 Joanna Runciman is a trained chef, wife, dog owner, life coach, Nia Brown Belt and in her "free time" a writer. Joanna writes a newspaper column on non-toxic living and blogs at Actual Organics. Do you sense a theme here? Joanna is passionate about living a life centered around simplicity and avoiding synthetic chemicals in skin care and the environment and, in this way, finding radiance. Joanna is the author of the book, The Radiant Woman's Handbook: Sensible, positive solutions for reducing toxins and loving your body. We spoke with Joanna about her book and what she wants readers to know about finding their own radiance.
Tips into practice: A book is born
Joanna's blog drew women in with her tips for paying attention to what's actually in your skin care and food and the environment around you. She shared reasons — and recipes — for only using edible skin care, how to identify "greenwashing" and what to do about it and how detoxifying starts with simplicity. Reader response was always so positive, so Joanna decided to put her tips into practice that women could have at their fingertips. Joanna says, "I eventually did put pen to paper, literally, I wrote most of the book on paper with a cup of tea beside me. More fun than staring at a computer."
I used to be very critical of myself and yet it was only when I truly accepted 'me' — flaws and all — that I began to love life.
"
"
Joanna wrote the book with the goal of sharing how to live simply, reduce toxins and find radiance from the inside out. Joanna says, "I used to be very critical of myself and yet it was only when I truly accepted 'me' — flaws and all — that I began to love life. I'll never look like a model, they're airbrushed anyway, I have a whole chapter on advertising as I feel women need to know that we're good enough regardless of how advertisements portray impossibly 'perfect' images 24 hours a day. It's relentless. Hence my love of detoxing technology!"
Mind + body = Radiance
The Radiant Woman's Handbook draws on research from scientists and beauty experts and wisdom from Joanna's 90-year-old grandmother.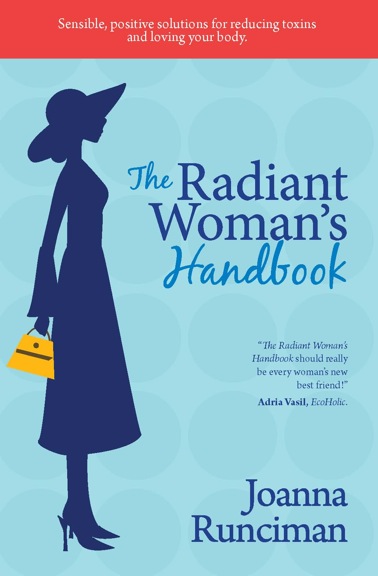 When asked what the most important messages in her book are, Joanna first spoke to the mind and then the body threading these two together with one word: Simplicity. About the mind, Joanna says, "Your words are powerful. So speak good things into your day and your future. Believe that things will work out for the good! Most of the time they do. Gratitude coupled with positive speaking into your life is immensely powerful."
And about the body, Joanna's message can be distilled to this: Simplify your skin care. Joanna explains, "Magazines are often airbrushed and industry creates 'new products' to sell more to us. I doubt we need it all. Our skin is able to care for itself, if we use edible ingredients and buy less 'cosmetic clutter.' I use Helena Lane's Oil Cleanser — simple ingredients that work and are not fabulously pricey! I also love splashing with cold water when I wake up, it awakens my eyes and then I put a tiny bit of shea butter on my face. Simplicity itself!"
The Radiant Woman's Handbook teaches that you need to marry healthy habits with healthy thoughts, and this will lead to radiance. Joanna says, "Radiance is a lightness and happiness that can be seen on your face. That isn't flawless skin, it's more than how we look, it's deeper."
Finding simplicity is... Simple
Joanna's blog and book are filled with ways to live a less toxic life. Joanna shared with us her top three tips for getting started.
Reduce what you use to beautify yourself and read ingredient labels. Make sure you know what you are buying; claims on the label differ from the ingredients!
Use multi-use ingredients like Shea butter or jojoba oil. They can moisturize but jojoba oil also cleanses.
Opt for more edible, non-toxic skin care ingredients. You can make a face mask with pineapple or oats, simple ingredients you'd find in your kitchen. I often will use aloe vera inner leaf gel on my skin — it's edible and inexpensive too!
The Radiant Woman's (that's you!) Handbook
Joanna's second book will be about reducing and simplifying to create more space in your life for enjoyment. Joanna says, "We can live with less 'stuff' and in de-cluttering, we find space in our life for the magical memories or simply enjoying a cup of tea without distractions." And a great way to get started on this path, is by finding radiance.
To learn more, visit Joanna's blog, follow her on Facebook and Twitter and, of course, buy the book.
More on self-care you can feel great about
How to make a natural teeth whitener
A healthy must-have: Apple cider vinegar
Crazy about coconut oil