Posted: Mar 04, 2014 9:00 AM
You don't need the luck of the Irish to dazzle your girlfriends with these holiday nail designs! From lucky rainbow holiday nails to pressed clover nail designs, you'll want to pin these St. Patrick's Day nails to try.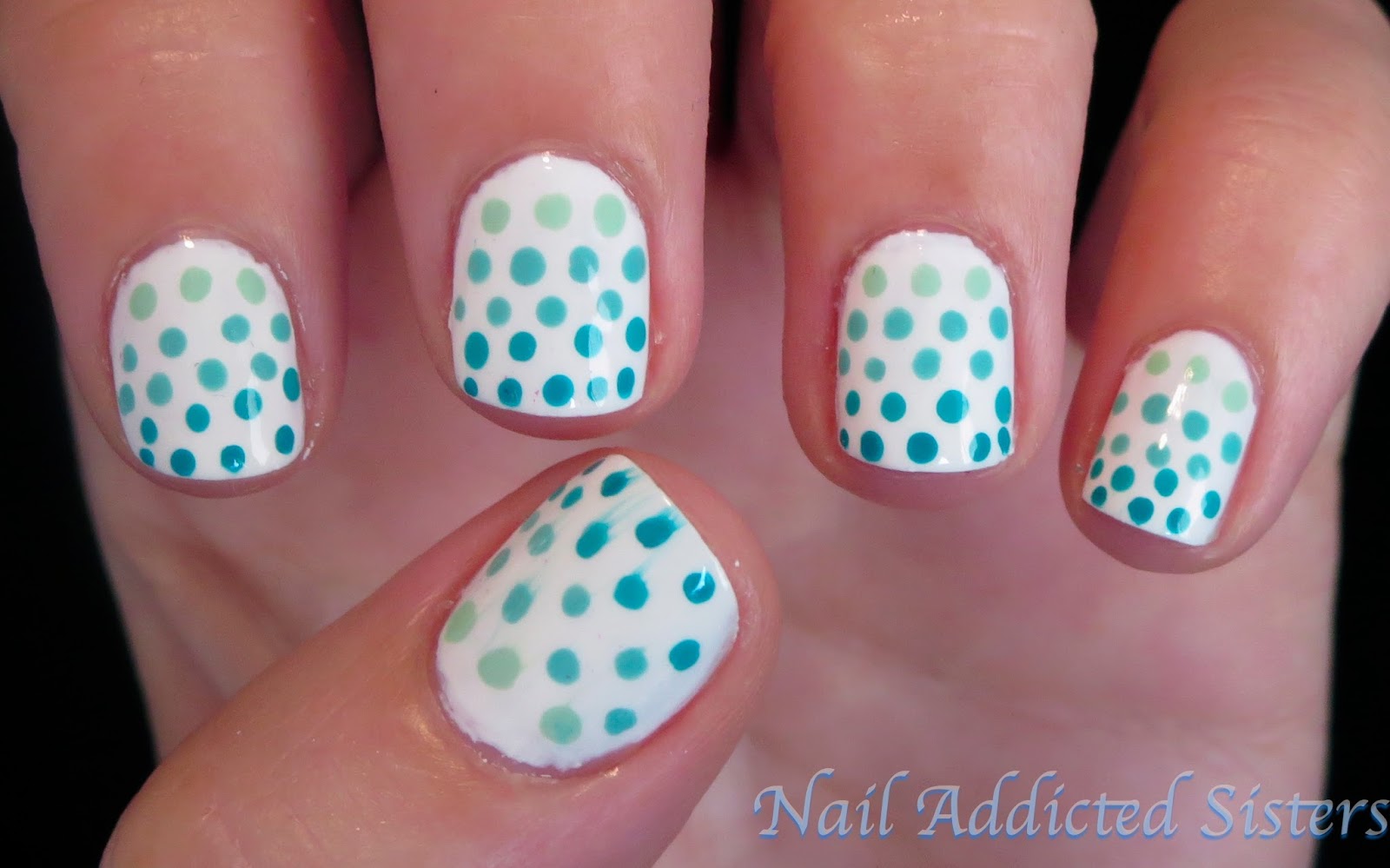 Green ombre dot nail design
Using a dotting pen and the popular ombre craze, Nail Addicted Sisters give you a St. Patrick's Day-worthy nail design that could be used year-round!
Materials:
Dotting pen
Sally Hansen's White On
Sally Hansen's Mint Sorbet
Sinful Shine's Rendezvous
Julep's Lena
Seche Vite's Dry Fast Top Coat
Directions:
First start with 2 coats of White On and allow to dry completely.
Next, take your dotting pen and add a dotted row of Mint Sorbet nearest your cuticle on each fingernail.
Then, repeat with 2 dotted rows of Rendezvous, followed by 2 dotted rows of Lena until you've reached the tip of your nail.
You can add additional rows of darker greens and teals for longer holiday nails before you add on a top coat of Seche Vite to your ombre St. Patrick's Day nail design!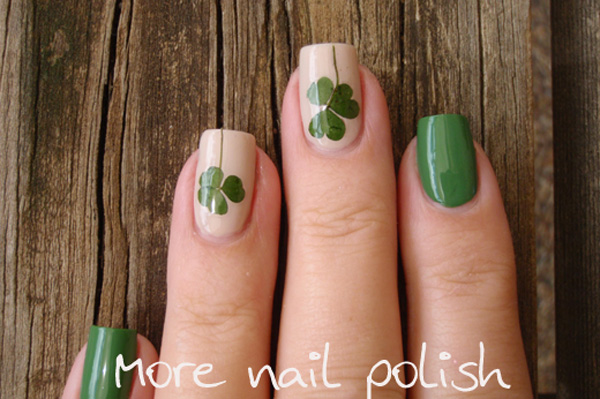 Pressed clover nail art tutorial
You can take the luck of the Irish with you when you brush on this pressed clover nail design by More Nail Polish that takes holiday nails to a whole new level!
Materials:
Pressed clovers
Tweezers
Picture Polish's Beige
Green Franken (see instructions)
Top coat
Directions:
First, paint your 2 center nails using Picture Polish's Beige.
Next, paint the outside nails using a Green Franken created by using chromium green pigment from TKB trading.
Then, add a single layer of top coat to each nail.
Finally, while the top coat is still tacky, use tweezers to carefully place the pressed clovers onto each nail and finish your holiday nail art with 2 more layers of top coat to smooth them out!
Pot of gold nail design
With a steady hand and a whole lot of rainbow power, you, too, can sport these lucky pot of gold St. Patrick's Day nails by Kayla Shevonne!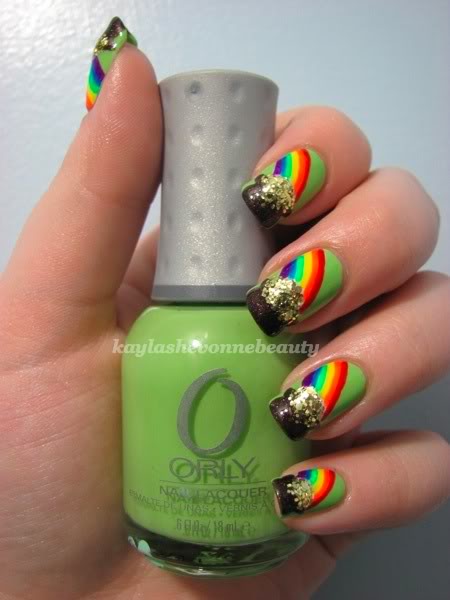 Materials:
China Glaze's Strong Adhesion Base Coat
Orly's Green Apple (base)
OPI's Holiday Glow (pot)
China Glaze's Treasure Chest (gold in pot)
China Glaze's Salse (red of rainbow)
Color Club's Wham! Pow! (orange of rainbow)
Color Club's Almost Famous (yellow of rainbow)
China Glaze's Kiwi Cool-Ada (green of rainbow)
Color Club's Chelsea Girl (blue of rainbow)
China Glaze's Flying Dragon (purple of rainbow)
Seche Vite's Top Coat
Directions:
First, brush on a base coat and a layer of Green Apple polish and allow to dry.
Then, use a thin brush and Holiday Glow to create a pot for your St. Patrick's Day nails at the tips.
Next, starting with Salse, create a half rainbow radiating from the side of your cuticle and ending at your pot. Repeat with Wham! Pow!, Almost Famous, Kiwi Cool-Ada, Chelsea Girl and finish with Flying Dragon.
Finally, use Treasure Chest to add a bit of gold to your pot, overlapping the end of your rainbow before giving it a top coat of Seche Vite for shiny holiday nails!
Polka dot shamrock nail design
You can combine your love of polka dot nail designs with the luck of the Irish when you polish up your digits with this holiday nail design by Lotsa Finger Paints!
Materials:
A bobby pin, dotter or toothpick with the "sharp" end snipped off
OPI's Jade Is The New Black
OPI's Greenwich Village
OPI's Who The Shrek Are You?
OPI's Alpine Snow for the white base
Rhinestones or glitter polish to add a jewel-like appearance (optional)
Foil, a Post-it note or business card to place drops of polish on to dip the tools in
A thin brush to draw the clover stems (optional)
Directions:
First, apply base coat and 2 coats of white nail polish.
Then, using your dotter, place 3 green dots on the nail to form a clover shape.
Next, using a different shade of green, apply another 3 dots to the other end of the nail to form another clover shape.
Then, to complete the clover, use a nail art brush to draw the stem or use the sharp end of a toothpick and carefully draw/drag a line at the base of the 3 dots.
Now, take your third color and dotter and place dots all over the nails to create a polka dot background.
Then, place 3 rhinestones on the clover to give it a bit of a pop and add some flair and elegance to the look. If rhinestones aren't available to you, you can take a green glitter polish (she used Running in Circles by China Glaze) and layer over the clovers using your dotter. It will look just as eye catching!
Finally, after waiting several minutes for the design to dry, top it off with top coat and rock that St. Patrick's Day party with your freshly painted digits!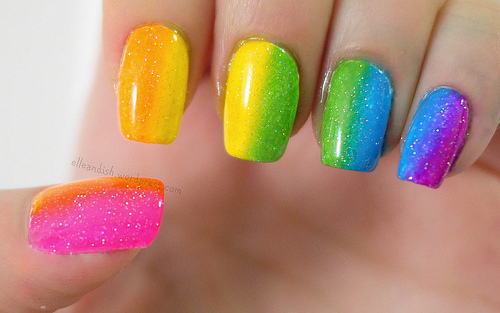 Ombre rainbow nail art design
Give your mani a rainbow hue colorful enough to boast St. Patrick's Day beauty using a sponge, tons of nail colors and this tutorial from Elle and Ish!
Materials:
Fresh makeup sponges
Sharp scissors
CND's Stickey Base Coat
Sinful's Snow Me White
Kleancolor's Neon Pink
Kleancolor's Neon Orange
Kleancolor's Neon Yellow
NYC's High Line Green
Kleancolor's Neon Blue
Kleancolor's Neon Purple
China Glaze's Fairy Dust
Seche Vite's Top Coat
Nail polish remover
Synthetic brush
Directions:
First, apply base coat and follow with a layer of Sinful's Snow Me White.
Then, open up all of your rainbow colors at once and quickly apply 2 strips of color side by side to the end of your makeup sponge and apply to 1 nail. Each nail will have 2 colors on it, with 2 coats each, but leave time to dry between coats. Repeat for each nail.

Tip: Use sharp scissors to snip off your makeup sponge to avoid wasting sponges between nails and color combos!
Next, use your synthetic brush and nail polish remover to remove the excess that made it onto your finger and cuticle.
Now, add 1 coat of glitter polish to each nail design.
Finally, seal with a top coat and show off your rainbow-hued nail design!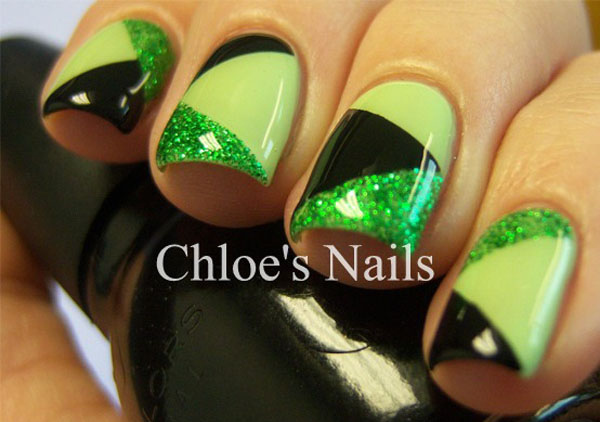 Green patchwork nail design using tape
This edgy green pattern may showcase St. Patty's Day colors, but thanks to a little Scotch tape and this tutorial by Chloe's Nails you can customize this holiday nail design to work with any of your favorite colors, any holiday of the year!
Materials:
OPI's Gargantuan Green Grape
OPI's Funky Fingers Erin
OPI's Sinful Black on Black
Scotch tape
Directions:
First, start with a base coat and 2 coats of Gargantuan Green Grape. Allow to dry completely before proceeding to the next step.
Then, tear off a medium-sized piece of Scotch tape, stick it to your palm to reduce the tackiness, and then stick the tape at an angle to your nail near your cuticle.
Next, apply Funky Fingers Erin on the exposed nail and remove the tape.
Now, rotate the tape and apply it to a different nail at a different angle and repeat with the Funky Fingers Erin on the exposed nail. Remove tape, repeat on all nails with a new piece of tape and allow the green glitter layer to dry.
Then, cover your green and glitter layers with a fresh piece of tape and add your Black on Black to your patchwork design at a new angle, making sure to leave the other 2 colors exposed. Repeat on all nails.
Finally, finish with a top coat and your artsy St. Patrick's Day nail design is done!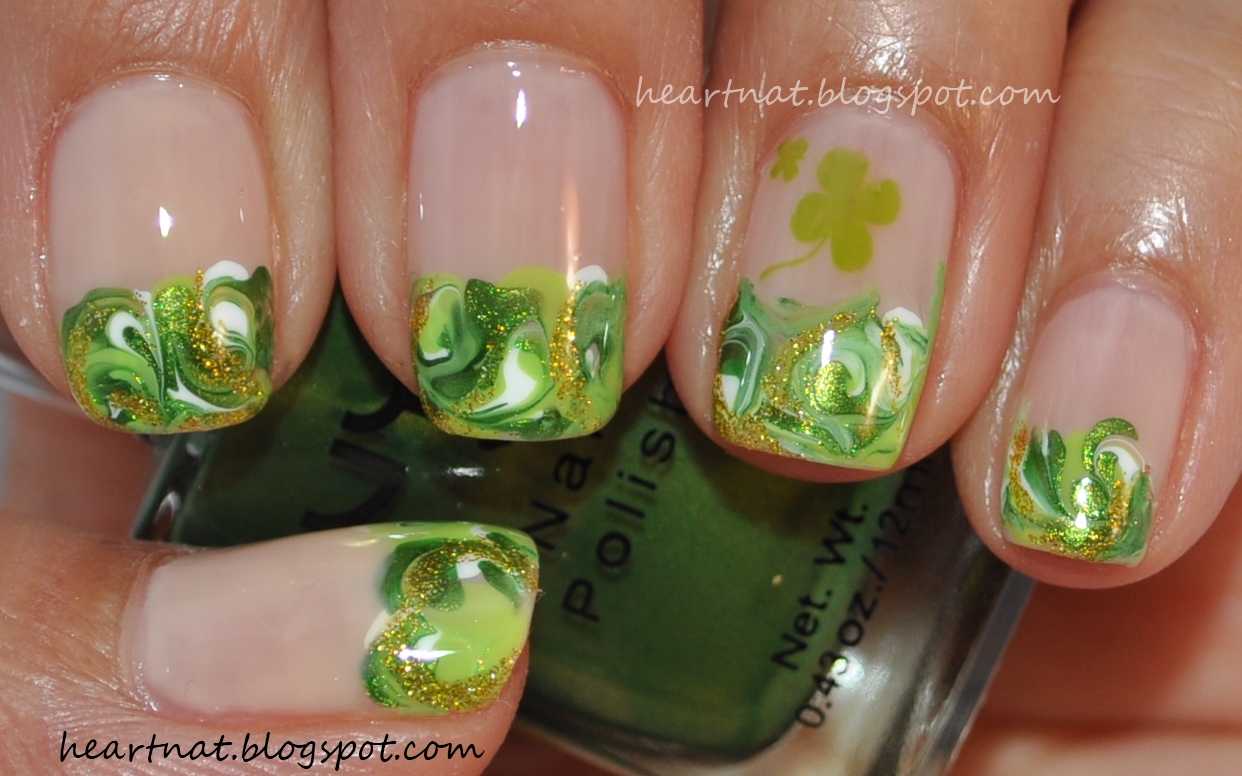 Drag-marbled St. Patrick's Day French manicure tutorial
There's no need to dip your digits into water when Heart Nat teaches you how to get her St. Patrick's Day-themed French manicure using a drag-marbled effect with greens and golds!
Materials:
Thin design brush
L.A. Girl's French Manicure Creme Brulee
NYX's Girls Luscious Green
Sally Hansen's Xtreme Wear White On
L.A. Girl's Disco Brites Can U Dig It
L.A. Colors' Art Deco Gold Glitter
BM03 shamrock nail stamp
Konad's Apple Green
Directions:
First, apply a nice, thick layer of French Manicure Creme Brulee.
Next, while your first coat is still wet, randomly add 2 or 3 drops each of Luscious Green, Wear White On and Can U Dig It to the tip where a French manicure would usually be.
Then, using your thin design brush, swirl and drag your colors around, but be careful not to over mix or you will end up with a muddy mess.
Now, wipe the excess off of the edges with your finger, which will also reduce your drying time.
Next, add in touches of gold glitter where your design may be missing a little something.
Finally, use your Apple Green and your shamrock nail stamp to finish off your St. Patrick's Day nails and seal with your favorite top coat!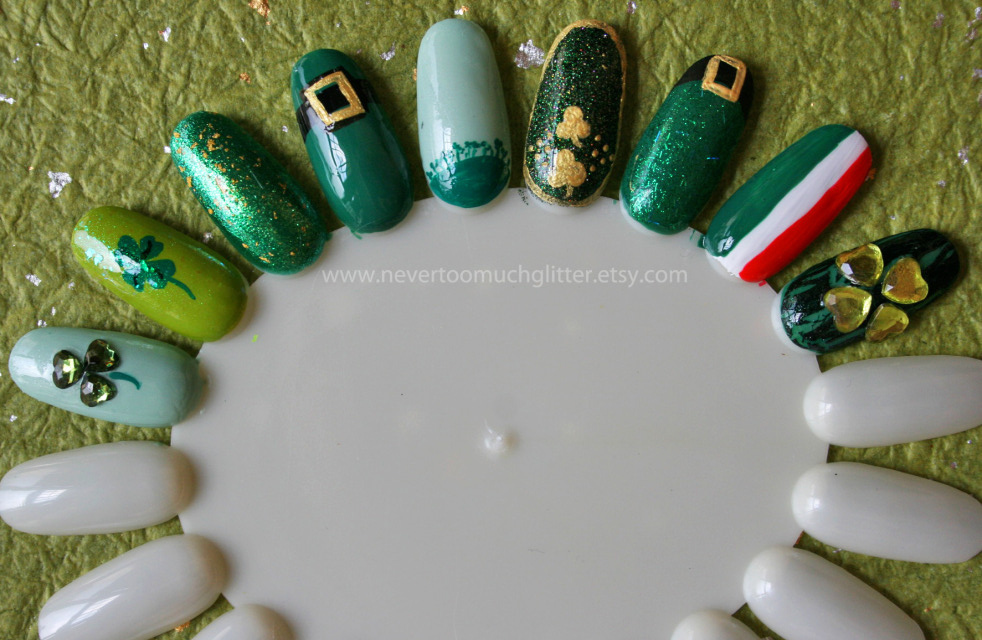 Leprechaun hat buckle design and St. Patrick's Day nail collection
Looking for more quick and easy holiday nail designs for St. Patty's Day? Then check out Never Too Much Glitter's Leprechaun hat nail tutorial and head on over to her site for more green-themed holiday nail designs!
Materials:
Dark green polish
Black polish
Gold polish
Directions:
First, paint a base coat and top with 2 coats of your favorite dark green polish.
Then, paint a black stripe across the width of your nail for the strap.
Now, add a little gold square to create a cute buckle for your holiday nails.
Finally, seal your St. Patrick's Day nail design with your favorite top coat!
Read more beauty tips
How to shape and define the perfect eyebrow
How to whiten your teeth at home
6 Trendy nail polishes for fall
Main image credit: Martin Harvey/Photodisc/Getty Images