Posted: Mar 13, 2014 8:00 AM
Nail polish trends range from chalky whites to oxblood shine, but the neutral nail is always a sophisticated choice. Discover why neutral nails work with any fashion trend and see our top neutral nail polish picks.
The benefits of neutral polish manicures
Neutral polishes make your nails fade into the background, which seems counterintuitive after spending time to actually prettify your fingers. Before you skip the neutrals for the bright coral that perfectly matches the tulips you know will bloom any day, think about the time it takes to complete a manicure — either in a salon or at home. As much as moms vow to take the time to pamper themselves, polish changes can fall to the bottom of to-do lists until chipped nails are the norm instead of the exception. Pale pinks and neat nudes offer many perks for busy but stylish moms.
Neutral nails show fewer chips. They don't actually chip more or less than other colors, but with a nail color that fades into your skin tone, chips, scratches and dings are less noticeable. You're able to stretch your manicure a few extra days by using the right shade of polish.
Neutral nails work with any of your fashion choices. Pale nails can truly go from the most casual morning to the most glam evening. When you're worried about whether your daughter and her friends borrowed your entire jewelry collection for their princess tea party, you don't have time to worry about whether your bright pink nails will work with your cobalt cocktail dress.
Neutral nails are a perfect canvas. If you decide to try something a little different, like gradient glitter or tiny designs, a neutral polish can help keep your experiment chic instead of costume-like.
Five fabulous neutral nail polishes
When looking for your favorite neutral nail polish, check out the undertones — warm, cool or completely neutral — and the amount of shimmer in the color. Neutral nails range from sheer to opaque, but remember a truly opaque color may take three to four coats — that's a lot of drying time! We've chosen five neutrals with slightly different finishes and shades, so there's something for everyone to love.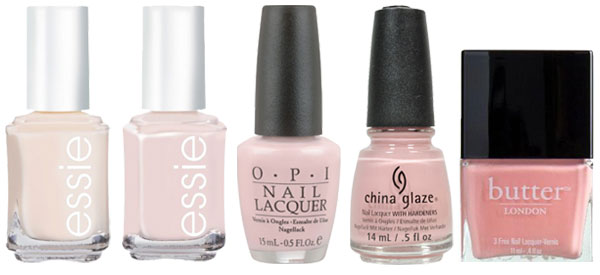 A time-saving tip
If you don't have time to wait for three or four coats to dry to the perfect opacity, use a white base coat. Using white instead of a clear base coat will help pale colors reach opaque status in one to two coats. A white base coat will even help a sheer look more opaque.
More about nail polish trends
DIY polka-dot nails
New nail polish colors for spring
Nail polish trends from oxblood to black
Main image credit: Fuse/Fuse/Getty Images