Posted: Mar 20, 2014 8:00 AM
Making the transition from winter to spring means protecting your hair and feet from rain instead of snow. Rain boots, umbrellas and rain coats can be style statements as well as protective gear. See our favorites for spring!
Photo credit:David Cordner/Photodisc/Getty Images
Stylish rain coats for spring
Rainy days don't have to seem gray when you have the right rain coat in your closet. Forget the stiff, unforgiving slickers from your childhood and find a trench coat made from durable, waterproof material. When looking at coats, one of your first decisions will be whether to purchase a single or double breasted coat.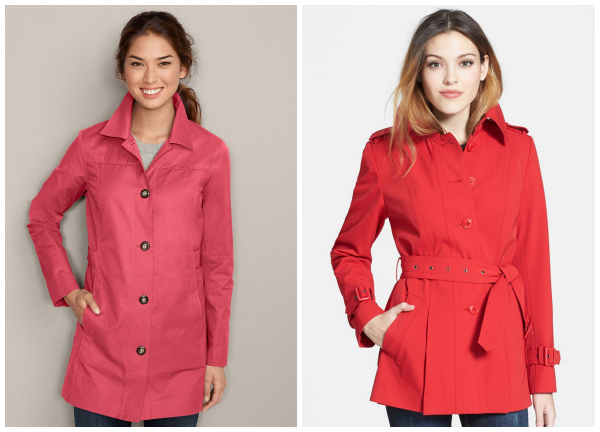 The Christine Trench Coat is a lightweight rain coat (Eddie Bauer, $100). The water-resistant fabric causes rain to bead up and roll off the surface of the jacket. A belt cinches the waist of the Trina Turk Double Breasted Trench Coat (Nordstrom, $398). The flattering cut of the raincoat makes it easy to wear, and it comes in three colors — the Cherry is the perfect way to brighten a gloomy day.
Keep your feet dry with sweet rain boots
Depending on where you live, you might wear your rain boots frequently during spring months. If you find yourself walking through puddles a few times a week, investing in a pair of rain boots will help ensure your feet stay dry — and blister-free.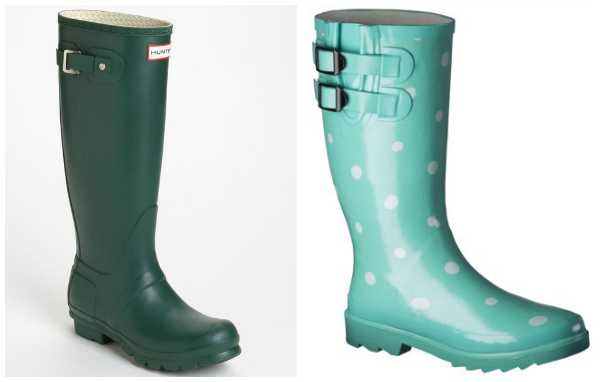 The matte New Green Original Tall Rain Boot from Hunter is muted enough to wear with almost anything (Nordstrom, $140). The shaft of the boot is slightly slimmer than many rain boots, making them a good fit with leggings or skinny jeans. There's a reason Hunter boots remain big sellers — the slim leg and high quality keep these boots looking classic, chic and timeless.
If you don't wear rain boots often but like to have a pair around, budget-friendly versions abound. Target's Novel Dot Rain Boots come in three colors — two brights and a neutral (Target, $30). The boots have a medium height shaft that will hit just about mid-calf. The shorter shaft will accommodate looser pants than its taller counterparts, but the flip side means the boots may gap a bit with slim pants.
Umbrellas keep the rain out of your eyes
Umbrellas are the easiest way to stay dry in the rain. Even if you don't have a water-repellent coat or get caught in the rain without your rain boots, an umbrella will do a decent job at getting you to your destination without ruined hair and waterlogged clothes. To be sure you're never caught off guard, pick up two umbrellas and keep one in your car and one in the house.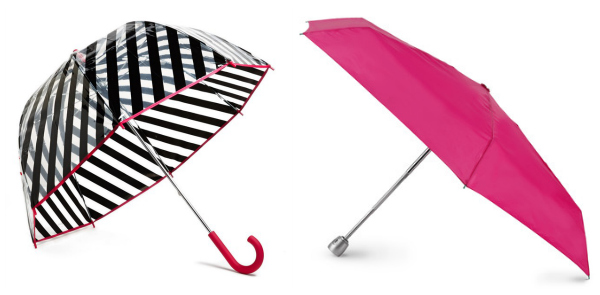 Even if rain doesn't make you happy, the Striped Umbrella from Kate Spade New York might (Nordstrom, $38). The translucent umbrella is whimsically striped and has a pop of color in the bright pink trim and handle. The classic hooked handle lengthens the umbrella's footprint — keep this one in a coat closet or mudroom corner.
For something smaller, try the totes Signature Auto Open/Close Umbrella, shown in magenta (totes, $24). The umbrella opens and closes with one hand, and the umbrella folds to a neat 11 inches. It's small enough to tuck into a bag or into your glove box to always have around in case of rain.
More about spring fashion
Must-have totes for spring
Get green for spring fashion
Update your kitchen — on a budget — this spring