Posted: May 02, 2014 7:00 AM
Floral prints remind many women of their grandmothers' couches, but modern florals feel fresh and fun. Unexpected twists on floral prints — like monochromatic patterns — are modern and flattering. We've found some must-have floral pieces for your summer wardrobe.
Photo credit: EdithRum/ iStock / 360/ Getty Images
Floral pants that flatter
Cropped pants are the perfect way to welcome summer. The length can be dressed down with simple sandals or dressed up with a pair of strappy heels. If you're used to the slimming power of winter's staple pants — denim in a dark rinse — making the move to floral patterned pants can be intimidating. You're not just going with a pattern, but it's one that will draw attention to your bottom half.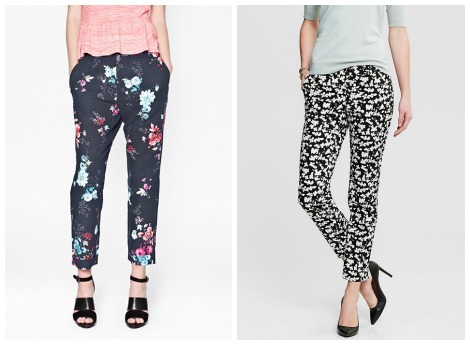 A floral print that incorporates black is one way to ease into the floral trend. The dark background can mute the impact of bright colors, or you can choose the modern, streamlined look of a monochromatic pattern such as black and white. Genevieve Print Trousers in Nocturnal are a lightweight cotton and linen blend with an ankle-length, cuffed, straight leg (French Connection, $158). For a slimmer fit, try the Hampton Fit Black Ankle Floral Pant (Banana Republic, $45).
Try a floral blouse this summer
Floral pants might be outside of your fashion comfort zone, but printed tops are a lot easier for many women to wear. Wearing your floral blouse with crisp, white pants is a polished way to dress up your weekend look, and paired with denim, florals look effortlessly chic.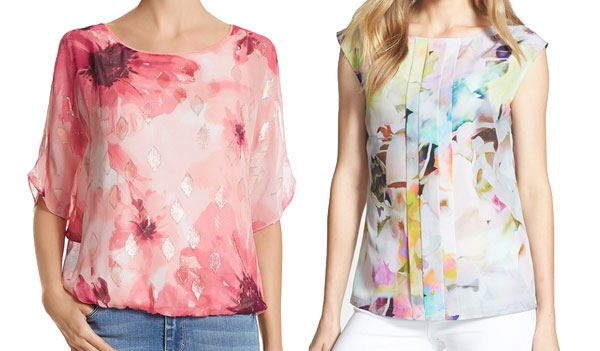 Foil details add visual interest to the monochromatic print of the Floral Watercolor Blouse, available in both regular and petite (White House | Black Market, $120). The abstract floral print on the Electric Day Dream top from Ted Baker modernizes flowers, especially in the boxy silhouette — one of the trendiest shapes of the year (Nordstrom, $125).
Pretty floral dresses
Floral dresses make any day feel a little more like a special occasion. If a floral print feels a little too precious for your typical style, throw on a moto jacket or rocker-chic accessories. The contrast between the utterly feminine and the punk accessories may be just the edgy balance you need to step into the floral trend.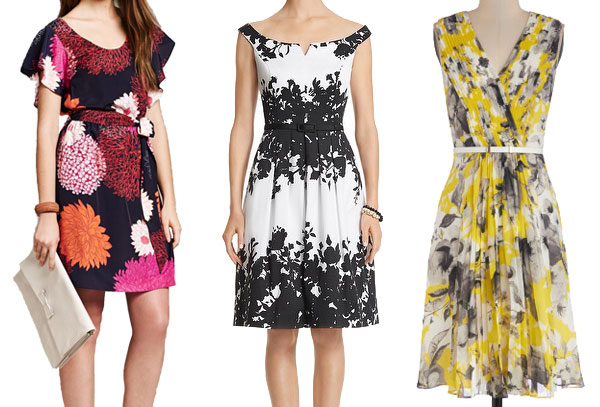 Florals don't only come in pastels. The Bold Floral Flutter Sleeve Dress is effortlessly chic and can be worn anywhere from the office to a casual brunch with friends (Banana Republic, $130). For something a little more formal, try the Floral Fit & Flare Dress (White House | Black Market, $170). The black and white floral pattern is strategically designed to flatter, with darker sections nipping your waist. If you love your florals soft and water-colored, try the She's Something Else Dress (ModCloth, $158). The ultra-feminine print is emphasized by the soft pleats and belt-defined waist.
Have fun with floral accessories
Accessories are a fabulous way to try out a trend if you're not ready to commit to something like a pair of floral pants. Trendy accessories are a quick — and often less expensive — way to update your wardrobe, plus they let you figure out which styles you're interested in committing to for longer than a night.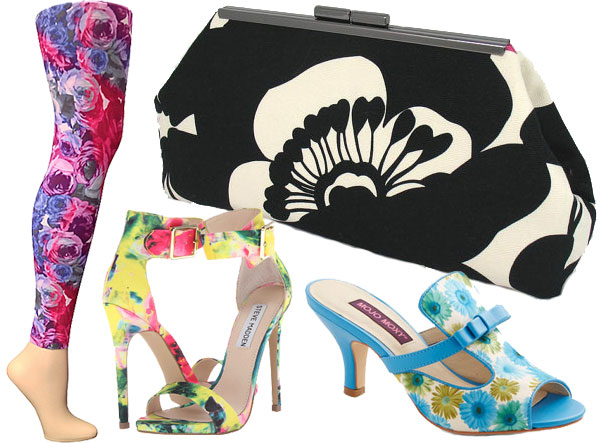 Pair the Wicked Rose Leggings with an on-point shirt dress or your favorite tunic (Betsey Johnson, $35). The bright colors are slightly tongue-in-cheek and will work with solid colors from neutrals to spring brights.
Add a bit of floral fun to your favorite outfit with the Palm Springs Pool Party Heel (ModCloth, $70). The kitten heel works well with cropped pants for a really comfortable, all-day wear. If you want your florals a little fancier, try Steve Madden's Marlene heels (Zappos, $90). The skinny, five-inch heel isn't for the faint of heart, but they're definitely a statement shoe for your summer wardrobe.
For a night out, the Boho Black Geo Floral Clutch is a stylish way to carry a handful of necessities (Etsy, Kimoley Bags, $42). The strong graphic print is a modern take on florals, and the clutch is lined with a pop of pink faux silk.
More about warm weather fashion
Stylish rain gear
Spring's fabulous flats
Feminine dresses to make you feel beautiful