Posted: May 15, 2014 9:00 AM
Pastel fabric can seem too sweet or demure, but stylish women have found a fun, new way to wear modern pastels. Pair pastels with bright colors for an eye-catching look or let them fade into a watercolor palette with pale neutrals.
Photo credit: Wavebreakmedia Ltd/ Wavebreak Media / 360/ Getty Images
Pastels for summer
Pastels make their arrival with spring: Sweet Easter dresses line display racks and three-quarter sleeve cardigans are the perfect bridge between spring jackets and summer's bare arms. By the time summer arrives, pastels are available everywhere you turn, but styling them can seem a little too safe at times. Paired with other pastels, they can feel like you're channeling your daughter's closet. Black and white are always safe choices, but it may feel like you're recycling last summer's wardrobe, even with new pieces.
Take your pastels to the extreme
Modernize pastels this summer by wearing them with colors on extreme ends of the spectrum. Paired with near-neon brights, the colors take on new life. You can brighten up a pale pink skirt with a bright pink top or really make a statement with a cobalt tank. Worn with pale neutrals like washed-out beiges or grays, pastels fade into ethereal watercolor shades.
Styling pastel pants
Cropped pants are perfect for summer days when you want to be cool without wearing shorts. The J. Crew Collection Scalloped Pants in soft wisteria have beautiful scallop detailing down each leg (J. Crew, $298).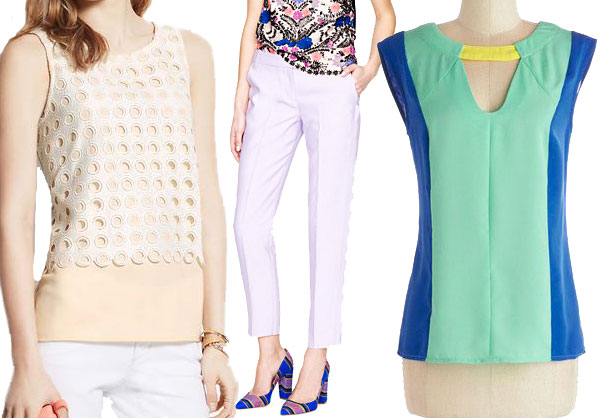 Paired with an Eyelet Shell in a soft cream, the lavender fades into a soft wash of color (Ann Taylor, $79). The subtle detailing on the shell will coordinate with the scalloped pants without being too distracting.
If you want to go with a bolder color choice, pair the same pants with the All of the Brights Top (ModCloth, $50). Even with several colors in the top, the cool tones will mesh in a colorblocked statement sure to turn heads.
Accessorize a pastel dress
An easy, feminine dress is one of the best ways to look fresh and polished in the summer heat. The Fresh Morning Woven Detail Dress has crisscross detailing on the back (Ruche, $49). The mint-blue color is flattering, and the loose, breezy cut keeps the dress comfortable whether you're running errands or meeting friends for brunch.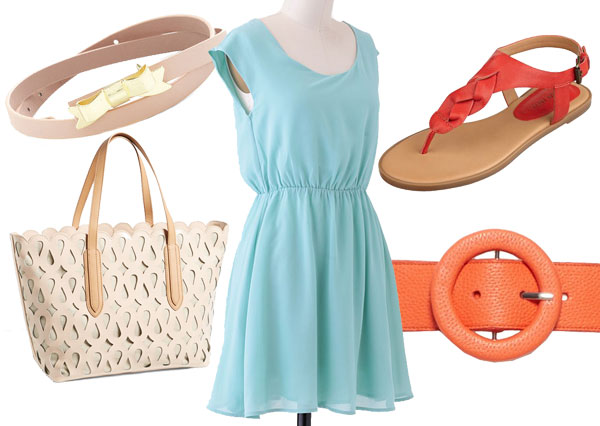 The elastic waist just begs for a belt. Tied with a Bow is a neutral choice in soft rose and gold (ModCloth, $15). Finish the neutral look with the Sondra Roberts Laser Cut Tote (Nordstrom, $188).
Brighten up the mint dress with the Round Buckle Belt in orange (Alice & Olivia, $98). The Kearin Thong Sandals in orange leather are a chic, comfortable option even for days when you'll be on your feet hours at a time (Nine West, $59).
Make pastels work for you
Pastels can be worked into your wardrobe in any way that makes you comfortable. Look at pieces you already own to mix and match colors in unexpected ways. By using brights you purchased last summer — or your favorite neutrals — your pastel pieces will help you feel like you have a whole new wardrobe.
More about warm weather trends
Fabulous flats
Four figure flattering trends
Dresses that go from day to night