Posted: May 22, 2014 10:00 AM
No matter where you live, sandals are essential to the summer season. There's nothing worse than trapping your feet in a pair of hot shoes when the sun is shining bright. Here's a look at the season's top sandals from budget friendly to splurge worthy.
Sometimes I forget that not all of us live where the sun shines 365 days a year. In fact, it's been a long, cold winter and spring season for most of the country and I'm sure you're ready to pack away those winter boots and get ready to show your toes some sunshine. Not only is it a great excuse to treat yourself to a much needed pedicure but it's also a fantastic excuse to treat your feet to a brand new pair of sandals.
Gladiator sandals
Every summer there's at least one standout sandal that makes its way to the top of every woman's want list. This summer season the "it" sandal is the gladiator sandal. While you may have an old pair of these from past summers lounging around in your closet, this year the sandal has been freshly updated in metallic colors like gold and silver and detailed with rivets and large gold buckles. Last summer animal print sandals were extremely trendy but this year you'll want to swap out the animal prints for a simple neutral-colored sandal in black, tan or brown. The great thing about gladiator sandals is that they come in flats, wedges and heels and you can get a pair that buckles at the ankle or if you're into straps, you can take them all the way past your calves for an extremely sassy look.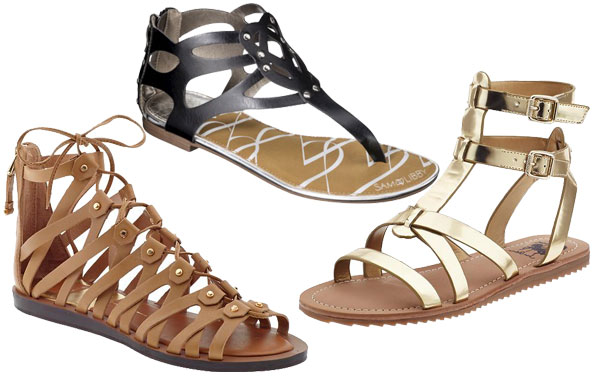 Flip-flops
Not one summer goes by where you don't need a good pair of flip-flops. They are essential to summer and are by far the easiest sandal to just throw in your bag for a casual day anywhere from the beach to the city to the country. Of course your flip-flop doesn't have to be casual, as this year we're seeing the flip-flop sandal go glam with added detailing like beads, flowers and a wedge heel. So don't be afraid to upgrade your trusty flip-flops for a pair that might just make it out on date night this summer.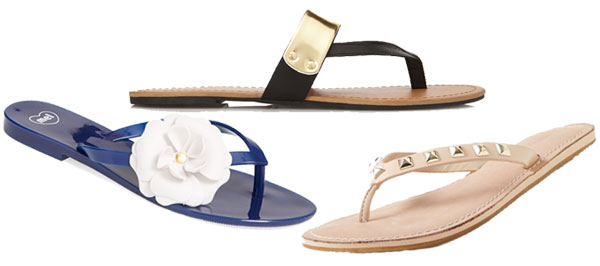 Espadrilles
Once you see the espadrilles come out of the closet, then you know it's summer. The espadrille is one of the most versatile sandals of the season and ultimately can be worn for every vacation you have planned including a walking tour through Europe or your staycation. Made with a jute wrapped sole, the espadrille can be worn casual or dressed up and comes in every variation from closed-toe flats to resemble a sneaker or a peep-toe strappy wedge that looks great paired with shorts and a tank for a night out on the town.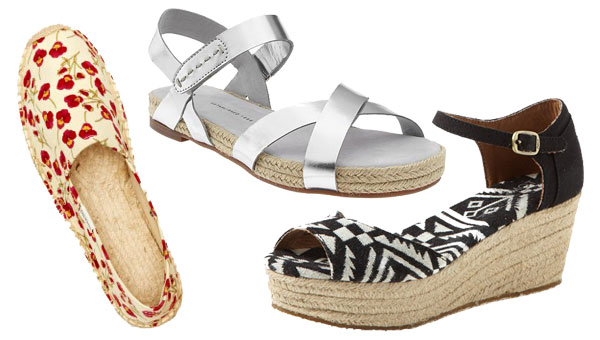 Hippie sandals
For all of you Birkenstock-loving sandal wearers, you're probably rejoicing that your favorite sandals are actually in style this summer. You heard me right... the hippie sandals are on trend for the season. While the sandals of yesteryear have definitely been given a much needed makeover in fresh colors and styles, one thing still remains the same — they are super comfortable. I say take advantage of the trend and pick up a pair in your favorite color and wear them with pride this summer and for the record, it is still never OK to wear socks with them.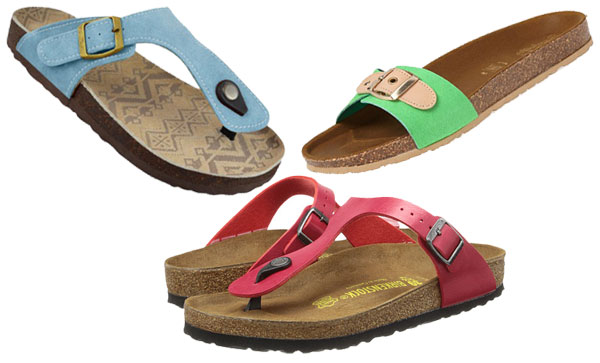 More on fashion
Resort ready wear
Try a personal stylist for just $20
Undergarment upgrade