Posted: Jun 04, 2014 8:00 AM
Get ready to show off your favorite pedicure colors. Summer shoes are all about the freedom to let your toes breathe. Try on a new pair of strappy summer sandals to pair with anything from cropped pants to swingy summer dresses.
Photo credit: Nicolas McComber/ iStock/360/ Getty Images
Forget the flip flops
Flip flops are a tempting summer option. They're comfortable. They slip on in an instant. They made that lovely slapping sound on the ground with each step you take. On second thought, it's time to leave the flip flops in your closet. Strappy sandals are a chic, stylish option for summer weather. We've found gorgeous options in all heel — and comfort — levels.
Show them your thong
We're not asking about your panty lines. When you're going to a more casual event like a brunch or a day at the beach, finding fun thong sandals is a must for the summer. The Venga T-Strap Thong is simple and available in five colors — we love the orange (Nine West, $49).

For something more embellished, look for colors and materials that scream summer — like pale turquoise stones. The slight wedge on the Mystique Sandal is in comfortable cork (Marissa Collections, $180). They'll soon become the most worn pair of sandals in your closet.
Find comfort in strappy wedges
Wedges meld style and comfort when you want a higher height shoe without sacrificing the balls of your feet all night long. The wedge helps distribute body weight, making them a relatively comfortable option. Wedge sandals might not be the first thing you think of when planning a sultry summer outfit, but there are strappy options available. Charles by Charles David's Alethia Wedge has a stylish t-strap in nude or black — everyone's favorite neutrals (Nordstrom, $99.)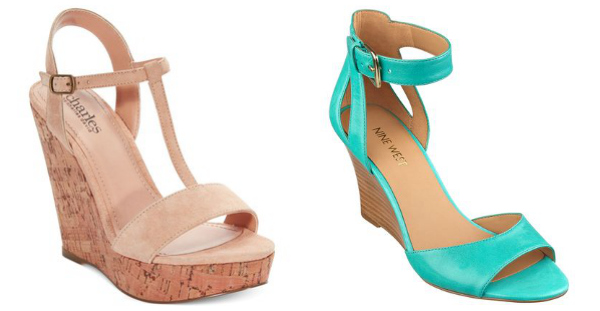 For a bright option, try the Floyd Ankle Strap Wedge in Turquoise (Nine West, $89). The color is a quintessential summer choice and can be paired with anything from neutrals to contrasting colors like yellow or coral. The thin wedge helps you keep your balance while still looking chic.
Sky-high stilettos
Cage style heels are on trend this summer, and they help make super-high heels just a little more comfortable. The cage structure offers a bit of support for your feet and gives your ankles a bit of stability when walking in heels higher than those to which you're accustomed. Try the Trouvé Trina Cage Sandal in Nude for a sleek, sexy summer look (Nordstrom, $110).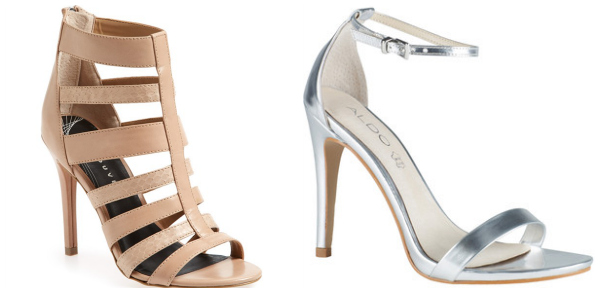 Dare to bare your pedicure in the sleek Daeng sandal (Aldo, $80). Available in both silver and gold, the simplicity of the minimal sandal combined with the height of the heel makes your legs look miles long. The ankle strap provides a little support, but these aren't the shoes to don if you expect to do a lot of walking — or standing on a grassy surface.
More about summer fashion