Posted: Jun 20, 2014 7:00 AM
You're not in seventh grade anymore. There's no excuse for a majorly disorganized makeup drawer. Try one of these stylish organizers.
Photo credit: serezniy/ iStock/360/ Getty Images
Even if you stick to drugstore brands, makeup is a serious investment. It's time to take better care of your stash. When your makeup is organized and neat, it's easier than ever to dash together your favorite five-minute face or your glitzy date night look. Plus, cosmetics organization helps you avoid pesky side effects like dried up mascara, gross brush bacteria and expired eyeliner. Here's how to organize your makeup so you can get the most out of your favorite beauty purchases.
Display your makeup in a clear chest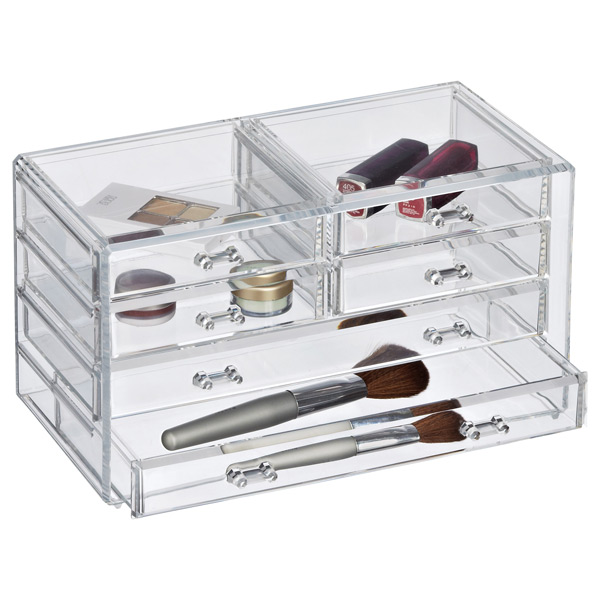 Want to keep an eye on your goodies? Store them in a clear acrylic chest. On one hand, you'll always know exactly what you're reaching for. On the other hand, this won't hide your makeup unless you keep it under the counter. Clear makeup chests with drawers are excellent for women with a varied collection of products and a need for speed. You won't waste any time digging for what you want. (The Container Store, $59)
Use existing makeup drawers

Have plenty of drawer space? Maximize that storage potential with organizing tools. The last thing you want is a drawer piled full of makeup and dust. Use dividers and clever containers that keep your makeup organized within the confines of a drawer or two. Or six. Use a clear cosmetics tray (Bed, Bath and Beyond, $13) inside of a drawer and get extra fancy with a clever lipstick riser (The Container Store, $8). Mix and match small dividers for the perfect solution.
Hide your makeup in cute boxes

Short on storage? Use baskets and boxes to divide makeup and organize it right on your counter. Woven baskets and bowls give your bathroom a spa-like appearance, and lids keep curious fingers from seeking and destroying your $30 lipstick. Tins have a more eclectic and playful look if you're into decorating with color — just keep them dry. Use a set of modular baskets (Ikea, $10) or colorful tins (Ikea, $4) to store cosmetics of different sizes.
Store your makeup in a luxury container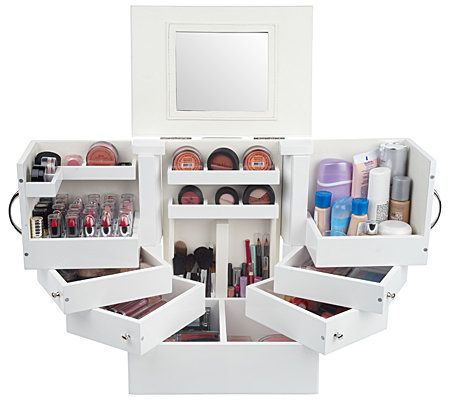 Looking for the Cadillac of makeup containers? Try a deluxe cosmetics box. It won't transform you into a princess, but you'll feel twinges of sophistication and style. There's just something really cool about an old-fashioned cosmetics box with lots of fun little drawers and special shelves for all your brushes. This is a must-have for the serious makeup fan with a large collection of cosmetics to prove it. Bonus points if you have a little vanity table and mirror where you can primp and pamper in front of this massive makeup chest. (QVC, $90)
More on makeup
Hot nail hues of summer
Clean your makeup brushes
Lip color smackdown