Posted: Jun 26, 2014 10:00 AM
Flag Day is the perfect time to pull out a flag-emblazoned T-shirt, but too much red, white and blue can sometimes feel a little like a costume. Here's how to keep your look stylish and avoid overdoing it while still honoring the colors of the American flag.
Photo credit: Adrian Samson / Photodisc / Getty Images

Add one color with an accessory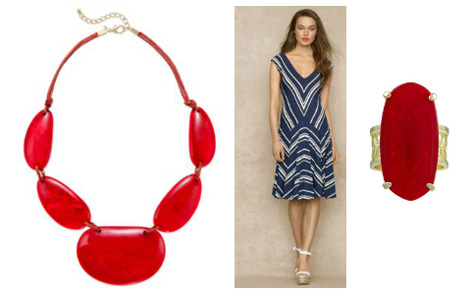 Ralph Lauren is known for all-American style, and this striped jersey dress in navy and white is no exception (Ralph Lauren, $225). With the blue and white in the dress, use your accessories to add the red. Pick a statement accessory for maximum impact. This red shell statement necklace is bold enough to accentuate the deep V-neck of the dress (Macy's, $34). A costume cocktail ring is another way to add a pop of red, and the Kennedy cocktail ring is a gorgeous shade of the hue (Kendra Scott, $65).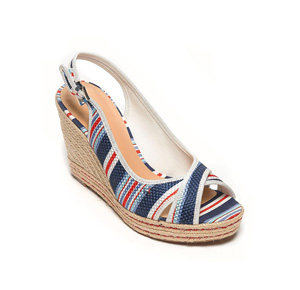 Tommy Hilfiger uses red, white and blue liberally in his collections, and his footwear is no exception. These striped peep toe espadrilles are a whimsical way to add the colors of the flag to your wardrobe (Tommy Hilfiger, $79). The wedges have padded insoles for additional comfort, and the adjustable slingbacks will help keep the shoe in place while walking.
Use colorblocking to combine red, white and blue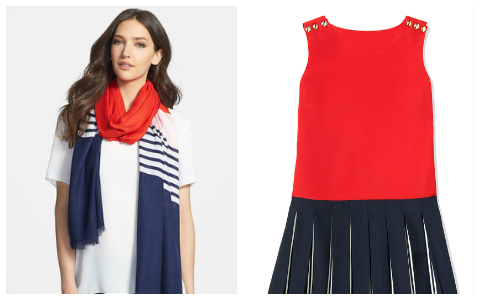 Colorblocking is such a popular trend, and it really is the perfect way to combine colors you wouldn't normally wear all at the same time. The Kate Spade colorblock scarf has a bit of cashmere and is lightweight enough to wear as a summer accessory (Nordstrom, $100).
The tennis dress is part of the Zooey Deschanel capsule collection (Tommy Hilfiger, $130). Deschanel describes the dress as "modical" — part mod, part nautical — and we love how the white and blue pleats show when the dress moves. The sporty shape is fun and flattering, but the silky feel of the fabric makes the dress appropriate for dressier occasions as well as for casual wear.
Try a miniature version of the flag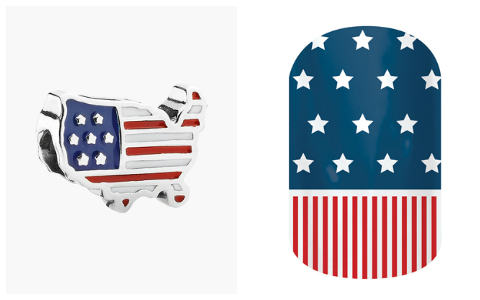 If you'd like to pay homage to the flag on a more regular basis, then try a miniature version that nests among your other accessories. The USA bead from Pandora is a tiny way to keep the flag nearby (Nordstrom, $55). You can add additional Pandora beads in coordinating colors, or simply add the USA bead to an existing bracelet.
For a special Flag Day manicure, try the American nail wraps (Jamberry, $15). In miniature, the flag feels festive instead of like part of a costume. The wraps last about two weeks on fingernails and up to four weeks on toenails, so you'll be able to feel patriotic without worrying your manicure won't make it through the weekend.
More on summer fashion
Cool caftan style
Try foldable ballet flats
A fresh way to wear pastels