Posted: Jun 18, 2014 7:00 AM
Mascara-addicted moms are going to want to jump on this... now. Using fiber technology that makes your lashes as long and thick as you want them to be, they can hardly keep Younique 3D Fiber Lashes in stock, and for good reason.
Photo credit: Younique
Meet Younique 3D Fiber Lashes
It's likely that you've already heard about Younique 3D Fiber Lashes. If you're not already a certified addict, like many moms are, you've probably been invited to a Facebook "party" that is singing its praises or you've heard buzz about it at school pick-up from moms who are batting their pretty lashes while they swoon. Or, maybe you've practically accosted a friend over how long and gorgeous her eyelashes suddenly became and she dropped the name.
But, no matter if you've heard about it or not, you're going to want to. This new mascara, which is mainly sold through social media (at the moment, at least), including invite-only Facebook parties, is so hot that they literally could not even keep it in stock at the beginning of 2014. Both moms who put mascara as their No. 1 beauty product and moms who are using mascara for the first time are raving about 3D Fiber Lashes and we have the scoop on why.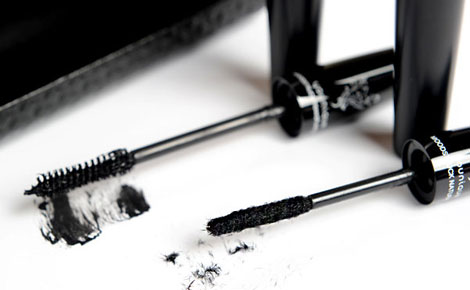 Photo credit: Younique
How it works
While with most mascaras, you apply a single (or maybe a double on date night) coat of mascara, let it dry and go, Younique 3D Lashes takes things a bit further, resulting in the eyelashes of your dreams. (You dream about eyelashes too, right?) 
You start out by curling your eyelashes, if you normally would, and then applying a single coat of a plain old drugstore brand mascara — whatever your favorite is will work fine. The instructions say to let it dry. I prefer to leave it a bit wet to avoid clumpier lashes down the road in the process, but it depends on your own lashes.
Next, you apply a coat of the Younique 3D Fiber Lashes Transplanting Gel (the longer tube in the set). It looks like mascara, but feels stickier when you pull the wand out of the tube. This will make your lashes seem a bit longer, but the process isn't over yet.
Then, immediately apply a coat of the Natural Fibers (the shorter tube in the set) on top of the Transplanting Gel. These look like actual tiny fibers and as you put them on, they'll stick to the Transplanting Gel, making your lashes even longer and thicker. Some moms mainly apply the Natural Fibers to the tips of their eyelashes to get good results, rather than all the way to the base of their eyelashes, where the fibers are less likely to make an impact.
Lastly, apply another coat of the Transplanting Gel to secure the fibers on your lashes, like a finishing coat. If you typically use an eyelash comb to separate your lashes after you apply mascara, you might want to now as well.
I've been using Younique 3D Fiber Lashes on a daily basis for a few months now and I admit that it took me a solid week of applying it to get the feel for how it worked on my own eyelashes. I think that the trickiest part is making the lashes on both eyes look equal.
An alternative to lash extensions
I'll fully admit that I'm a mascara addict. It's the one makeup product that I use daily, rain or shine, in sickness or in health, and I've tried most drugstore mascaras and many department store/designer brands as well. I especially loved 3D Fiber Lashes because they are a perfect alternative to eyelash extensions. While they certainly aren't an exact replacement, they can give a similar look for a fraction of the cost ($29 for a supply that lasts approximately three months) and it can be applied easily at home, rather than needing to book time-consuming appointments for extension fills.
Also, as a mom who wears contact lenses, I loved that this mascara didn't irritate my eyes and that it was easy to wash off at the end of the day — in fact, much easier than many other brands I've used in the past.
Where to get it
You can visit the Younique website to purchase 3D Fiber Lashes directly, or you can host your own Facebook "party" (think modern day, social media-friendly Tupperware party style) by connecting to a local Younique presenter in your area.
More on makeup
Toxin-free nail polishes that rock
Beauty lab: The best drugstore mascaras
Clean your makeup brushes