Posted: Jul 17, 2014 9:00 AM
Sensitive skin can react badly to chemical sunscreen, even that found in most makeup formulas. Try these chemical-free sunscreen options and sensitive skin sunscreen options to find one that works for you.
Photo credit: alexxx1981/ iStock/360/ Getty Images
Why your skin might react to sunscreen
Skin reactions to sunscreen can be as simple as skin breakouts or as complicated as a sunscreen allergy that causes hives or rashes on skin — either on contact (contact dermatitis) or when exposed to sun (photo dermatitis). Most sunscreen reactions occur when skin reacts with the chemicals that allow the sun protection to absorb into your skin. For that reason, using a mineral-based form of sun protection can alleviate skin issues, because those types of sunscreen create a physical barrier against damaging rays. If you have a serious concern about a possible sunscreen allergy, the best course of action is to contact your family physician or allergist. A doctor can conduct skin tests to identify or rule out a sunscreen allergy and to help develop a course of action.
Why sunscreen allergies matter
Everyone should be wearing sunscreen when outdoors. Year after year, conversations arise about the damaging effects of the sun, and sunscreen is a crucial component in protecting your skin — and that of your kids. Clothing and shade are also helpful, but if you're going to be in the sun, some sort of skin protection is advised. If your sunscreen is causing breakouts, hives or itchiness and pain, you're less likely to find the motivation to slather it on your skin before leaving the house. Finding a sunscreen that protects your skin without irritation will make it easier to make time for the extra skin care step in the mornings — and for re-applications if you're spending the whole day outdoors. One of these sunscreens for sensitive skin may be right for you.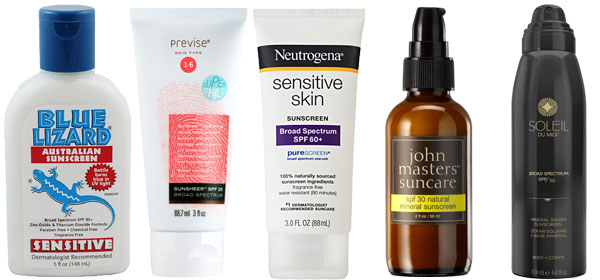 Water-resistant sunscreen for sensitive skin
Blue Lizard Australian Sunscreen is an affordable option for busy beach-goers (Drugstore.com, $15). The sunblock is chemical free and fragrance free, and it derives its sun protection from zinc oxide, a product that doesn't absorb into skin to cause allergic reactions. The water-resistant formula is designed for long-lasting sun protection.
Sun protection that cools your skin
Reapplying sunscreen on a hot day doesn't have to feel sweaty and sticky. SunSheer SuperChill contains botanical ingredients that help prevent and fight skin inflammation — and they soothe skin upon contact (PreviseCare.com, $36). Pink grapefruit, for example, provides the aromatherapy benefit of a calming, tranquil scent.
Sun protection with added moisturizer
Sunscreen and sun block don't always leave skin feeling soft. The Broad-Spectrum Sun Protection from John Masters Suncare uses natural ingredients to improve your skin's condition while protecting it from the sun (John Masters, $32). Shea butter, green tea extracts and jojoba oil moisturize, while zinc oxide and titanium oxide protect against UVA and UVB rays.
Sensitive skin sun protection with higher SPF
Extremely fair-skinned people may feel most comfortable with a higher level SPF, especially if they plan on spending extended time in the sun. Neutrogena Sensitive Skin Sunscreen Lotion is available in broad-spectrum SPF 60 (Neutrogena, $11). The lotion feels ultra-light on application, but the blend of zinc oxide and titanium dioxide provides serious protection against the sun.
A convenient and safe spray sunscreen
Nothing beats the convenience of a spray sunscreen. A few pushes of a button and swipes of your hand to smooth the spray, and it's tough to go back to sunscreen lotion. Most spray sunscreens are rife with chemicals, which makes them a prime candidate for skin irritation, not to mention all that breathing in of aerosol spray chemicals. Soleil Toujours® Sunscreen Mist is a mineral-based, non-aerosol sunscreen mist that combats both of those factors (SoleilToujours.com, $36).
The bottom line on sun protection
Sunscreens and sun blocks are an integral part of skin care — especially during summer months. It's worth trying different formulas until you find your family's favorites, even if that means packing a few different bottles each time you know you'll be in the sun.
More about summer skin care
Get rid of sunless tanner odor
The best DIY body scrub recipes
Hair removal for your bikini line