Posted: Jul 31, 2014 9:00 AM
From the looks of things, boat shoes are sticking around when it comes to summer fashion and shoe-loving moms are jumping on this trend, too. Find out how to wear boat shoes this summer.
With shorts
If you're sporting shorts with boat shoes this summer, consider going with a classic pair for a preppy look. Be sure to add a bit of a feminine touch to your look with a cute chambray shirt tied at the waist or a summery floral pattern to balance the more masculine look of the boat shoes. Boat shoes can be worn with nearly any length shorts, from the super short to more conservative lengths.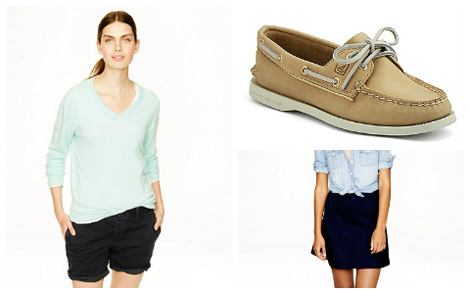 Shoes: Sperry Top-Sider A/O with Metallic Piping (OnlineShoes.com, $90)
Shorts: Broken-In Boyfriend Short (J.Crew, $55)
Top: Keeper Chambray Shirt (J.Crew, $78) 
With a short skirt or dress
Not a fan of shorts? Try wearing boat shoes with a short skirt or dress instead. Adding boat shoes to your favorite summer dress or skirt is an easy way to make it more functional for summer adventures with your kids, or for, literally, spending time on a boat. This pair of boat shoes is a bit softer, in a fun color and without laces for a look that will easily pair with a dress or skirt.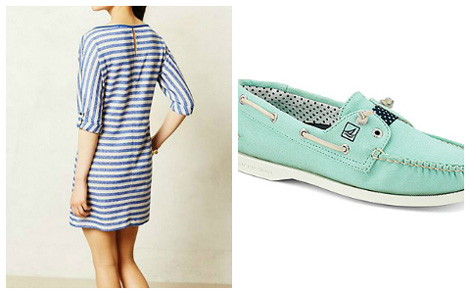 Shoes: Sperry Top-Sider Lexington (OnlineShoes.com, $80)
Dress: Terry Stripe Dress (Anthropologie, $98) 
With a maxi-length skirt or dress
By far, the trickiest length, wearing a maxi dress or skirt with boat shoes isn't impossible. Start by picking a pair that has a little flair, like a bright pop of color or pattern. Also, look for a pair of boat shoes that has a smaller toe, giving them a sweeter look that makes them appropriate for wearing with a longer hemline.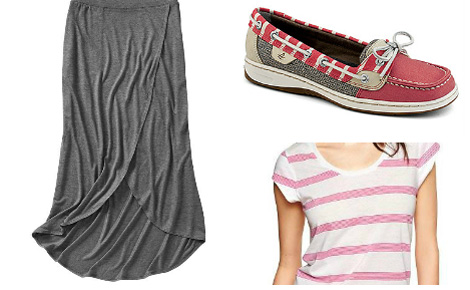 Shoes: Sperry Top-Sider Angelfish (OnlineShoes.com, $85)
Skirt: Tulip Skirt (GAP, $50) 
Top: Stripe Scoop Tee (GAP, $27) 
With jeans
Boat shoes and jeans are a match made in nautical fashion heaven. We love boat shoes with a pair of worn-in jeans, but you can pull any pair out of your closet, in any length, and any cut, to wear with any pair of boat shoes you fancy. If you're adding some fun to your feet, such as with these red and white striped Sperry Top-Siders, keep your top simple and chic.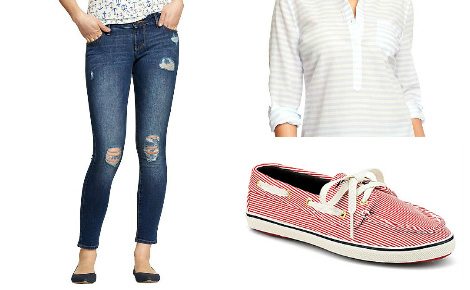 Shoes: Sperry Top-Sider Cruiser (OnlineShoes.com, $60)
Jeans: The Rockstar Distressed Skinny Jeans (Old Navy, $35) 
Top: Patterned 3/4-Sleeve Shirt (Old Navy, $25) 
More on shoes
Real moms share: The sexiest shoes in your closet
Meet your new favorite pair of summer shoes
Fashion trend: Foldable ballet flats