Posted: Aug 06, 2014 8:00 AM
Beach days with kids involve sunscreen, water safety and finding a little shade, but moms don't have to sacrifice style. Beach cover-ups can be comfortable enough for the whole day and stylish enough to grab a quick dinner before loading up the car to go home.

Sunscreen on your face is imperative at the beach, but sun hats are another — stylish — line of defense again the sun's harmful rays. When you're packing your hat, remember that not all hats provide complete coverage for your skin, though most of them do a fantastic job of keeping your scalp protected, which avoids a hair part made greasy with sunscreen.
The Somewhere Sunny Straw Fedora is a basic straw hat that works on almost everyone (Forever 21, $12). The light-colored straw will keep your head from getting too hot, and the fedora can be worn over loose beach hair or a low ponytail.
If you're looking for something with additional SPF protection, Coolibar's SmartStraw Packable Tropicana Sun Hat provides SPF 50 coverage, with a wide, floppy brim that is sure to protect your face and neck (Coolibar, $50). In three fashionable colors, the hat will be a beach must-pack for years to come.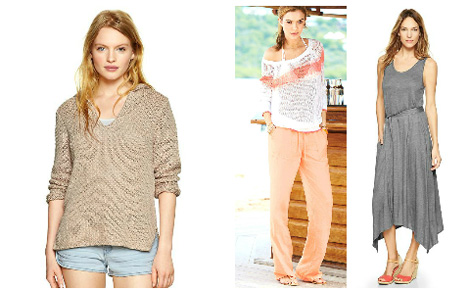 Cute bathing suit cover-ups can be worn from the beach to a casual brunch, lunch or even dinner. Some typical cover-ups, like super sheer caftans, are a bit too revealing for most restaurants, but there are several options for lightweight dresses and even slouchy linen pants that can be pulled on over bathing suits to grab a quick meal.
The Beach Pant in Linen is a comfortable, airy piece that comes in a variety of colors for any style choice (Victoria's Secret, $28). At the end of the day, if you're at all worried about the air conditioning blasting in your restaurant of choice, linen pants are a great option. An open-knit sweater, like the Sweater Hoodie, will keep you from getting chilled — even after sunset (Gap, $65).
The absolute easiest cover-up to wear from the beach to wherever you may want to venture next is a sundress. The Trapeze Midi Dress is a fabulous choice (Gap, $70). The in-between length and slouchy silhouette make it comfortable and flattering, and it comes in regular, tall and petite sizes.

A giant beach bag is a mom's best friend, and we adore the oversized bags from Scout. The 4 Boys Bag will fit absolutely everything you need for the day in one bag (Scout, $52). If you're looking for something a little smaller, try the Pocket Rocket (Scout, $45). With six separate pockets, you can keep everything dry that should be dry, and leave the rest to sort out later.

Flip flops don't always get style respect in the summer. With so many options for adorable wedges or chic flat sandals, flips can seem like an overly safe — or even lazy — choice. The beach, though, is the perfect place to break in your favorite flip flops. You'll be taking your shoes on and off all day. They get sandy and you need to have shoes you're comfortable wearing while dragging the world's largest collection of sand toys from your car to your blanket.
Jelly sandals aren't just for kids. The rubber sandals have the advantage of drying quickly in the sun, so you can wear them into the waves and wash off the sand just as easily. The Harmonic Jelly Sandal has a floral detail that adds a feminine twist to the black sandal (Nordstrom, $50).
Havaianas are a go-to favorite, and the iconic flip flops are a classic for a reason. They're comfortable, durable and come in every possible color combination — and most patterns — you can imagine. The Top Metallic Sandal comes in four colors, and one of them will go with everything you could possibly want to wear to the beach this summer (Havaianas, $20).
More about beach fashion
5 Simple post-beach updos
Sexy, retro one-piece bathing suits
Accessorize your hair to beat the heat