Posted: Aug 11, 2014 10:00 AM
No matter how hard you try, your kids' lives spill over into your purse. Ponytail holders, water bottles and mini toys can make a mess in your bag. Keep the chaos under control in these stylish purses that are perfect for moms.
Stay hands-free with a cross body bag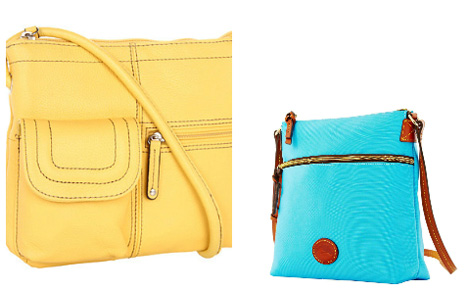 The Tignanello Multi Pocket Organizer is a cross body bag that keeps everything you need at your fingertips. The bag is available in three colors — we love the bright yellow Sunrise — and has a single strap to sling the bag across your body. The unique feature of this multi-pocketed purse is that the pockets are on the outside and secured with zippers. The bag offers moms the ability to keep kids' things organized in their own pockets while leaving the inner section of the bag free of kid clutter (Zappos.com, $99).
Twelve gorgeous colors make this Nylon Crossbody from Dooney & Bourke a perfect fit for any mom. Choose a neutral color or go bold with the Mint. There are zippered and open pockets on the inside of the bag. The cross body strap is adjustable, which can be the difference between a comfortable cross body bag and a daily annoyance (Dooney.com, $99).
Satchels carry essentials for all-day outings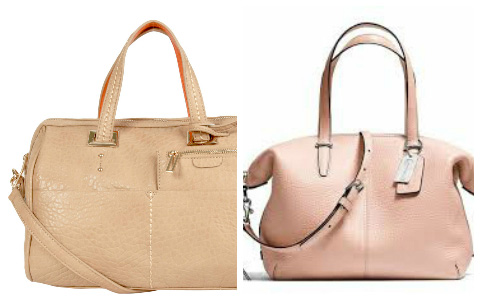 A satchel is the perfect way to transition from a diaper bag to a more stylish purse. The Bleecker Small Cooper Satchel in Pebbled Leather is available in a soft pinkish-peach that works with your wardrobe like a neutral. The sleek outer body of the purse hides several internal pockets to house phones, water bottles and the small toys you really don't want your kids to lose in the grocery store. Use the removable cross body strap for days you might want your hands free (Coach, $119).
The tan Corey Barrel Satchel is filled with pockets. Inner pockets, outer pockets, open pockets and zippered pockets all mean your keys, phone and mini-calendar will all stay where you can find them. The handles are lined with a pop of orange trim, which adds just a bit of color to the neutral bag. The color means you can keep this roomy satchel in your purse rotation for years (HandbagHeaven.com, $50).
Mini-bags for when you dare to go small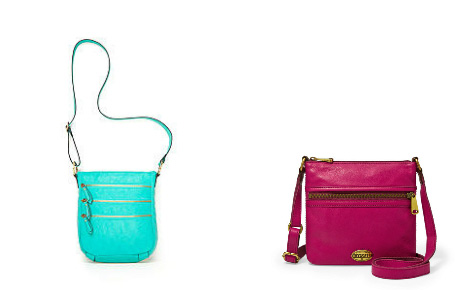 Quick trips to the store don't always require a loaded bag, and mini-bags are a light, easy option for those days. Another fabulous feature of a mini-bag is that it can be thrown into a larger satchel or tote in its entirety, so you don't have to worry about changing purses every day. Simply keep your essentials in the mini-bag, almost as though it's an oversized wallet.
The Bueno Multi Zip Minibag has a surprising amount of organizational power for such a small bag. The zippered sections on the outside of the bag are helpful, and there are more pockets inside the bag. The Jade is a fun color choice, though there are several neutral options available, too (Belk, $30).
Soft, pebbled leather is a hallmark of Fossil purses, and the Explorer Mini Bag is no exception. The rich Orchid color adds style and depth to any outfit. Inner pockets, and the outer zipper section, help keep credit cards and other essentials safe. The adjustable strap means the bag can be worn as a shoulder bag or a cross body purse (Fossil, $85).
More about stylish moms
3 Fashionable mom bloggers
Chic running gear for women
Stylish ways to keep your car clean