Posted: Aug 25, 2014 8:00 AM
Although it may still be hot where you live and there's still an Indian summer on the horizon, now is the time to shop for the latest fall trends for the best prices and the best picks.
Photo credit; Kiuikson/iStock/Getty Images
If you walk into any store right now, it's full of fall fashions. However, with the sun still burning bright outside, the thought of trying on a sweater is enough to make you melt into a puddle like Olaf on a hot summer day. I know the weather is unpredictable these days and that some of us will be experiencing hot temperatures from now until November, but now is actually the best time to get the latest trends and staples for your fall wardrobe at the best prices.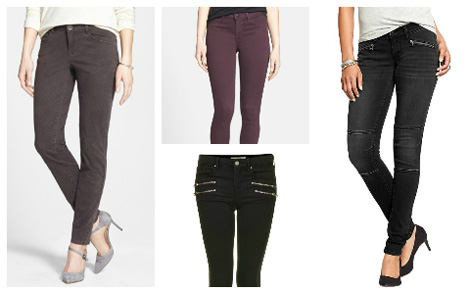 As with everything in fashion, the denim trends for the season are constantly changing. This season we're seeing a comeback in the straight leg jean and over-dyed colored jeans are actually making an appearance again. While some of us are a little shy when it comes to wearing colored jeans, I strongly encourage you to try the trend with one not-so-bright colored pair this season. A dark brown or eggplant color will really make your outfits pop without standing out on their own. As the summer weather turns to fall, you can easily pair them with sandals and a tank top without looking like you're wishing for a cold day. If you're a true denim lover, then I would also add to your shopping list a pair of moto jeans that are great to wear for date night.
The Rockstar Zip-Pocket Skinny Jeans, $37.
Wit & Wisdom Window Pane Print Skinny Jeans, $78.
Moto Low Rise Zip Biker Jeans, $80.
J Brand 485 Skinny Jeans in Dark Plum, $178.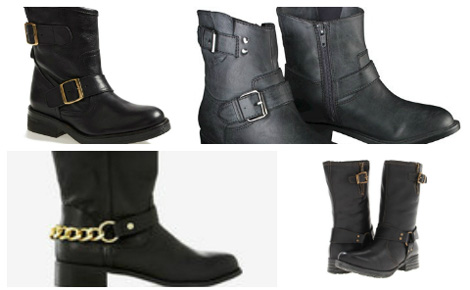 Truth be told, boots are actually in every season of the year. As we transition from summer to winter, we lose the peep-toe and go toward a closed-toe boot and the bootie goes to a full boot. One of my favorite boot styles is on trend this fall season and it's the perfect transitional boot, the moto boot. Taller than a bootie but shorter than a traditional tall boot, the moto boot hits you on your lower calves and usually comes adorned with buckles, studs or my favorite, quilting. While it's not the type of shoe you're going to be wearing to the beach during the hot day, as the nights turn cooler you can pair them with your favorite fall jeans and feminine blouse for a look that is right on trend.
Mossimo Supply Co. Rosemary Moto Boots, $27.
Chain embellished Moto Boot, $70.
Steve Madden Msfresh Moto Boot, $170.
Rieker Waynette Boots, $175.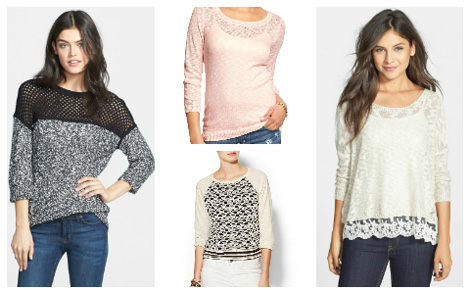 If you live where there are only two seasons of the year, then most likely you aren't into the chunky sweaters that you're seeing in the stores right now. A lightweight sweater is one of the most versatile items you can have in your closet and it also doesn't add extra bulk to your frame which can make you look like you've gained 15 pounds around your neck, arms and mid-section. Leave the heavyweight sweaters behind this season in favor of sweatshirt-inspired sweaters that are feminine, chic and all the warmth you need in the cool fall season. They go perfectly with everything from pencil skirts to skinny jeans for a day at the office or at the park.
Crew-neck Sweater, $25.
Love by Design Crochet Hem Sweater, $44.
Sanctuary Diamond Sweater, $59.
Hinge Textured Mixed Stitch Sweater, $88.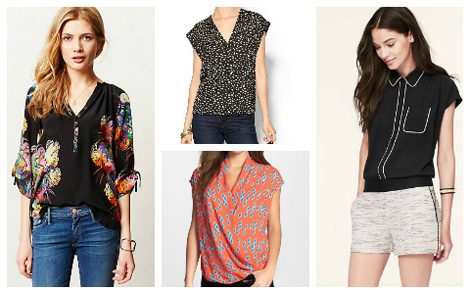 This fall season a feminine blouse will take you everywhere you want to go in style. Whether you opt for a long-sleeve blouse because you're stuck in air conditioning all day long and get cold or a short-sleeve style best fits your needs, they are both on trend. A blouse with ruffles and flowers takes on a flirty, romantic look and geometric prints in a box shape offer a more serious look. Pick a blouse depending on your mood that day or mix and match your feminine blouse with the moto boots and jeans for a fun take on the fall trends. One of my favorites for the season is the faux-wrap blouse which can make you look slimmer and pairs great with any of the fall denim trends.
Piped Shirt, $45.
Daniel Rainn Maxine Cross Front Top, $69.
Bellatrix Print Faux Wrap Front Blouse, $60.
Talula Popover, $148.
More on fashion
Clothing purchases you can feel good about
Try a personal stylist for just $20 
Undergarment upgrade