Posted: Sep 03, 2014 5:00 AM
Dirty hair day or not, these DIY headbands will give your noggin a whole lotta flair without breaking the bank. From sailor knot T-shirt headbands to braided fabric scrap hair accessories, discover seven upcycled headbands that are crazy-easy to make.
Sailor knot headband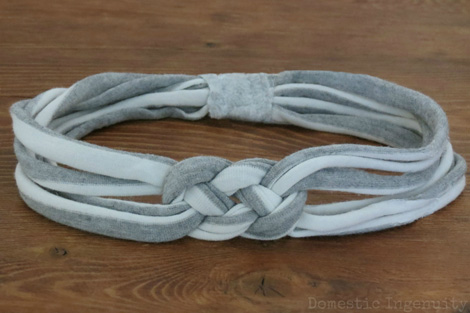 Thanks to Domestic Ingenuity's fancy but easy-to-follow knot-tying tutorial, no one will ever suspect that your adorable DIY headband used to be your favorite T-shirt.
Materials:
Old T-shirt or any stretchy fabric
Scissors
Sewing machine or hot glue gun
Directions:
First, cut 2 horizontal strips from the bottom of your shirt, cutting through both layers about 1-1/2 inches wide.
Next, pull gently until the loops are stretched out.
Then, visit Domestic Ingenuity's blog post and follow the step-by-step photo directions to tie your sailor knot headband and your drab 'do will be a thing of the past thanks to this super-cool hair accessory.
DIY wire headband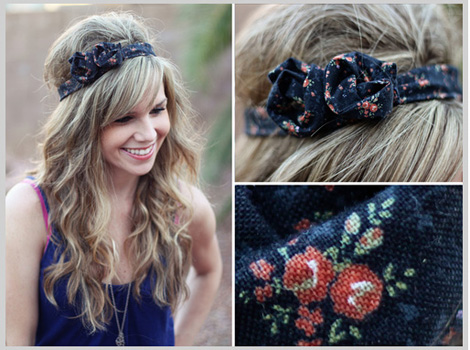 Bend, shape and form your hair accessory into any shape you'd like with this clever wire headband tutorial by Kelly Hicks Design.
Materials:
Floral wire
Fabric
Sewing machine
Sewing thread
Scissors
Large safety pin
Directions:
First, cut a strip of fabric wide enough to fold in half, long enough to wrap around your head once or twice plus a little extra.
Next, fold the right sides of the fabric together and iron your fabric flat.
Then, sew your fabric together along the open edge.
Now, attach a safety pin to 1 side of the fabric and feed the pin through the tube you created to make it right-side out.
Next, take your wire and bend 1 end into a loop and feed it through the fabric tube.
Then, hold the wire loop at the end of your tube and sew the fabric shut; make sure you put stitches through the wire loop to keep it in place.
Finally, repeat on the other end and you're ready to wrap your bendable hair accessory in any bow, floral or knotted shape you wish and it will stay in place like magic.
DIY trim or ribbon headband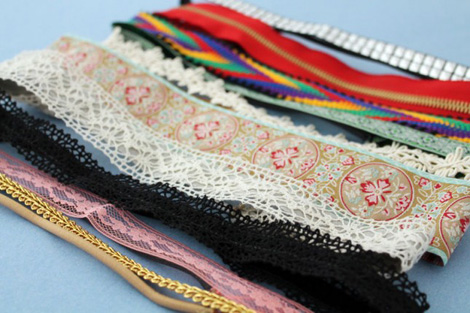 With any excess trim or ribbon you have on hand and five minutes to spare, Brit + Co shows you how to craft DIY headbands that will make your coif as cute as can be.
Materials:
Assorted trim or ribbon
Needle
Thread
Thick hair elastics
Directions:
First, cut your elastic in half.
Next, cut your trim or ribbon to reach almost all the way around your noggin, minus the length of your cut elastic piece.
Then, wrap 1 end of the trim around 1 elastic end and stitch the 2 together with a needle and thread.
Now repeat on the other end.
Finally, snip off the excess thread and your DIY hair accessory is ready to add beauty to your hairdo.
DIY knot headband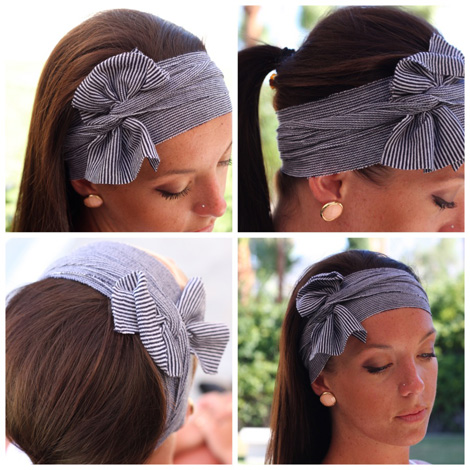 Talk about a quick and easy way to tame your mane. Marie Janelle makes it easy for you to look good on the go, whether you had time to wash your hair or not (shhh, we won't tell either way).
Materials:
Thin piece of polyester or T-shirt fabric
Scissors
Directions:
First, cut a strip of material 1 meter long and 8 centimeters wide.
Next, wrap the fabric from the front of your head to the back, crossing it at the back and wrapping it around the front again.
Finally, tie the fabric in a simple knot, fan the 2 tails of the fabric into a bow and your DIY hair wrap gives your mane an adorable element in a snap.
Easy brooch headband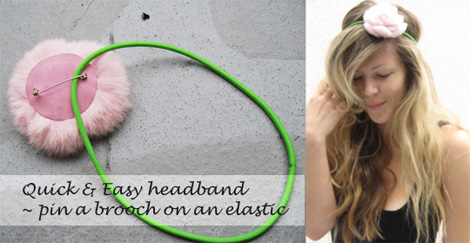 This easy brooch headband tutorial by Love Maegan makes looking good look easy when you use cute brooches in new ways.
Materials:
Large elastic headbands
Brooch of your choice
Directions:
To assemble this quick and easy DIY headband, simply pin a brooch on an elastic headband and your look is complete — and easy to change on a whim, too. We mentioned crazy-easy, right?
DIY crossover headband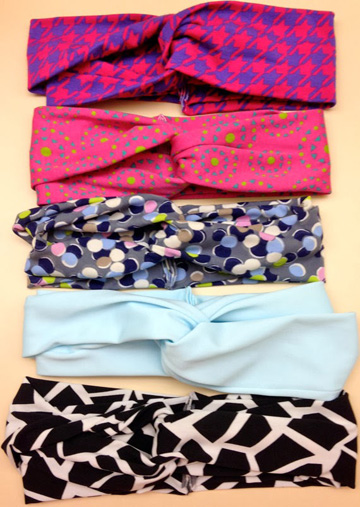 Using 2 strips of your favorite stretchy material and a couple of quick stitches, Kraftie Katie will show you how easy it is to whip up a whole slew of DIY headbands with minimal sewing skills and not much time.
Materials:
Stretchy knit fabric
Scissors
Sewing machine
Directions:
First, cut 2 long strips of stretchy knit fabric to measure 6 x 22-inches each. Adjust length to fit your head as needed.
Next, fold each piece along the long side with right sides together and sew along the open seam. Set aside and repeat with the second strip.
Then, turn each piece right side out and lay in a plus shape. The seams should sit along the middle of your strip, with the seam facing up for the bottom piece and the seam facing down for the top piece.
Now fold the bottom piece in half over the top piece; you shouldn't be able to see the seam now. Repeat with the top piece to hide that seam as well.
Finally, bring all 4 ends together and sew across, trimming the corners so they don't show as much. As soon as you're done make more DIY head wraps in all of your favorite fabrics.
Braided fabric headband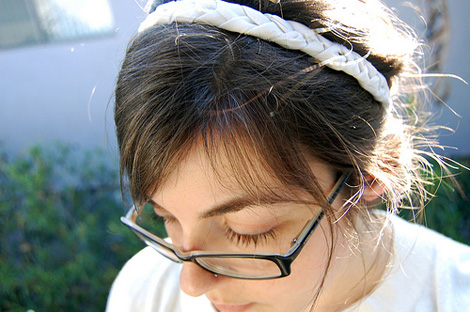 Bad hair days are a thing of the past when you upcycle strips of fabric or vintage sheets in less than 5 minutes with this braided fabric tutorial by Heart of Light.
Materials:
3 long strips vintage sheets or extra fabric
Read more DIY ideas
DIY mercury glass decor
DIY gifts for Grandparents Day
Awesome chalkboard paint crafts