Posted: May 02, 2013 11:15 AM
Making your own ice cream sandwiches couldn't be easier — or more fun. The toughest part is deciding which sandwich creation to make. Here's how to quickly and easily make four great ice cream sandwich combinations that will make your kids think you're awesome.
The cookies

The first thing you'll need to do is decide which cookies to bake. We chose to make four different kinds of cookies: traditional chocolate chip, chewy brownie chunk, peanut butter and oatmeal chocolate chip.
Bake your cookies, allow them to cool and then place them in the freezer so that they'll be firm when it's time to squish the ice cream between them.
The ice cream
To make the sandwiches with homemade ice cream:
Line a baking dish (or other flat dish with 1 1/2-inch sides) with plastic wrap.
Make your favorite ice cream flavor in your ice cream maker or with the plastic bag method.
Pour the ice cream into the bottom of your prepared pan and spread to evenly fill the pan (1/2 to 1-1/4-inch thick).
Press another sheet of plastic wrap on the surface of the ice cream.
Chill until very firm (ideally 24 hours or more).
If you'd prefer to use store-bought ice cream
Look for ice cream that comes in a box that can be opened so that you can slice the ice cream and cut with a cookie cutter as explained below.
If you can't find ice cream in a box, you can soften your ice cream (as little as possible) and spread it into a lined pan. If you let it warm up too much, the texture will be a bit off once you refreeze it.
The assembly
Once your ice cream is frozen solid, remove the top layer of the plastic wrap and, using a cookie cutter that's the same size as your cookies, cut the ice cream.
Place the ice cream between two frozen cookies, roll edges in your desired toppings and quickly return the finished sandwich to the freezer.
Chill until completely firm.
The combinations
We had so much fun dreaming up our cookie-ice cream combinations, and after much deliberation and a whole lot of compromise, we ultimately chose: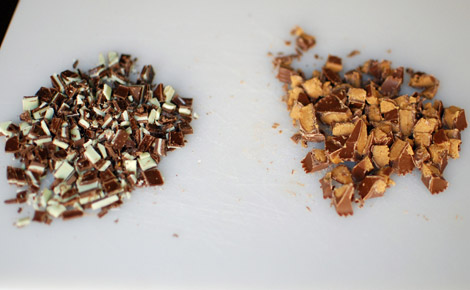 Chewy brownie chunk cookies with vanilla ice cream and Andes candies
Oatmeal chocolate chip, cinnamon ice cream and granola
Chocolate chip, vanilla ice cream and rainbow sprinkles
Peanut butter, vanilla ice cream and peanut butter cups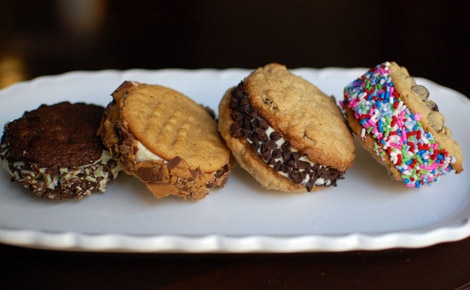 More recipes
Basic chocolate soufflé
Toffee crunch blondies
Sugar-free sweet treat recipes