Posted: Apr 11, 2012 12:06 PM
Picnics are relaxing and can even be romantic – until reality hits and the ants come marching in. From beverages to desserts, you can keep them stress-free with these great ideas to make any picnic perfect.
It seemed like a great idea
When the weather starts warming up, it's easy to begin daydreaming about a picnic basket, a bottle of wine and a flower-strewn meadow. Picnics can be a romantic interlude or a family getaway on a Saturday afternoon. Everyone loves them — in theory.
Often the reality is that containers pop open spilling potato salad everywhere, drinks are forgotten and ants, bees and other woodland creatures invade with vengeance. All too often that perfect picnic is abandoned for a quieter, gentler meal at the closest fast food restaurant.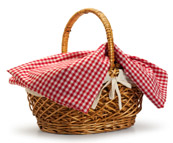 Have a basket ready
For impromptu picnics at a moment's notice, have a basket packed with plates, eating utensils, napkins and something to spread on the ground. One of the best surfaces for your al fresco meal is a vinyl tablecloth. Even if it has rained recently or the humidity is so high you can wring water out of the air, the vinyl tablecloth will keep you and your dinner dry. Since it is thicker than just plastic, small twigs and stray stones will not break through it.
It is a good idea to have a special set of unbreakable dishes just for your outdoor adventures. Wash them after use and put them right back in the basket for next time.
Adding a small trash bag will help you leave the picnic site as beautiful as you found it.
Don't forget the first aid kit
Another item that you will want to keep in your picnic basket is a small, airtight, plastic bin with Band-Aids, bug spray, sun screen, and other things you might need in case of an emergency. If one of your friends or family members has allergies, an EpiPen should be included. Check the expiration date on it often.
Other supplies you might include, depending on your needs:
Blood sugar test strips
Candy
Small scissors
Ace wrap
Tylenol
Benadryl
Containers for the food
Unless you plan on having just sandwiches, chips and canned drinks, containers for food can be a problem. Large containers take up a lot of room, and it can be messy to serve food from them in the great outdoors.
Use Mason jars with screw-top lids in various sizes to hold your meal. A pint jar, tightly sealed, can hold cold iced tea or lemonade while a half pint jar can hold your cobbler, pie or other dessert. In fact, you can bake single-serving desserts right in the jars. Just be sure to place them on a cookie sheet while baking and not just on the oven rack. Quart jars will hold salads and other bulky vegetables. The jars are reusable and, best of all, when the food is gone they will hold all those wildflowers and interesting insects that your children will want to take home. Since the containers can be resealed, you can pause, mid-meal, and head off to take a closer look at the scenery or cool off in the lake.
Revel in your personal style
Buy hang tags at the craft store or office supply and label what is in each jar. Use the other side of the tag to write each guest's name. Tie the tag around the neck of the jar with a piece of twine or raffia. Not only will everyone know what they are eating, none of the food or drinks will get mixed up when everyone decides to take a quick hike.
If soft candlelight sounds like the perfect addition to your picnic, you can put tea lights in pint jars. The cool, evening breeze won't blow them out, and they won't be a fire hazard.
Picnics are lots of fun and, when they are this easy, they will happen a lot more often.
More about meal planning
Fun sandwich ideas for kids
5 Must-have meal planning apps
5 Meal planning tips for busy moms