Posted: Jun 11, 2012 9:00 AM
Ice cream. Bananas. Hot fudge. And -- get this -- banana bread croutons. It's like heaven in a bowl.
I'm a super hero. Well, to my kids at least when I surprise them with a super special afterschool snack like these fudgy banana sundaes with banana bread croutons.
Sundaes are always delicious -- with their ice cream and sauces and whatnot. But this isn't your run-of-the-mill everyday sundae. Creamy vanilla ice cream is smothered in hot fudge, fresh banana and airy whipped cream with a cherry on top. But the piece de resistance in this is (wait for it)... warm banana bread croutons. These crispy, sweet dessert version of croutons are an awesome contrast to the cold ice cream.
There's cold and hot, crisp and creamy, juicy sweetness and so much more. It's heaven in a bowl. This is the kind of special sundae that can lead to serious bowl licking.
But be warned, this decadent sundae can also lead to big time energy. Something about the fresh bananas, ice cream and fudge just do that... to everyone. You might want to follow this one up with a trip to the park for the kids.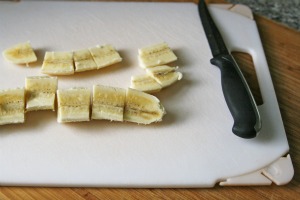 Fudgy banana sundae with banana bread croutons
Serves 4
Ingredients:
8 scoops vanilla ice cream
1 banana, halved length wise and cut into 1-inch pieces
1/2 cup hot fudge
1 batch banana bread croutons (still warm)
Whipped cream
4 maraschino cherries
Directions:
Scoop two scoops of vanilla ice cream into each of four bowls.
Top with banana pieces and drizzle with hot fudge. Sprinkle with banana bread croutons. Add a large dollop of whipped cream and a cherry.
Devour immediately.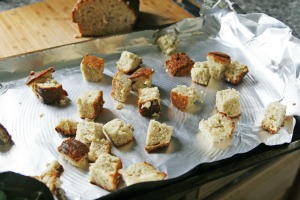 Banana bread croutons
Serves 4
Ingredients:
2 sliced (1-inch thick) banana bread
Directions:
Preheat the oven to 350 degrees F. Line a baking sheet with parchment or aluminum foil.
Cut the banana bread slices into 1-inch chunks. Spread out in a single layer on the baking sheet.
Bake for 10-12 minutes, stirring and flipping once, until golden.
Use immediately.
Tips
Use your favorite banana bread recipe to whip up a loaf to make the croutons for this sundae. Or pop into your local grocer for a loaf. Can't find premade bread? A banana bread muffin can be substituted.
Make sure the croutons are warm when you serve. They are just magical that way.
More decadent desserts
Ice cream sandwich recipes
Frozen banana pop recipe
Cupcakes to go