Posted: Jun 18, 2012 10:00 AM
A quick sweet-savory salad with grilled chicken, dried cranberries, Vermont cheddar cheese and croutons on a bed of Boston Bibb lettuce.
Can a salad be something special? It can when it's a delicious, easy, fast lunch salad eaten in a stolen moment of quiet. As a mom, you know how rare the elusive quiet time can be. So when you get it, don't waste it with a time-consuming lunch preparation. Instead, whip up a quick and easy lunch salad.
This salad is filled with flavors of New England: using ingredients like Boston bibb lettuce, which is a smooth, mild and slightly sweet variety that makes a killer salad (but is also awesome for lettuce wraps). There are dried cranberries too, in all their sweet-tart glory. Cranberries are grown in the Cape Cod region of New England, where cranberry bogs are flooded and harvested in the fall. And then there is Vermont cheddar, a creamy, sharp cheese that adds dimension to the salad.
Drizzle this with your favorite vinaigrette and then dig in. Hint: Red wine vinaigrette goes really well with these flavors.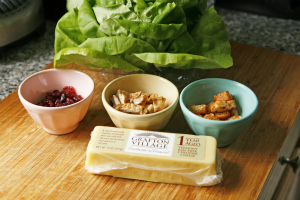 New Englander chicken salad
Serves 1
Ingredients:
2 cups Boston bibb lettuce, rinsed
1 (4 ounce) grilled chicken breast, sliced
2 tablespoons dried cranberries
1/4 cup croutons
1 ounce sharp Vermont cheddar cheese, cubed
Vinaigrette
Directions:
Tear the Boston bibb lettuce into pieces and arrange in a shallow, wide salad bowl. If desired, use some large leaves to create a pretty backdrop.
Arrange the chicken, dried cranberries, croutons and cheddar cubes on the lettuce bed.
Drizzle with vinaigrette.
Devour.
Tips
Your best bet for the chicken is to make extra grilled chicken whenever you grill. You can store leftovers in the fridge for a few days or freeze them for up to three months. Then, just pull them out (defrost if frozen), slice and enjoy!
Do you really need Vermont cheddar for this? Well, technically no. But nothing beats the smooth sharpness of cheddar straight from Vermont. It's recommended, but you could use a non-Vermont cheddar too. New York and Wisconsin do make good cheddars too.
Want to go low carb? Skip the croutons and use cubed raw summer squash instead. It has a pleasant flavor and goes well with the other ingredients in the salad.
More quick and easy lunch recipes
Grown-up pigs in a blanket
Fennel, orange and olive salad
English muffin pizzas