Posted: Jun 21, 2012 11:00 AM
Summer is finally upon us and our home gardens, farmers markets and grocery stores are bursting with fresh, delicious produce. Here's how to incorporate those ingredients to make a version of Caprese salad that will delight your guests this summer.
There's something transportive about Caprese salad, with its fresh-from-the-garden flavors.
But traditional Caprese salad, with its thick slices of juicy tomatoes and delicious mozzarella, can be tricky to eat at a party when you're holding a plate in one hand and a drink in the other.
For your next party, try serving these bite-sized Caprese salads that couldn't be easier to eat. One bite, all of the amazing flavors, and no knife required -- perfect party food!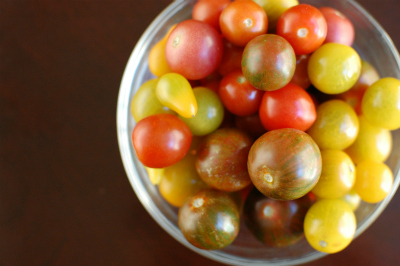 Caprese salad poppers
Serves 10
Ingredients:
40 cherry or grape tomatoes (I used heirloom tomatoes because I love the flavor and color variations)
1 container of small balls of fresh mozzarella cheese, often referred to as bocconcini
1 bunch of fresh basil
Kosher salt
Directions:
Using a paring knife, hold tomato firmly and carefully slice the tops off your cherry tomatoes.
Hollow out the inside of the tomatoes with a small spoon. A grapefruit spoon is perfect for this task (serrated edges will cleanly cut through the tomato walls).
Tuck one basil leaf inside each tomato, leaving the top of each leaf exposed.
Cut mozzarella balls into halves or thirds, depending upon the size of your tomatoes. You'll want it to fill the entire hollow that you created with a bit of it poking out the top.
Sprinkle generously with kosher salt.
More summer recipes
Ice cream sandwich recipes
Homemade frozen treats
Watermelon whales