Posted: Jun 25, 2012 11:00 AM
Whether it's an early morning breakfast or an afternoon snack, I appreciate recipes that are a snap to make, use up produce that might otherwise rot away and are pretty nutritious too. Strawberry season is fast approaching for most of the country, and this easy yogurt-based smoothie, the sweet healthy cousin of the milkshake, is a great way to celebrate it.
School might be out for the summer, but some school time traditions hold steady. Summer reading still has to be done. School supply lists have to be dealt with... eventually. And some food-related matters continue. For instance, breakfast is still served early in our house (my kids are morning people -- I have no idea where they came from because I most certainly am not) and afternoon snacks are a must.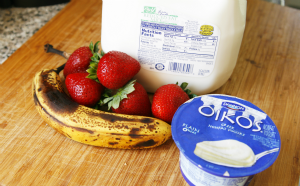 One of my son's favorite smoothies combines two favorite fruits -- antioxidant-rich strawberries and potassium-rich bananas -- with calcium and protein-rich Greek yogurt (and a little milk for good measure). It works equally well as a quickie on-the-go breakfast and a super-easy afternoon snack. And served in a Mason jar with a bendy straw? Well, that makes this Greek yogurt smoothie even more special.
Whip this up today for your tots. And maybe for you too.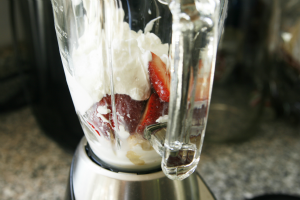 Strawberry banana smoothie
Serves 2
Ingredients:
1 very ripe banana, peeled and broken into chunks
5 large strawberries, hulled and halved
1 (5.3 ounce) container plain Greek yogurt
1/4 cup milk
Directions:
Combine all ingredients in a blender. Blend on high speed until smooth. Pour into glasses and enjoy.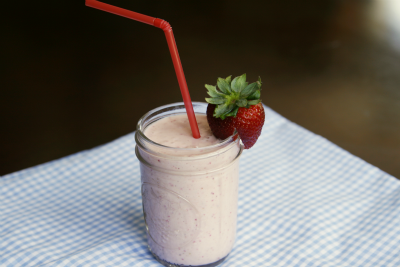 Tips
If desired, garnish with an additional strawberry. Or create a mini fruit kabob garnish using chunks of a firm, just-ripe banana and strawberries on a cute toothpick and balance it across the top of the glass you serve the smoothie in. Bonus! You can dip the garnishes into the smoothie before eating. Mmm.
For a slightly sweeter smoothie, use vanilla-flavored Greek yogurt instead of plain Greek yogurt. The vanilla flavor version is slightly sweetened.
Want a cooler version of this? Trade in frozen strawberries and a frozen banana. They will add the chill without watering it down.
More easy snacking
5 Fabulous kid-friendly smoothie recipes
Fun snacks for kids
English muffin pizzas