Posted: Jun 27, 2013 8:00 AM
Using premade dessert shells, a sweet cream filling and fresh berries, you can whip up a simple, scrumptious dessert for the 4th in no time.
Do you know what you are serving for dessert on Independence Day yet? If not, don't worry -- allParenting has you covered!
This quick and easy dessert is a cinch to make. With a cream filling that takes minutes to make (well, minutes, plus softening time for the cream cheese) and an assembly process that takes just minutes too, this dessert can go from ingredients to table in about 10 minutes. And with the festive red, white and blue colors, they are perfect for celebrating the 4th of July.
To make these, you start by whipping up the cream. Just stir together cream cheese, marshmallow fluff and vanilla extract. Then, fill the shells (spongy dessert shells, that is) with cream and top with strawberries and blueberries. It really doesn't get much easier than this, does it?
So, now do you know what you will be serving for dessert?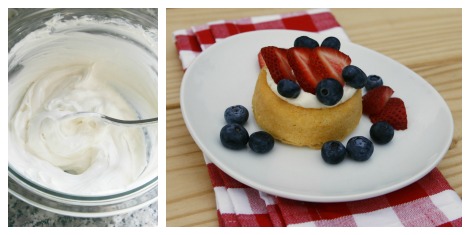 Quickie red, white and blue tarts
Serves 6
Ingredients:
4 ounces cream cheese, softened
1/2 cup marshmallow fluff
1/2 teaspoon vanilla extract
6 dessert shells
6 strawberries, washed, hulled and sliced
1/4 cup fresh blueberries, washed
Directions:
Stir together the cream cheese, marshmallow fluff and the vanilla extract until they are well combined.
Divide the cream equally among the six dessert shells.
Arrange the strawberry slices and blueberries on the top of each tart.
Serve and enjoy!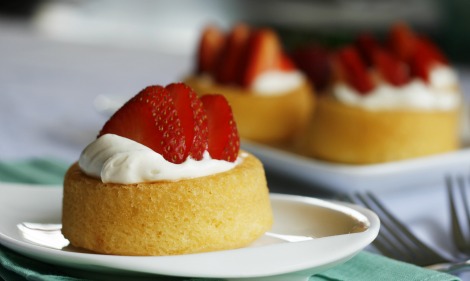 Variation
For a delicious strawberries and cream tart, skip the blueberries. It's delicious like this -- especially when you use fresh strawberries. Stick the strawberries into the cream upright for a pretty presentation. Your guests won't be able to say no!
Tips
The cream filling can be made up to a day in advance. Store it in an airtight container in the fridge.
Make sure the cream cheese is softened before using, otherwise it won't blend well.
Don't fill the shells or cut the fruit until you are ready to serve. These last minute tasks take seconds and ensure that all the components are at their freshest.
Dessert shells are found sometimes in the bakery and sometimes near the fruit. They are spongy yellow cake shells sold in packages of six. If you can't find them, slices of pound cake can be substituted.
More recipes
Strawberry banana smoothie
New Englander chicken salad
Fudgy banana sundae with banana bread croutons