Posted: Jun 27, 2012 3:00 AM
Peanut butter and chocolate, what else does a girl need? How about a ooey gooey triple chocolate brownie piled high with chunky roasted peanut butter fudge frosting, drizzled with melted chocolate and topped with peanuts?
Take a break from the day and savor the moment as you indulge in this marvelous treat. Just you, a quiet minute and three luscious layers of luxurious chocolaty goodness -- semisweet chocolate, unsweetened cocoa and milk chocolate chips are topped with the most sinful peanut butter fudge frosting. A delight to your taste buds and a textural surprise, the chocolate chips provide a little crunch inside the fudgy brownie. Everyone needs a little escape… and a 3rd layer of chocolate!
Look like a pro by dusting your pan with cocoa powder instead of flour and avoid that unsightly white cakey powder on the outside of your brownie masterpiece! This delightful confection is simple enough to make anytime, and will look like you spent all day in the kitchen baking.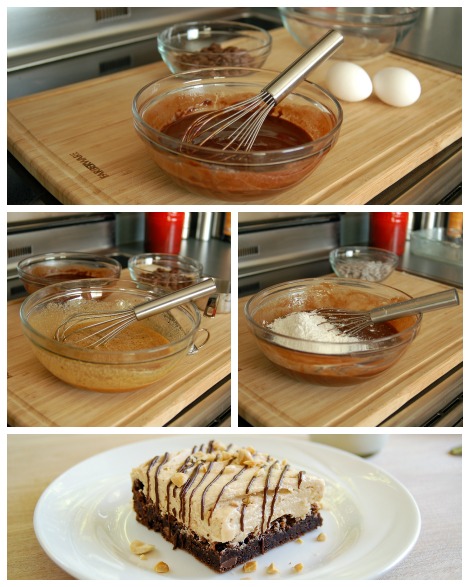 Simple peanut butter fudge chocolate brownies
Ingredients:
1/2 cup unsalted butter (1 stick), plus 1 teaspoon, divided
4 ounces semisweet chocolate chips, plus 2 tablespoons melted
2 teaspoons instant coffee granules
3/4 cups sugar
2 large eggs
2 teaspoons pure vanilla extract
1/4 cup all-purpose flour, plus 1 teaspoon, divided
1 teaspoon baking powder
2 tablespoons unsweetened cocoa powder, sifted (I used Pernigotti) plus 1 tablespoon, divided
1/2 teaspoon kosher salt
4 ounces milk chocolate chips
1 tablespoon peanuts, chopped
1 recipe peanut butter fudge frosting (recipe to follow)
Directions:
Preheat your oven to 350 degrees F. Butter and dust an 8 x 8-inch baking dish with 1 tablespoon of cocoa powder.
Melt the butter in a small bowl in the microwave. Add the semi sweet chocolate chips and coffee granules and whisk until smooth. Set it aside.
In a medium bowl, whisk together the sugar, eggs and vanilla. Add the chocolate mixture to the egg mixture and whisk to combine. Add 1/4 cup of flour, baking powder, cocoa and salt. Whisk the ingredients until they are well combined.
Toss 4 ounces of the milk chocolate chips in a small bowl with a teaspoon of flour. Add them to the chocolate batter and stir. Pour the mixture into the prepared baking dish. Rap the pan on the counter to dislodge any air bubbles.
Bake for about 25-30 minutes until a toothpick comes out clean. Allow to cool, then refrigerate for 30 minutes. Frost the brownie with some peanut butter fudge frosting.
Peanut butter fudge frosting
Ingredients:
4 ounces cream cheese, at room temperature
1/2 stick (4 tablespoons) unsalted butter, at room temperature
1/2 pound (about 2 cups) powdered sugar, sifted
1/2 cup peanut butter (I used Skippy chunky) 
1 teaspoon pure vanilla extract
Directions:
In a large bowl with an electric mixer, beat the cream cheese and butter until light and fluffy.
Add the powdered sugar about 1 cup at a time, mixing thoroughly after each.
Continue to beat on medium speed until it is light and fluffy, 3 to 4 minutes.
Add the peanut butter and vanilla, beat until thoroughly blended.
Spread evenly over the brownies.
More delicious desserts