Posted: Jul 09, 2012 1:00 PM
Some favorite recipes are more like family heirlooms. "I'm delighted and proud to be able to share this favorite recipe of mine, which was a gift to me, from Rene's late mother, Mrs. Alice Angelil. I hope that you enjoy them as much as our family does!" - Celine Dion
First of all, you'll need 50 vine leaves... these are usually sold in jars.
Ingredients for stuffing:
1/2 cup long-grain rice
1/4 cup olive oil
1 medium-sized onion, finely chopped
1/2 pound ground lamb
1/4 cup fresh parsley, finely chopped
2 tablespoons fresh mint, finely chopped
3 large spoonfuls fresh lemon juice
1/2 teaspoon turmeric
1/2 teaspoon dried oregano
1 egg
Salt (to taste)
Special Arabian pepper (finely milled white and black pepper, cardamom, nutmeg, 4-spices, clover and cinnamon... blend portions of each spice to your personal taste)
Ingredients for cooking:
1 teaspoon finely chopped garlic
2 teaspoons olive oil
2 tablespoons fresh lemon juice
1/4 cup water
Directions:
Put the vine leaves in a large bowl and submerge them in boiling water.
Let it stand for 20 minutes, then rinse and drain well.
Separate the leaves and place them on a clean white towel.
Set aside any broken leaves…you'll use these for lining the bottom of the cooking pot later.
Boil the rice for 5 minutes, and drain away any excess water.
Using a non-stick frying pan, sauté the onion in oil for about 10 minutes.
Add the lamb and cook it well.
Turn off the heat, then add the rice and all of the other stuffing ingredients.
Mix everything together very well. This is your final stuffing.
Spread out 30 vine leaves on a platter or clean surface, and cut off the ends of each leaf.
Put 1 tablespoon of the stuffing on each leaf, and roll carefully tucking the sides so that the stuffing will be secured in each leaf. You now have 30 little stuffed leaf packages.
Cover the bottom of a big pot with 10 vine leaves (you can use any ones that may have broken, or complete leaves).
Place the 30 packages in the pot, with the open seam facing the bottom of the pot.
Add the oil, garlic, lemon juice and water.
Cover the packages with the remaining 10 vine leaves and place a plate on top to secure everything.
Quickly bring to a boil, then reduce the heat and simmer (covered) for about 50 minutes.
Uncover, and let it stand for a while so that you'll be serving the dish at room temperature.
Tahini sauce is an excellent condiment, if so desired!!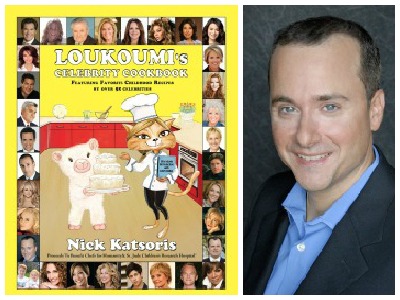 Recipe reprinted by permission from Loukoumi's Celebrity Cookbook Featuring Favorite Childhood Recipes by Over 50 Celebrities by Nick Katsoris. Copyright (c) 2011 by NK Publications, Inc.
More celebrity recipes from the book
Eli Manning's lace cookies recipe
Faith Hill's Coca-Cola cake recipe
Katie Couric's lemon squares recipe