Posted: Jul 09, 2012 1:00 PM
Love a rich chocolate cake? This recipe is a family favorite and satisfies your sweet tooth. "I love this Coca-Cola cake. It is so rich and decadent… you need to drink a lot of milk with it." - Faith Hill
Coca-cola cake
Ingredients:
2 cups unsifted flour
2 cups granulated sugar
2 sticks butter
2 tablespoons cocoa
1 cup Coca-Cola
1/2 cup buttermilk
1 teaspoon baking soda
2 eggs, beaten
1 tablespoon vanilla
1-1/2 cups miniature marshmallows
Directions:
Sift the flour and sugar in a bowl.
Heat the butter, cocoa and Coca-Cola in a saucepan to boiling point.
Pour the hot mixture over the flour/sugar mixture.
Add the buttermilk, baking soda, eggs, vanilla and marshmallows. (Batter will be thin and marshmallows will float to the top.)
Pour the batter into a greased and floured 9 x 13-inch pan.
Bake at 350 degrees F for 30-35 minutes.
Ice cake while it is still hot.
Icing
Ingredients:
1/2 cup butter
3 tablespoons cocoa
6 tablespoons Coca-Cola
16 ounces confectioners sugar
Directions:
Combine all of the ingredients and heat to boiling.
Pour over the cake while it is still hot.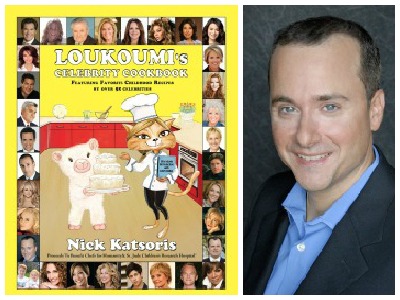 Recipe reprinted by permission from Loukoumi's Celebrity Cookbook Featuring Favorite Childhood Recipes by Over 50 Celebrities by Nick Katsoris. Copyright (c) 2011 by NK Publications, Inc.
More recipes from the book
Celine Dion's stuffed vine leaves recipe
Eli Manning's lace cookies recipe
Katie Couric's lemon squares recipe