Posted: Jul 16, 2012 11:00 AM
Homemade white chocolate sauce, fresh blueberries and vanilla ice cream. Mmm...
Can you have a decadent dessert made in about 10 minutes -- or less? You bet you can. The key is to combine freshness with something unexpected (but still simple) and something easy. This sundae follows those rules to a T.
You start by making a special sauce. Seriously, this sauce is something. Heavy cream plus white chocolate equals magic... pure magic. Heat the heavy cream and add the chocolate, stirring to combine. Now, you have a to-die-for white chocolate sauce.
It's time to assemble the sundaes: Start by getting everything ready, including the bowls, utensils and ingredients. This will make assembling these blueberry sundaes a breeze.
Spoon out the ice cream into four bowls -- and don't skimp. You'll want a fair amount of ice cream. Now, drizzle on that white chocolate sauce. Watch as it creates channels through the ice cream, flowing down the sides. That's going to be good.
Now, pull out those blueberries that you picked last weekend. Rinse them, shaking gently to remove as much water as you can. Sprinkle onto the ice cream... all over.
Finally, if you want, you can finish off the sundae with a squirt (or dollop) of whipped cream.
Now, eat! Or better yet, be the hero mom and call your kids to come enjoy the sundaes with you. Cuz, hey, there's something pretty awesome about a mom who surprises her kids with sundaes -- even ones with fruit on them.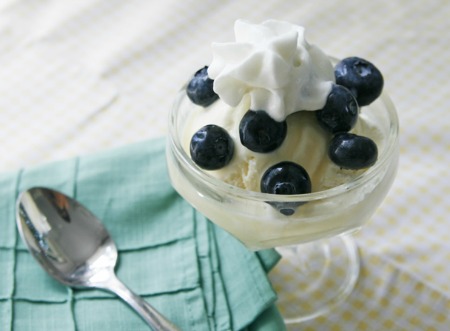 Blueberry white chocolate sundaes
Serves 4
Ingredients:
4 cups vanilla bean ice cream, divided
White chocolate sauce (recipe follows)
1 cup fresh blueberries
Whipped cream (optional)
Directions:
Divide the ice cream into four bowls (1 cup per bowl -- adjust amount as desired). Drizzle each with 1/4 of the white chocolate sauce, pouring it all over. Sprinkle the sundae with blueberries. You can use more, if desired. Finish with a dollop of whipped cream.
Enjoy!

White chocolate sauce
Yields about 2/3 cup
Ingredients:
1/3 cup heavy cream
3 ounces white chocolate, chopped
Directions:
Heat the heavy cream in a small saucepan over medium heat until just before boiling.
Remove the pan from the burner and stir in the chocolate. Let it sit for 5 minutes. Stir again until it is smooth.
Use as desired.
Tips
Beware, white chocolate can be finicky. Don't let any water near it or the sauce will seize.
Any ice cream flavor can be substituted, if you prefer.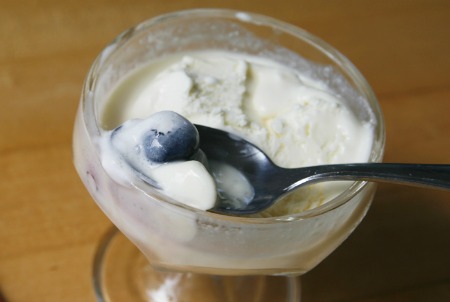 More recipes
Strawberry banana smoothie
New Englander chicken salad
Fudgy banana sundae with banana bread croutons