Posted: Jul 23, 2012 10:00 AM
One salsa recipe, many variations. Make this as hot (or cool!) as you please.
Here in New England, this summer started off hot and hasn't let up much. With temperatures in the 90s, we are opting for fresh, uncomplicated foods whenever we have the chance. Anything heavy, creamy or thick? Totally out.
On a hot day, one thing my kids and I love digging into is some freely made salsa and tortilla chips. There's something so perfect about munching on hot salsa as the temperature rises up. It just feels right.
But I'll be the first to tell you that my kids and I have different perspectives in terms of how hot salsa should be. More specifically, they prefer milder salsa recipes than I do, for sure. For me, I like something with a good amount of spice -- but not so much that I have to drink a gallon of milk to go on. So when making homemade salsa, I love one that can speak to all of our sensibilities.
This basic homemade salsa recipe is absolutely perfect. It produces a flavorful, mild salsa that's a cinch to dress up, heat up and enjoy. Making it is a cinch too -- it takes just minutes to make these.
What are you waiting for?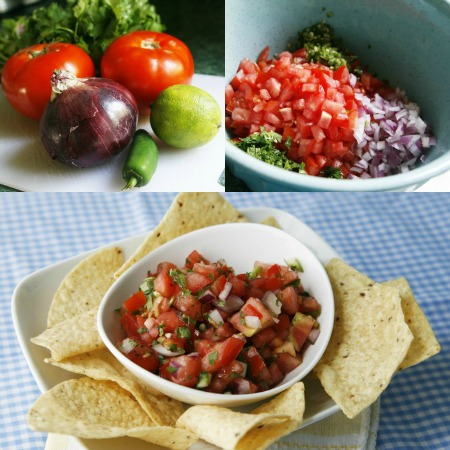 Basic homemade salsa
Yields about 4 cups
Ingredients:
2 large beefsteak tomatoes, diced
1 jalapeno, minced
1/2 cup finely chopped red onion
1/4 cup finely chopped cilantro
1 lime, juiced
Salt and pepper, to taste
Directions:
In a large bowl, stir together the tomatoes, jalapeno, red onion, cilantro and lime juice. Season with salt and pepper, as desired. Cover.
Chill for at least 30 minutes before serving to let the flavors come together.
Enjoy!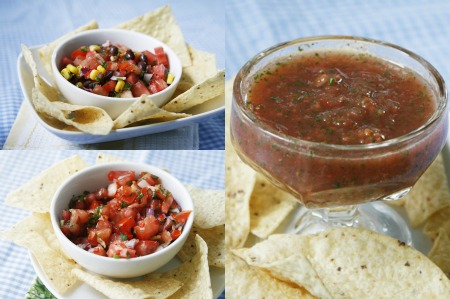 Variations
Southwest flair: Stir in 1/2 cup of rinsed black beans and 1/2 cup of sweet corn until well dispersed.
Spicy roasted garlic: Stir in five mashed cloves of roasted garlic and 1 minced serrano pepper.
Burn baby burn hot: Puree 1 cup of salsa with 1 habanero pepper. Beware though... this has quite a burn.
More recipes
Fun sandwich ideas for kids
Grown-up bento box ideas
Homemade pink lemonade pops