Posted: Aug 08, 2012 3:00 AM
When you think of summer desserts, aren't fresh berries and lemon some of the first flavors that come to mind? This unbeatable combination is in a flavorful cupcake that will knock your socks off. Raspberry lemonade cupcakes -- the name alone is enough to make your mouth water. Just wait until you taste them.
When creating summer desserts, I look to my favorite summertime flavors for inspiration. During these hot months, I always crave ice cold refreshing drinks like raspberry lemonade. It is so tart and sweet and is absolutely the perfect flavor combination.
With a deep love for all things lemon it's no surprise that I would turn to lemonade to quench my thirst. Lemon flavor is fresh and scrumptious in everyway. So, I decided to combine lemon with one of my favorite summer fruits.
Sweet, juicy and succulent raspberries come together with the intense lemon flavor in this fantastic summertime dessert -- loaded with lemon flavor from freshly squeezed lemon juice and threads of lemon zest running through the moist cupcake. The perfect summer dessert with a little pucker!
Try all your favorite summer berries in this cupcake. Simply switch out the raspberry puree for strawberry, blueberry or blackberry puree!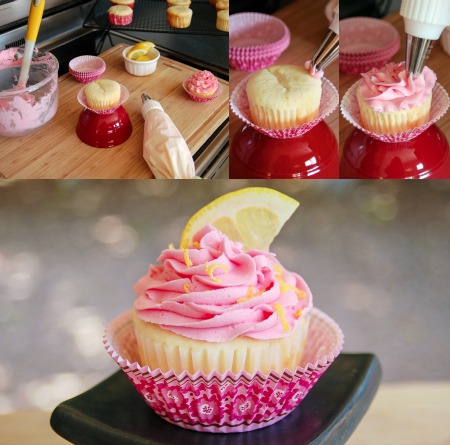 Raspberry lemonade cupcakes
Makes 24 cupcakes
Ingredients:
3 cups cake flour
1 tablespoon baking powder
1/2 teaspoon kosher salt
2-1/2 cups granulated sugar
3 lemons, zested and juiced (3 tablespoons zest, 3/4 cup juice)
1 stick (8 tablespoons) unsalted butter, at room temperature
2 large eggs
2 egg whites
1 teaspoon pure vanilla extract
1-1/4 cups buttermilk
Directions:
Preheat your oven to 350 degrees F.
In a large bowl combine the flour, baking powder and salt. Whisk to combine.
In the bowl of a stand mixer combine the lemon zest and sugar with a fork until the sugar is coated with lemon. Add the butter and cream until it is light and fluffy, about 3-5 minutes. Add the eggs, egg whites and vanilla. Mix it until it is combined. Add the lemon juice and mix it well. (Your mixture may start to look funny here, just continue with the next step.)
With the mixer on low add 1/3 of the dry ingredients to the bowl and allow that to combine. Then add 1/2 of the buttermilk and wait for that to combine. Add another 1/3 of the dry ingredients and mix. Add the other 1/2 of the buttermilk and mix it. Then finally add the remaining of the dry ingredients. Mix it until they are combined. Stop to scrape down the bowl as often as needed. Do not over mix.
Pour the batter into a muffin pan prepared with paper liners. Fill the liners about 2/3 full.
Bake 12-14 minutes or until a toothpick comes out with moist crumbs.
Cool the cupcakes in the pan 1-2 minutes, then carefully remove them from the pan and allow to cool completely on a wire rack.
Frost with some raspberry buttercream frosting (recipe below) when they are completely cooled.
Raspberry buttercream frosting
Ingredients:
1-1/2 sticks unsalted butter, softened
3/4 cup vegetable shortening
8 cups confectioners' sugar
1 teaspoon vanilla
6 ounces raspberries, pureed and pushed through a sieve
1/2 teaspoon salt
Directions:
In the bowl of an electric mixer, combine the butter and shortening (about 30 seconds). Add the vanilla extract and powdered sugar. Mix on low speed until it is well combined. Increase to medium speed and beat until it begins to get fluffy. Add the raspberry puree and salt. Beat until it is fluffy, about 1 minute.
Use immediately or keep refrigerated. (This frosting will keep well in the refrigerator for several days, but you may need to re-beat it for the best texture.)
More delicious desserts
Simple peanut butter fudge chocolate brownie
Faith Hill's Coca-Cola cake recipe
Ice cream sandwich spectacular