Posted: Aug 24, 2012 9:00 AM
Hey! It's National Peach Month! What better way to honor this than to enjoy one of these fabulous peach recipes from around the web.
Peach Napoleons
Ok. Layers of crispy wonton wrappers, creamy whipped cream and juicy peaches? Oh, yes please! This dessert might be a little tricky to eat, but the peaches and cream allure is too strong to miss it.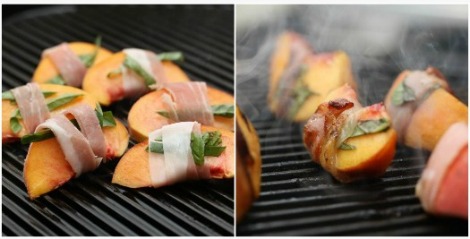 Grilled prosciutto wrapped peaches
Juicy summer peaches are wrapped with basil and prosciutto. Then are grilled to a nice char, giving them a smoky-salty thing that's divine. This quick and easy peach recipe is also Paleo-friendly.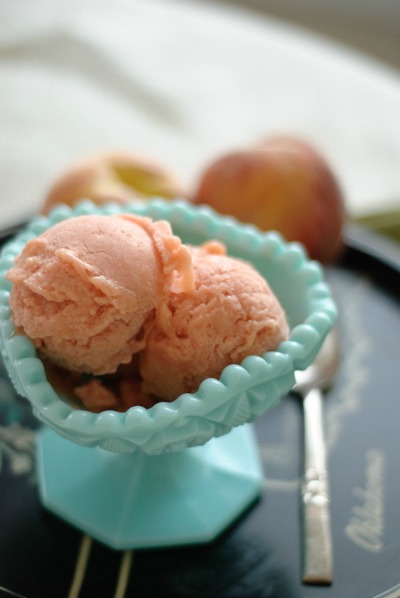 Peach raspberry sorbet
A fruity sorbet? It's a natural fit for juicy peaches. This recipe combines sweet peaches with slightly tart raspberries, which balances out the flavor so that it's not too sweet. And the fact that sorbet is dairy free? A happy bonus!
Get the full recipe for peach raspberry sorbet on Cookie + Kate. >>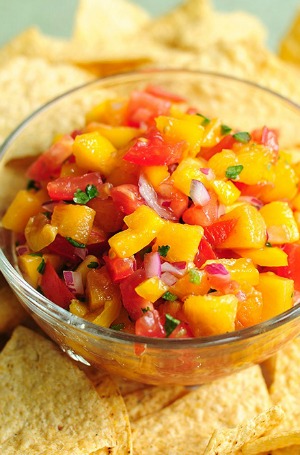 Peach salsa
Raise your hand if you love a sweet-spicy combination! Sweet peaches are fabulous when combined with spicy ingredients. Combined with tomato, red onion, jalapeño and more, this is a perfect summer dipper for your favorite tortilla chips.
Get the full recipe for peach salsa on She Wears Many Hats. >>
Peach fruit leather
Homemade snacks are a great way to give your kids a treat without any unsavory ingredients. And this recipe for peach fruit leather? With a mere two ingredients, your kids will adore this homemade fruit leather -- and you will appreciate that making it is ridiculously simple.
Get the full recipe for peach fruit leather on Weelicious, and also check out the forthcoming Weelicious cookbook. >>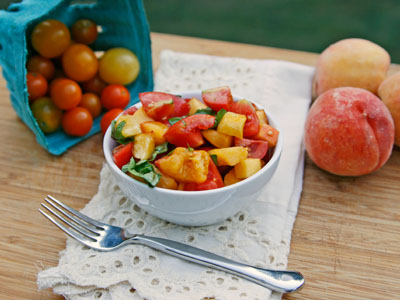 Tomato, peach and basil salad
Food doesn't have to be complicated to be delicious. And that's totally the case with this simple salad that combines juicy tomatoes and peaches with basil, balsamic vinegar and sea salt. This dish really plays on the natural goodness of the tomatoes and peaches to shine.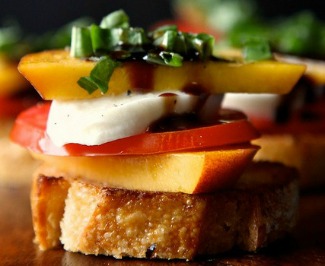 Peach tomato and mozzarella crostini
Isn't that stacked crostini mouthwatering? If you are a fan of tomatoes Caprese you will love this version that adds peaches and balsamic vinegar into the mix. It's served on crispy toasted bread, which is a beautiful contrast to the juicy peaches and tomatoes and smooth mozzarella.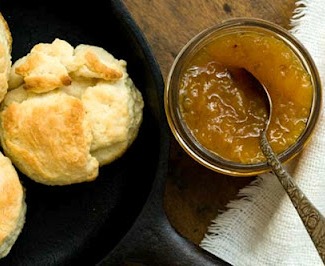 Peach jalapeño jam
Peaches are at their ripest right now but that won't be the case soon. Juicy peaches can be made to last well into winter by transforming them into a pantry item to save. Try whipping up a batch of this sweet-spicy peach jalapeño jam to enjoy on biscuits this winter.
Get the full recipe for peach jalapeño jam on Homesick Texan. >>
More summer recipes
Blueberry peach sangria
10 Unique things to grill this summer
3 Tasty recipes for a great summer meal