Posted: Aug 27, 2012 9:00 AM
Love BLTs? And egg salad? Then this twist on the classic is for you.
When you are hosting a luncheon, wrap sandwiches are an easy and delicious way to serve the guests. Make them up, mound halves on a platter and serve. Usually, my family will make 3-4 varieties for the platter.
But these wraps aren't just good for luncheons. They are great for any lunch or brunch. And with the combination of sweet, crisp, salty and creamy, it hits all those key tastebud points.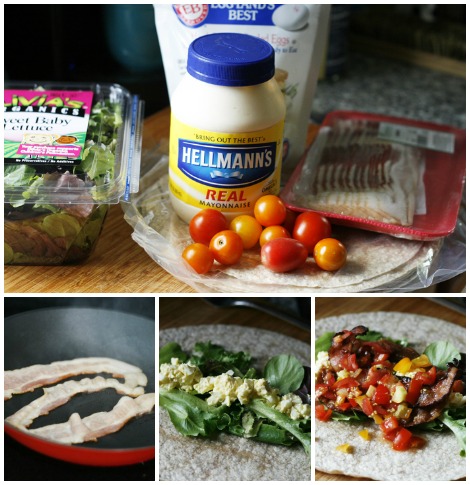 As for making egg salad BLT wraps, it's simple. You whip up a quick egg salad (see the tips below for a key to making these truly quick). Then you layer lettuce, egg salad, bacon and tomatoes on a whole wheat wrap. Sprinkle with salt and pepper, as desired. Then wrap and serve.
What are you waiting for? Make these!
Egg salad BLT wrap
Serves 4
Ingredients:
4 hard-cooked, peeled eggs
3 tablespoons mayonnaise
Salt and pepper, to taste
4 whole wheat wraps
2 cups baby lettuce
12 slices bacon, cooked
1-1/4 cup diced fresh tomatoes
Directions:
Roughly chop the eggs and then mash with a potato masher. Stir in the mayonnaise, salt and pepper. Adjust seasoning as desired.
Lay out the whole wheat wraps. Top each one with 1/2 cup of lettuce, 1/4 of the egg salad mixture, 3 slices of bacon, 1/4 of the tomatoes, salt and pepper (to taste).
Fold in the ends, then wrap the sandwich up, tucking the ends as you go. Slice in half and serve.
Tips
Make this recipe a cinch by purchasing already hard-cooked and peeled eggs. I am a big fan of the Eggland's Best Hard Cooked Eggs, which are sold in a bag near the raw eggs in the grocery store. With regards to the mayonnaise, I like the flavor of Hellmann's Real Mayonnaise (the full-fat variety).
This recipe is great with thick-cut, applewood-smoked bacon (like slab bacon).
For the tomatoes, fresh grape and cherry tomatoes (diced) are perfect for this. Their crisp sweetness is a nice complement to the creamy egg salad and salty crisp bacon.
More recipes
Campfire s'mores martini
Grilled breaded chicken sandwich
New Englander chicken salad