Posted: Sep 10, 2012 9:00 AM
Your kids are back to school, but that doesn't mean you can't remind them how much you love them while they're away. From cute note cards you can find in the store to notes you can create yourself, you'll love these fun ideas for sending a little love to school in your child's lunchbox.
Whether you looked forward to the first day of school with glee or you didn't sleep for days, just dreading dropping off your babies, we all miss them once they're gone and want them to know that they're loved. With a note card and a pen, you can do exactly that!
We've rounded up eight fun lunchbox note card sets you can choose from to tuck away with the peanut butter and jelly sandwiches, cheese sticks and juice boxes.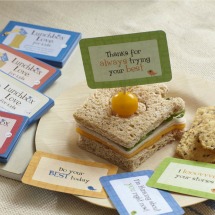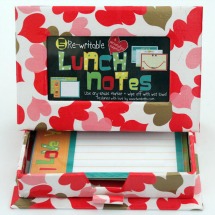 If you're looking for a little something extra, these pocket-sized cards have a sweet message on one side and a fun trivia fact on the other. With eight volumes to choose from and twelve cards in each volume, you'll have enough to sprinkle love throughout the school year.
If you'd prefer to include your own words in your child's lunch pack, you'll love these rewritable lunch notes. Grab a washable marker, jot down your own personal message on one of these five laminated note cards and bring a smile to your child's face at lunchtime.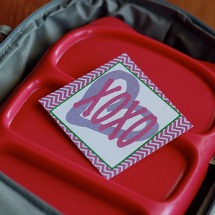 We love the simplicity of these lovely note cards. With 25 assorted clean designs, you're bound to find one that captures the perfect words to stuff in your child's lunchbox.
You can send little love notes even if your little one isn't reading yet. These adorable lunchbox note cards are designed just for them. We love that this set is sold as a PDF, which allows you to print on your own printer as many times as you'd like.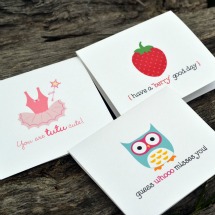 This set of 12 colorful mini notes will bring a smile to your little guy's face day after day. We think he'll love the simple, adorable, yet boy-friendly, graphics and clever wording on these great cards.
Let your little girl know just how much you love her with one of the 12 mini note cards in this set, specially designed for girls. She'll know she's in your thoughts when she opens her lunchbox and sees your note waiting for her.
By tucking a little love note in your child's lunchbox tomorrow, you'll remind them how special they are and how much you miss them while they're at school.
More on bonding with your kids
Family time: Getting back to basics
The importance of family mealtime
Rules of engagement: Unplug and reconnect with your kids