Posted: Sep 17, 2012 9:00 AM
Moist chocolate cupcakes with a peanut butter center and a peanut butter glaze. This one goes out to all the chocolate peanut butter fans out there!
Peanut butter cup lovers... I have something amazing for you. (You can thank me later.) These fabulous cupcakes are a treat that you and your kids will go crazy for. Rich, moist chocolate cupcakes are stuffed with a peanut butter cup and baked up to perfection. Then they are glazed with a sweet peanut butter glaze. Every bite is chocolate-peanut butter bliss.
Don't be deterred by the long ingredients list -- these cupcakes are worth the time and effort. Pinky swear.
Ready? Get baking.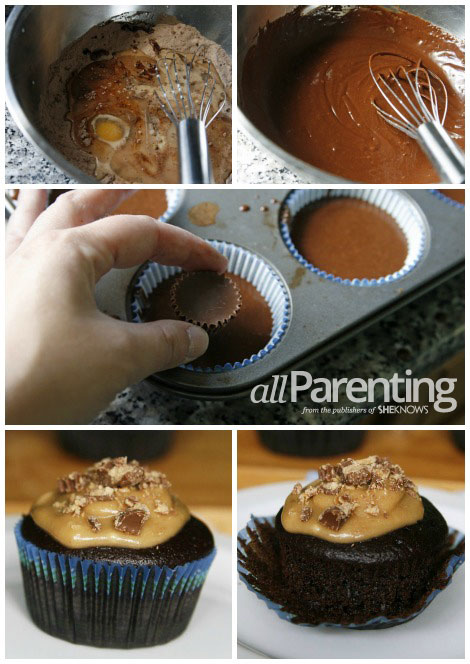 Peanut butter cup cupcakes
Yields 12

Ingredients:
1 cup all-purpose flour
1/2 cup sugar
1/2 cup Dutch-process cocoa powder
3/4 teaspoon baking soda
1 teaspoon baking powder
1/2 teaspoon kosher salt
1 large egg
1/2 cup low-fat milk
1/4 cup canola oil
1 teaspoon vanilla extract
1/2 cup boiling water
12 miniature peanut butter cups, frozen and unwrapped
Peanut butter glaze (recipe follows)
Directions:
Preheat the oven to 375 degrees F. Line 12 muffin cups with muffin liners. Set aside.
In a medium-size mixing bowl, whisk together the flour, sugar, cocoa powder, baking soda, baking powder and salt until it is evenly mixed. Add the egg, milk, canola oil and vanilla to the bowl. Whisk like crazy for 2 minutes (yes, really, 2 minutes).
Pour the boiling water into the mixing bowl and whisk gently to combine. The batter will go from being really super thick to being pourable and loose. Whisk it until everything is of a single consistency.
Divide the cake batter evenly among the muffin cups. Place one peanut butter cup in each, pushing gently to encapsulate in the cake batter. Bake for 18-20 minutes, until a cake tester inserted into the center comes out clean.
Let cool completely. Then divide the glaze evenly among the cupcakes, covering the tops.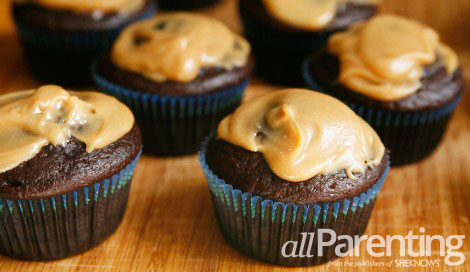 Peanut butter glaze
Yields enough for 12 cupcakes
Ingredients:
2 tablespoons peanut butter
2 tablespoons milk
1/2 cup powdered sugar
Directions:
Whisk together all of the ingredients in a small bowl until smooth.
Use as desired.
Tips
Use an ice cream scoop to transfer the batter into the muffin cups without making a mess.
If desired, garnish the cupcakes with chopped peanut butter cups for a little extra chocolate-peanut butter goodness.
It's important that you freeze the peanut butter cups so that they bake well without losing their shape.
More recipes
Back to school treats for your kid's classroom
Boston cream pie cupcakes
Ice cream sandwich recipes