Posted: Sep 24, 2012 9:00 AM
For this month's ladies night, move past that boring plate of cheese and crackers and impress your girlfriends with a delicious appetizer piled high with the best of the season's fresh flavors. A dry, crisp Greco di Tufo from Italy is the perfect wine pairing.

Fresh heirloom tomatoes are the most colorful and flavorful to use when making bruschetta. Add some fresh basil and top over homemade roasted garlic crème fraiche for a perfect bruschetta. Pair the bruschetta with a Greco di Tufo wine and your taste buds will thank you.
Greco di Tufo is an Italian white wine made from the Greco grape in the Campania region of Italy. Its name is the Italian version of the word Greek and was brought over by Greek colonists to the Campania region. The Terredora Greco di Tufo Loggia della Serra wine is a delicious white wine perfect for pairing with fresh tomatoes. Greco di Tufo wines are aromatic, full of character and flavor with high enough acidity to pair nicely with fresh tomatoes. After all, the Campania region in Italy is home to some of Italy's finest tomatoes -- and my favorite food and wine pairing tip is and will always be: what grows together goes together!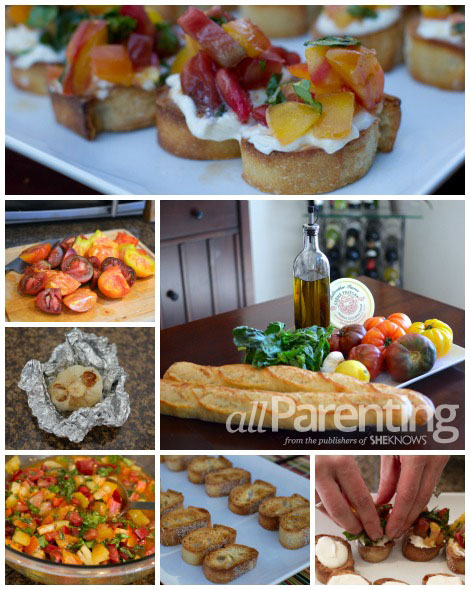 Heirloom bruschetta
Makes 48
Ingredients:
4 pounds heirloom tomatoes, coarsely chopped
1/2 cup extra virgin olive oil
2 garlic cloves, minced
1 cup fresh basil leaves, roughly chopped
Coarse (kosher) salt and freshly ground pepper
2 baguettes, thinly sliced
1 cup crème fraiche
1 head roasted garlic, mashed and chopped
1 teaspoon lemon zest
Directions:
Preheat the oven to 400 degrees F.
Slice off the head of the garlic and sprinkle it with a little olive oil and salt. Wrap and cover it with tinfoil and roast in the oven, cut side up, for 45 minutes. Remove from the foil and let it cool. Squeeze the cloves out, mash and chop. Set aside.
Lower the oven temperature to 350 degrees F. Slice the baguettes into 24 pieces and lightly brush them with olive oil. Bake in the oven for 10 to 12 minutes or until lightly toasted. Remove them from the oven and set aside.
Meanwhile, coarsely chop the heirloom tomatoes and add them to a large mixing bowl. Add the olive oil, minced garlic, fresh basil, salt and pepper and mix until well combined.
In a small mixing bowl, add the crème fraiche, mashed roasted garlic and lemon zest. Mix until well combined and sprinkle with salt and pepper.
Spread a small amount of roasted garlic crème fraiche onto each toasted baguette piece. Using a slotted spoon (or clean hands!), top each piece with the heirloom tomato mixture.
Serve alongside Greco Di Tufo for a perfect food and wine pairing!

More starters to try
Caprese salad poppers
Mason jar layered salads
Taco mozzarella sticks