Posted: May 19, 2013 3:00 PM
Now that the weather is cooler, we tend to transition our menus from salads to soups and other meals that warm our tummies. Make your crock pot your new best friend this season with recipes from food bloggers' fall and winter repertoires.
Slow cooker adobo chicken bowls
Of these yummy bowls, Gina Rau, founder of Feed our Families, says, "My kids devour them. They even ask to take them to school for lunch -- that's the sure sign for me!"
Ingredients:
6 chicken thighs (boneless or with the bone -- you'll shred it once cooked)

4 garlic cloves, minced

2 bay leaves, whole

3/4 cup soy sauce

1/4 cup apple cider vinegar

1 tablespoon ginger, finely grated

1 tablespoon brown sugar

1 tablespoon cornstarch

1/4 cup chicken stock

Dash pepper
Cooked rice
Directions:
Lay your chicken thighs along the bottom of the slow cooker.
Add the garlic, whole bay leaves, soy sauce, apple cider vinegar, ginger, brown sugar and pepper.
Swirl ingredients around until they're mixed well.
Combine cornstarch and chicken stock in a bowl and mix until smooth, without lumps.
Stir into slow cooker.
Cover slow cooker and cook on low for 6 to 8 hours.
Meat will be very tender and falling apart.
Don't open the slow cooker though -- the lid needs to stay on for the full cooking time.
Shred the meat, placing back in the slow cooker to stay warm.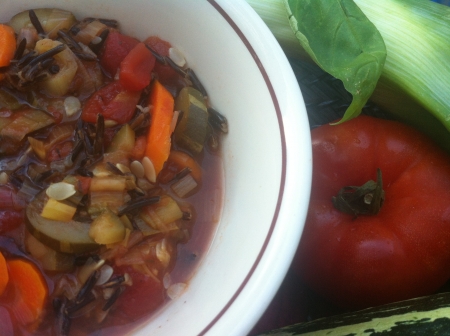 French wild rice vegetable soup
Sharon Palmer, RD, author of The Plant-Powered Diet, says of her recipe, "This hearty soup is the perfect accompaniment for a sandwich or salad any time of the year. Packed with fiber and nutrients, it can power up your day."

Ingredients:

5 cups water

1 (14.5 ounce) can diced tomatoes

1 cube vegetable bouillon 

2 cloves garlic, minced

1/2 cup uncooked wild rice

1 medium carrot, sliced

1 small zucchini, sliced

1 cup sliced leeks

1 teaspoon Herbes de Provence (seasoning blend)

Dash black pepper

Directions:

Place all of the ingredients in a large pot.
Cover with a tight lid and bring to a boil.
Reduce heat to a simmer and cook for about 1 hour, until the wild rice and vegetables are tender.

May need to add additional water to replace water lost in evaporation. It should make a thick, hearty soup.


Slow cooker stuffed peppers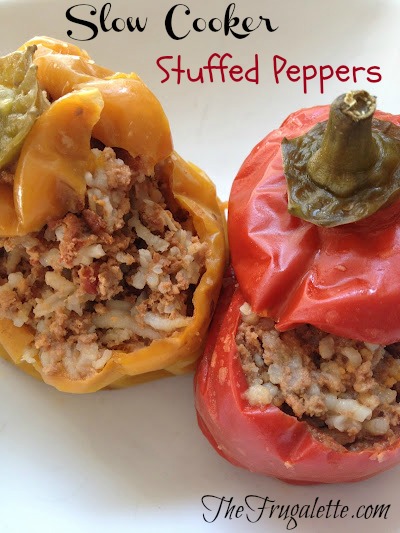 Isra, the self-proclaimed Frugalette, says of this recipe, "I already know this is not an authentic stuffed pepper recipe. I'll be the first to admit it. This is modified and the bottom line, it tastes good. Isn't that all that matters anyways?" To that, we say, "Yes!"
Ingredients:
6 bell peppers
1 cup cooked rice
3/4 pounds ground beef
1 (14.5 ounce) can tomatoes
1 teaspoon Italian seasoning
1 teaspoon Worcestershire
2 tablespoons ketchup
1/3 cup water
Salt and pepper to taste
Directions:
Cut the tops off of the peppers and clean the seeds from the inside. Keep the tops.
Mix all of the ingredients together, except the peppers and the water.
Place the peppers in a slow cooker, before stuffing them.
Stuff the peppers with as much meat/rice mixture as possible. Place the tops back on.
Pour the water around the base of the peppers.
Cook on low 6 to 7 hours. If you want your peppers crunchier, check them around 5 to 6 hours.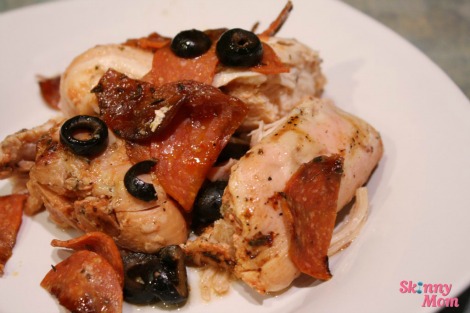 Slow cooker pepperoni and chicken
Skinny Mom contributor Teresa Johns says of this slow cooker recipe, "This dish made my house smell like pizza when I got home from work, and that is never a bad thing." Agreed!
Ingredients:
3-1/2 to 4 pounds chicken pieces, skinned

Dash salt and black pepper

2 ounces sliced turkey pepperoni, about 30 slices

1/4 cup sliced pitted ripe olives

1/2 cup reduced-sodium, fat-free chicken broth

1 tablespoon tomato paste

1 teaspoon dried Italian seasoning, crushed

1/2 cup shredded, part-skim mozzarella cheese (optional)
Directions:
Place the chicken in a slow cooker.
Sprinkle the chicken with salt and pepper. (I used 2 pounds of boneless/skinless chicken breasts and 1.5 pounds of boneless/skinless chicken thighs to mix things up.)
Cut the pepperoni slices in half.
Add the pepperoni and olives to the cooker.
In a small bowl whisk together the chicken broth, tomato paste and Italian seasoning.
Add to the mixture in the cooker.
Cover and cook on low-heat setting for 6 to 7 hours or on high-heat setting for 3 to 3-1/2 hours.
Using a slotted spoon, transfer the chicken, pepperoni and olives to some plates.
Discard the cooking liquid.
Sprinkle the chicken with cheese (optional).
Let it stand for 5 minutes to melt the cheese.
Serve with pasta, if desired.
Savory slow cooker pot roast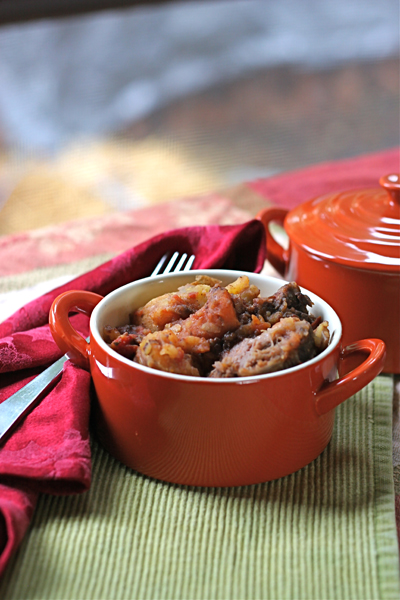 Val Curtis, the foodie behind Mental Chew, says, "This is kid-tested and approved, even my 11-month-old brought her bowl up to her mouth looking for more. Serve this roast with a fresh, green salad and a warm, crusty loaf of sourdough and happy bellies will be leaving the table."
Ingredients:
1 (4-5 pound) beef roast, any cut will do (Go local!)
2 teaspoons garlic salt
2 teaspoons freshly ground black pepper
12 small organic fingerling potatoes
6 large organic carrots chopped into 2-inch pieces
1 large organic onion cut into 1/2-inch slices
6 whole cloves garlic
1 cup organic beef or vegetable broth
1 can organic tomato sauce
1 quart organic crushed tomatoes



Directions:
Rinse the roast and pat dry.
Rub it down with 1 teaspoon of garlic salt and 1 teaspoon of black pepper.
Place the roast into a hot skillet and sear each side for approximately 2 minutes. (It will get a little smoky in the house.)
Place the washed potatoes in the bottom of a 6-quart slow cooker and layer the following on top: roast, carrots, onions and garlic.
Pour the broth over the slow cooker contents.
In a medium bowl, mix the crushed tomatoes, tomato sauce and remaining salt and pepper.
Pour the mixture over the contents of the slow cooker and set it to low for 8 hours.
Remove roast and veggies from slow cooker and serve.
If you are a gravy kind of person, see the following gravy recipe.

Pot roast gravy
Ingredients:
Pot roast juices and bits
1/4 cup flour
2 tablespoons beef bouillon granules
Directions:
Pour 1 cup of the roast juices and bits into a medium bowl.
Slowly whisk in the flour and granules until thoroughly mixed.
Pour the remaining juices in a medium saucepot and bring to a gentle boil.
Whisk in the flour mixture.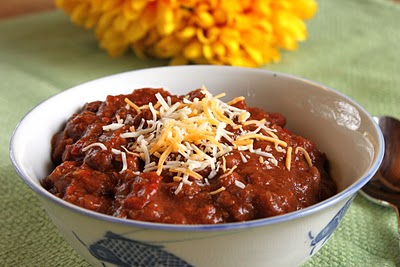 Pumpkin chili with beef
Food blogger Erika Penzer Kerekes says, "Chili is always a hit in our house… Sometimes I experiment with variations on the genre, as with this pumpkin chili. When I first made it last year I managed to mistake ground chipotle powder for regular chili powder, and it was delicious but ultra-spicy. This year I got it right. If you prefer chili that takes off the top of your head, feel free to add more spicy stuff.
" 

Ingredients:
3 pounds ground beef
1 large onion, diced
2 red bell peppers, diced
4 cloves garlic, chopped
2 cups pumpkin puree
1 (6 ounce) can tomato paste
3 cans pinto beans, rinsed and drained
4 tablespoons chili powder
1/2 teaspoon ground chipotle powder (optional)
1 teaspoon ground cumin
1/2 teaspoon ground cinnamon
2 teaspoons salt, or to taste
Tortilla chips and shredded cheese (for garnish)
Directions:
If you're planning to cook the chili on the stove, start with a large pot. If you're using a slow cooker, start with a large skillet.

 In the appropriate vessel, brown the ground beef until no pink remains, breaking up the meat with a wooden spoon.
Add the onion and bell peppers and sauté another 4-5 minutes.
Add the garlic and stir briefly.


Slow cooker: Put the beef mixture into the slow cooker along with the pumpkin puree, tomato paste, beans, spices and salt. Stir to combine.
Cook on low for 8 hours or on high for 4 hours.


Stovetop: Add the pumpkin puree, tomato paste, beans, spices and salt to the pot. Stir to combine.
Bring to a boil, turn down the heat and simmer, covered for 2-3 hours.
If the chili looks too dry, add a little water.

 Serve hot, topped with shredded cheese and crumbled tortilla chips.
Makes enough for a very large gathering, plus leftovers.
More recipes
Mason jar layered salad recipes
Chicken enchilada salad bowls
Mini chicken pot pies