Posted: Oct 15, 2012 11:00 AM
Sandwich King
Jeff Mauro is not only a celebrity chef on the Food Network, but also a husband and dad who loves to cook for his family at home. Jeff has a new TV show,
$24 in 24
, which airs Monday nights on the Food Network where he travels to different cities across America, discovering cheap local eats with delicious and affordable cuisine.
$24 in 24
Jeff's mission? To travel to various cities throughout the country to piece together breakfast, lunch, dinner and a snack, with tax and tip, for $24 or less. Sounds like a daunting task, but with some good research, Jeff found the best of the best. During his travels to Boston, Chicago, Cleveland, Los Angeles, Minneapolis, New York City and Philadelphia, Jeff visits local mom-and-pop shops (not fast food or chain restaurants). According to Mauro, the best aspect of the local mom-and-pop shops is that these establishments are serving up exceptional, affordable food.
Some might think Jeff's mission to find high quality cuisine on the cheap to be extremely difficult, but he completed his mission and did so well. "It's a pretty daunting task on paper but we proved it was possible." says Mauro. He went on to say that he proved you could spend $24 or less in a day -- even in some very expensive towns. "We did it in Manhattan and you know that old line holds true, 'If you can make there, you can make it anywhere,'" says Mauro.
Eating out without breaking the bank
Americans no doubt feel the pressure of the economic times we are in. A lot of times, treating your family to a meal out is not in the budget and you don't want to break the bank. In Jeff's new show, he proved you don't have to spend a lot of money to enjoy high quality, delicious food. "We didn't eat just sandwiches or hot dogs. We even sat down and were served at some breakfast places. Some of it was counter service while some of it was grab and go -- but regardless the food was always good and the people and the business owners, and the cooks are stand up people that you want to give your money to."
Jeff loved discovering the best cheap local eats in his native town of Chicago but stated that Cleveland was a wonderful surprise. "Those people know how to eat and they know how to stretch a dollar and that combination really pays off for this new show," says Mauro.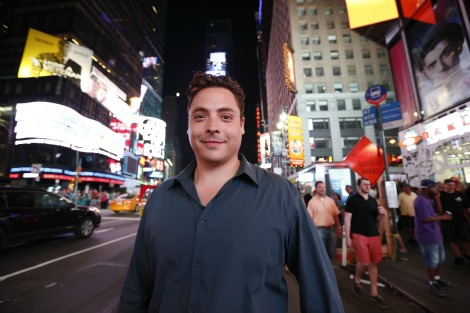 Cooking at home with kids
Jeff cooks a lot at home and even had to go stir his homemade chicken, lemon and rice soup during our chat. "If I'm not on the road, the last thing I want to do is go out to eat." Jeff does all the cooking and his wife Sarah does all of the cleaning. Jeff also includes his son Lorenzo in the cooking. "I am a firm believer in home cooking with kids. We have a stool and he pulls it up to the counter to help. I think cooking in the kitchen is where good eating habits start and teaches kids how important it is to eat real food." Jeff went on to say that if his son chops up a red bell pepper he's more inclined to try it. Lending a helping hand in the cooking is a key to successful eating habits.
Jeff says this method of having his son help cook in the kitchen has paid off and he will try everything. Jeff also doesn't like to coax or bribe his son into eating certain foods. He doesn't like to say eat your peas or you won't get dessert and doesn't think that leads to good eating habits. He thinks it's important for kids not to think, "If I eat this, I'll get this." Instead his method is that it's important to eat your carrots, broccoli and peas because they are good for your health.
Jeff's family's favorite eats
The Sandwich King's son favorite sandwich? Lorenzo is definitely a turkey sandwich man. However, Jeff and his family eat a lot more than just sandwiches. Jeff loves making soups and his favorite dish to make on a lazy Sunday afternoon is a large charcuterie plate. "I always have a drawer full of all sorts of cheeses, Italian salami and sausages. I put together a big charcuterie platter with cheese, meats, crackers, nuts, jams and spreads and always make sure to have mild cheddar or other kid-friendly cheese for Lorenzo." says Mauro. He says he loves piecing together a fun meal that everyone can pick at while sitting around the family table together. The other bonus about this favorite Sunday meal? It's easy to throw together and there is minimal clean up!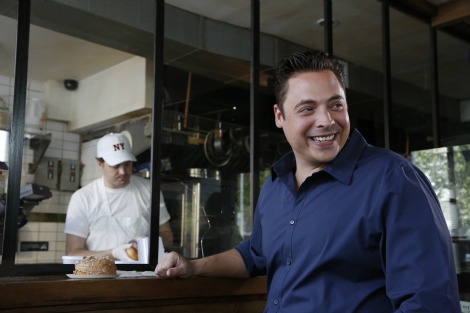 Advice for anyone with a dream
Jeff always dreamed of having his own cooking show and worked hard to achieve his dream. So how did he do it? He worked hard for it and proved himself.
"Work at it! Always practice doing, advises Mauro. "If you want to write a cookbook, instead of shopping around an idea, write the cookbook and shop around the cookbook."
"If you want to be a writer, write."
"If you want to be a cook, cook and not just at home."
"If you want to own a restaurant one day, start on the line in a good restaurant and learn that way."
"Pay your dues man! You could be paying your dues for ten years like me but persistence pays off every once in awhile."
Persistence most definitely paid off for Mauro. Jeff Mauro's new show, $24 in 24 airs Monday nights on the Food Network channel at 10:30 p.m. ET/PT. You can also catch Jeff's new season of the Sandwich King on Saturdays at 10:30 a.m. ET/PT.
More about family meals
5-ingredient dinner for the busy mom: grilled chicken and arugula salad
Speedy weeknight broccoli pesto pasta
6 Slow cooker meals the whole family will love