Posted: Oct 18, 2012 9:00 AM
Mwahahaha! Halloween is here. Scare up some good fun at your kids' Halloween bash with these spooky treats from around the web.

Spooky worm and spider nests
Okay, seriously, this might just take the cake for grossest, coolest, creepiest dessert ever. Tapioca and gummy worms and fake spiders dot this JELL-O dessert -- like eggs and creepy crawlies! Your kids will squeal with delight over this one.

Frankenstein cupcakes
It's green! And creepy! And look at those bolts and that scar. Who wouldn't want these fabulous Frankenstein cupcakes on their freaky Halloween treat table? Seriously… these are the cutest (oops, I mean freakiest!).

Not so spooky Oreo bats
The creepy squeaks overhead at night are enough to send shivers up and down the spine. And now, you can bring the creatures behind those eerily noises right to your Halloween party. Not only are these Oreo bats cute-creepy, but they are super easy too.

Skinny chocolate spiders
Look. Sometimes we all want to indulge a little without, you know, indulging a lot. These skinny treats are perfect for that. With just a couple of ingredients these healthier spooky treats are totally easy and fun too.

Halloween mini Oreo pumpkin cheesecakes
Oreos, cheesecake and a web on top? Yes, please! These mini pumpkin cheesecakes are the perfect kid- and adult-friendly dish for Halloween dessert tables. And don't forget the spooky spiders!

Creepy crawly cake truffles
Love these grim and ghoulish cake truffles in the form of bats, spiders, monsters and ghosts. The creative and fun designs will be a hit. And the flavor? Be prepared to make these creepy treats again.

Witches hats
Bring a little witchiness to the party with these two-tone witches hats made with Oreos, candy melts and Hershey's Kisses. They're simple, but oh, so creepy/fun.
Get the recipe on SheKnows. >>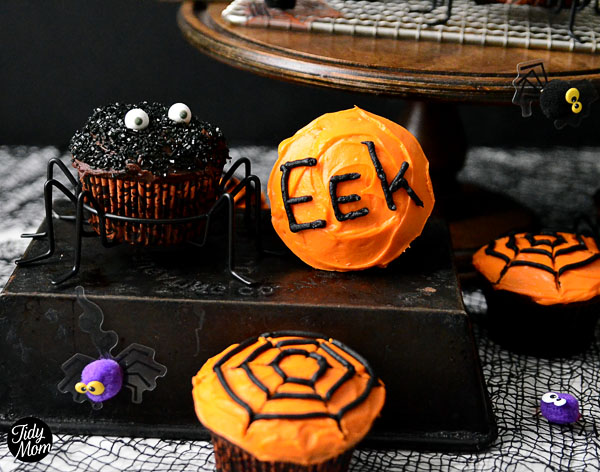 Spooky spider cupcakes
Spiders and cobwebs and horrors, oh my! This trio of cupcakes isn't just cute -- it's really easy to pull off. And that variety in spooky treat table cupcakes makes it all the more fun. Which one would you reach for first?
Get the recipe on Tidy Mom. >>
More treats
Peanut butter cup cupcakes
Ice cream sandwich recipes
Blueberry white chocolate sundaes