Posted: Dec 02, 2012 9:00 AM
Don't let the pumpkin spice latte shortage (yes, it's real!) make you miss out on your favorite latte this season. Instead, whip it into a delicious cupcake — perfect for quenching your pumpkin spice latte craving.
When I heard the words "pumpkin spice latte shortage," I cried a little inside. Ever since trying one a few years ago, I joined the legions of Starbucks fans who crave the fall coffee treat. Fortunately now you can enjoy the goodness of pumpkin spice lattes — in a cupcake!
This sweet treat features a dense, moist pumpkin spice cupcake and latte frosting. Together, it's absolutely dreamy.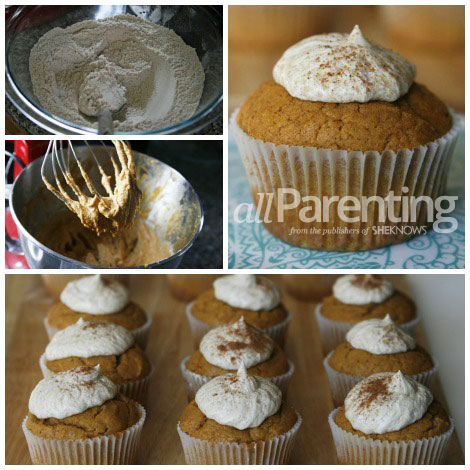 Pumpkin spice latte cupcake
Yields 16 cupcakes
Ingredients:
2 cups all-purpose flour
1-1/2 teaspoons baking powder
1 tablespoon pumpkin pie spice, plus additional for dusting
1/2 teaspoon kosher salt
2 large eggs
1-1/2 cups light brown sugar
1/2 cup unsalted butter, softened
1 teaspoon vanilla extract
1 cup pumpkin purée
1 batch latte frosting (recipe follows)
Directions:
Preheat the oven to 350 degrees F. Line 16 slots on a muffin/cupcake pan with cupcake liners.
In a large bowl, sift together the flour, baking powder, pumpkin pie spice and kosher salt. Set aside.
In the bowl of a stand mixer fitted with the whisk attachment, beat the eggs, brown sugar, butter, vanilla and pumpkin until mixed. It's okay if some of the butter remains in small pieces. With the mixer running on low, add the flour mixture a little at a time until well blended.
Fill the cupcake liners 2/3 full with the batter.
Bake for 20-24 minutes, until cooked through. Cool thoroughly.
Frost, as desired. Sprinkle with a little pumpkin pie spice. Enjoy.
Latte frosting
Ingredients:
1/2 cup unsalted butter, softened
2 cups confectioners sugar
3 tablespoons milk
1 packet decaf instant coffee (such as Starbucks Via)
Directions:
Combine the butter and the sugar in the bowl of a stand mixer. Beat until combined (on low speed and working up to a higher speed).
Heat the milk on the stove to warm. Stir in the instant coffee until dissolved.
With the mixer running on medium, drizzle the coffee-milk into the butter mixture a little at a time until fully incorporated.
Scrape the sides and beat one more time.
If the frosting is too loose to pipe onto the cupcakes, chill for 10-20 minutes to stiffen.
Use as desired.
Tips
Using a large cookie scoop makes filling the cupcake liners a cinch — about one and a half scoops is the ideal amount to fill the cupcake liner 2/3 full.
Serving these to adults? Then full-caffeinated instant coffee works too — but not if the kidlets will be joining in the fun.
More cupcake recipes
Boston cream pie cupcakes
Peanut butter cup cupcakes
Raspberry lemonade cupcakes