Posted: Nov 05, 2012 9:00 AM
If your favorite sweet cookies married pumpkin pie, these pumpkin crumb bars would be their adorably delicious babies. (Don't worry — they are super easy to make too!)
Love pumpkin? We are pumpkin pie addicts in my house (myself especially!) and adore anything pumpkin flavored. One of our favorite uses for pumpkin is in pumpkin crumb bars. These sweet treats combine our favorite sugar cookies with a rich pumpkin layer. They are pumpkin-y, butter-y, sweet treats.
Best of all? They are pretty easy to make too. The cookie and crumb layer and pumpkin layer take just minutes to whip together and combine in a pan. Then, they just have to bake and cool.
And dusting them with confectioners' sugar? It just makes them all the more special.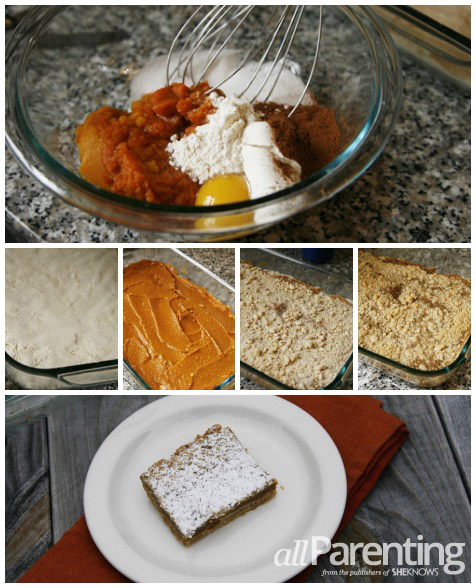 Pumpkin crumb bars
Yields 15 bars
Ingredients:
Confectioners' sugar (optional)
Cookie/crumb layer
1-1/2 cups all-purpose flour
1/2 teaspoon salt
1/2 teaspoon baking powder
1 cup brown sugar
1 teaspoon vanilla extract
1/2 cup cold unsalted butter, cut into slices
Pumpkin layer
1 cup pumpkin purée
1 egg
1/4 cup sugar
2 tablespoons flour
2 teaspoons pumpkin pie spice
Directions:
Preheat the oven to 350 degrees F. Grease a 13 x 9-inch pan with butter all over. Set aside.
Sift together the flour, salt, baking powder and brown sugar for the cookie/crumb layers. Add the butter and cut in using two knives or a pastry blender.
Reserve 1 cup of the cookie/crumb mixture and press the rest into the prepared pan.
Whisk together the ingredients for the pumpkin layer (pumpkin, egg, sugar, flour and pumpkin pie spice). Spread over the cookie layer. Sprinkle the reserved 1 cup of the cookie/crumb mixture on top.
Bake for 25-30 minutes until golden.
Let the bars cool and then slice into 15 bars. If desired, dust with confectioners' sugar just before serving.
Tips
Be sure to use pumpkin purée for this — not pumpkin pie mix.
Hands-on time for this is only about 10 minutes.
More dessert recipes
Mini apple pie bites
Peanut butter cup cupcakes
Boston cream pie cupcakes