Posted: Dec 26, 2012 5:00 AM
On busy weeknights, I always fall back on stir-fry recipes when I need to get a healthy meal on the table... stat. Tender slices of pork tenderloin are cooked with bright and colorful vegetables, such as red bell pepper, broccoli and carrots, then tossed with a mixture of hoisin and soy sauces. Serve it over rice for a complete meal.
The beauty of this easy stir-fry is that you can use almost any vegetables that you have on hand. Substitute snap peas, snow peas, mushroom, bok choy or onions for the red peppers, broccoli or carrots.
The sauce is as simple as whisking together a few ingredients. Both the hoisin and chili garlic sauces can be found in the international food section of most supermarkets. They both will stay fresh in the fridge for several months, and always come in handy when you want to put a quick stir-fry on the table.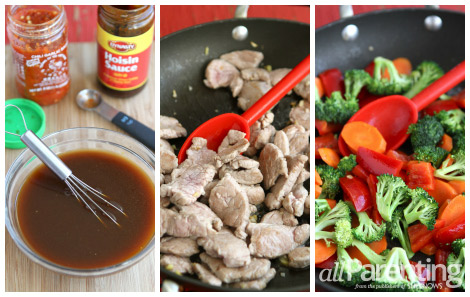 Easy pork stir-fry with vegetables and hoisin sauce
Serves 4
Ingredients:
3/4 cup low-sodium chicken broth
1/4 cup hoisin sauce
2 tablespoons soy sauce
2 teaspoons cornstarch
1/2 teaspoon honey or agave nectar
1/4 - 1/2 teaspoon chili garlic sauce
2 tablespoons plus 2 teaspoons canola oil, divided
1 tablespoon minced fresh ginger
2 garlic cloves, minced
1 pound pork tenderloin, trimmed and thinly sliced
2 medium carrots, sliced crosswise
1 red bell pepper, cut into 1-inch pieces
1-1/2 cups broccoli florets
2 teaspoons toasted sesame seeds (optional)
Directions:
In a medium-sized bowl, whisk together the chicken broth, hoisin sauce, soy sauce, cornstarch, honey and chili garlic sauce. Set aside.
Heat 1 tablespoon canola oil in a large skillet set over medium-high heat. Add the ginger and cook, stirring constantly for 1 minute. Add the garlic and cook for 30 seconds.
Add the pork tenderloin to the pan and cook, stirring frequently, until the pork is browned on all sides, 2 to 3 minutes. Remove the pork to a bowl and set aside.
To the pan, add the remaining 2 teaspoons of canola oil, then add the carrots. Cook, stirring frequently for 1 minute. Add the broccoli and red bell pepper and cook for an additional 30 seconds.
Return the pork to the pan, along with the hoisin sauce mixture. Bring the sauce to a boil and cook until the sauce thickens slightly, about 2 minutes.
Serve the stir-fry over rice or noodles and garnish with toasted sesame seeds, if desired.
Other easy dinner recipes
New Englander chicken salad
Roasted pumpkin and crispy prosciutto macaroni and cheese
Quick Mexican chicken and polenta recipe