Posted: Dec 17, 2012 5:00 AM
Have you tried the new Salted Caramel Mocha Latte? It's genius — the sprinkling of sea salt really gives the coffee a fab finish. If you like it half as much as we do, you will love spinning it into this craveworthy latte-inspired cupcake.
Starbucks' Salted Caramel Mocha Latte is addictive... but it's even better when you whip it into a chocolate-y, caramel-y and salty-sweet creation.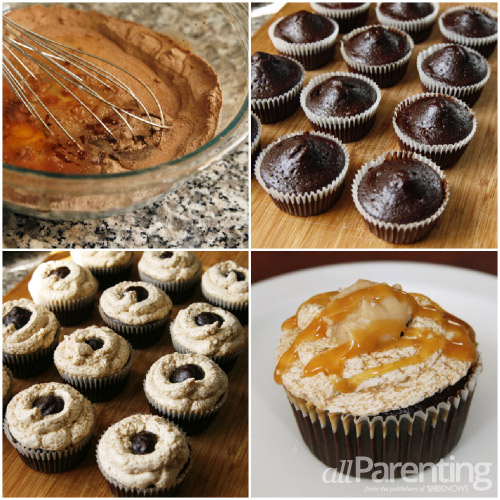 Salted caramel mocha cupcakes
Yields 12
Ingredients:
1 cup all-purpose flour
1/2 cup sugar
1/2 cup Dutch-process cocoa powder
3/4 teaspoon baking soda
1 teaspoon baking powder
1/2 teaspoon kosher salt
1 large egg
1/2 cup low-fat milk
1/4 cup canola oil
1 teaspoon vanilla extract
1/2 cup boiling water
1 packet decaf instant coffee (such as Starbucks Via)
Latte frosting (recipe follows)
Salted caramel drizzle (recipe follows)
Caramel sauce (optional)
Sea salt
Directions:
Preheat the oven to 375 degrees F. Line 12 muffin cups with muffin liners. Set aside.
In a medium-size mixing bowl, whisk together the flour, sugar, cocoa powder, baking soda, baking powder and salt until it is evenly mixed. Add the egg, milk, canola oil and vanilla to the bowl. Whisk like crazy for 2 minutes (yes, really, 2 minutes).
Stir together the boiling water and instant coffee. Drizzle into the mixing bowl and whisk gently to combine. The batter will go from being really super thick to being pourable and loose. Whisk it until everything is of a single consistency.
Divide the cake batter evenly among the muffin cups. Bake for 18-20 minutes, until a cake tester inserted into the center comes out clean.
Let cool completely. Then frost, making a thicker edge at the outside of the cupcakes. Spoon the glaze over top. If desired, drizzle with caramel sauce. Sprinkle with salt. Enjoy.

Latte frosting
Ingredients:
1/2 cup unsalted butter, softened
2 cups confectioners' sugar
3 tablespoons milk
1 packet decaf instant coffee (such as Starbucks Via)
Directions:
Combine the butter and the sugar in the bowl of a stand mixer. Beat until combined (on low speed and working up to a higher speed).
Heat the milk on the stove to warm. Stir in the instant coffee until dissolved. Let cool for 15 minutes.
With the mixer running on medium, drizzle the coffee-milk into the butter mixture a little at a time until fully incorporated.
Scrape the sides and beat one more time.
If the frosting is too loose to pipe onto the cupcakes, chill for 10-20 minutes to stiffen.
Use as desired.
Salted caramel glaze
Ingredients:
1 tablespoon unsalted butter
2 tablespoons packed light brown sugar
1 teaspoon heavy cream
2 tablespoons powdered sugar
1/8 teaspoon kosher salt
Directions:
In a small saucepan, whisk together the butter and brown sugar over medium heat until it combines to a boil. Cook for 1 minute more, whisking frequently.
Add the heavy cream and whisk to combine. Remove from the heat and stir in the powdered sugar and salt.
Use immediately.
More recipes
Mini apple pie bites
Peanut butter cup cupcakes
Boston cream pie cupcakes