Posted: Nov 17, 2012 8:00 PM
If you have eaten one too many green bean casseroles made with mushroom soup on Thanksgiving and are looking for something fresher and healthier, then this recipe is for you.
At Thanksgiving, the traditional green bean casserole produces some pretty strong feelings. People either claim it as their favorite holiday side dish, or they dismiss it as old-school and unappetizing. I'll admit that I've always been in the second camp and decided I had to do something to lighten up and kick up the flavor of the traditional casserole.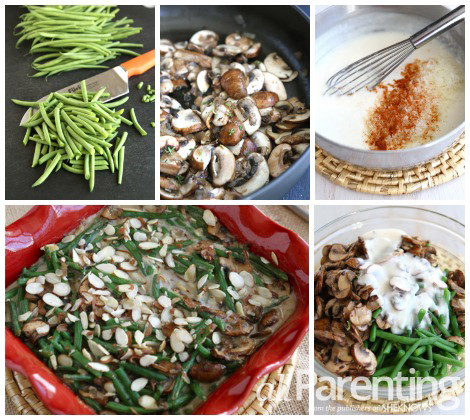 The first step was to do away with the canned cream of mushroom soup — be gone! In its place, make a light cream sauce, using just a few tablespoons of butter, flour and low-fat milk. To turn up the flavor, a handful of Parmesan cheese and a sprinkle of cayenne pepper is stirred in at the end. The green beans are quickly blanched in boiling water, then tossed with a mixture of sauteed mushrooms and shallots, and the lightened-up cream sauce. Sprinkle the casserole with sliced almonds for a little crunch and bake until bubbling.
This is sure to please the traditionalists and the more health-conscious guests at your table.
Green bean casserole with sauteed mushrooms & shallots
Serves 6
Ingredients:
1 pound green beans, trimmed & cut in half diagonally
2 teaspoons olive oil
1 large shallot, minced
12 ounces crimini (baby bella) mushrooms, thinly sliced
1 teaspoon minced fresh thyme
1/4 teaspoon freshly ground black pepper
1/4 teaspoon kosher salt
3 tablespoons unsalted butter
3 tablespoons all-purpose flour
2 cups low-fat (1 percent) milk
1/4 cup Parmesan cheese
1/8 teaspoon cayenne pepper
1/4 teaspoon kosher salt
2 tablespoons sliced almonds
Directions:
Preheat the oven to 350 degrees F. Lightly coat an 8 x 8-inch baking dish with cooking spray.
Bring a large saucepan of salted water to a boil. Add the green beans and cook until the green beans are tender-crisp, about 3 minutes. Drain and immediately rinse with cold water. Transfer the beans to a large bowl and set aside.
Heat the olive oil in a large skillet set over medium heat. Add the shallots and cook, stirring frequently, until lightly browned. Add the mushrooms and thyme, and cook until the mushrooms are tender, about 4 minutes. Season with salt and pepper.
Melt the butter in a small saucepan set over medium heat. Add the all-purpose flour and cook, whisking constantly, until the mixture is light brown. Gradually add the milk and bring to a simmer, whisking frequently. Reduce the heat to medium-low and simmer, whisking constantly, until the sauce thickens, about 4 minutes. Remove from the heat, and stir in the Parmesan cheese, cayenne pepper and salt.
Add the mushrooms and the thickened sauce to the greens beans. Stir to combine, and transfer the mixture to the prepared pan.
Top the casserole with the sliced almonds, and bake until the mixture is bubbling and the almonds are lightly browned, about 20 minutes. Serve.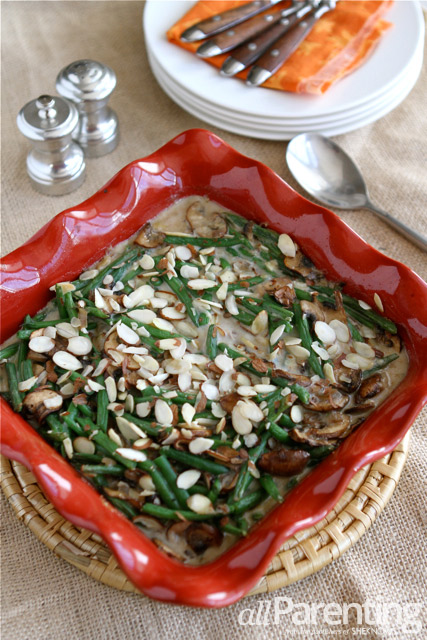 Other recipes for autumn
Fall squash soup shooters
Roasted pumpkin and crispy prosciutto macaroni and cheese
Mini chicken pot pies