Posted: Nov 12, 2012 10:00 AM
This Thanksgiving, imagine this scenario: Your turkey and all the fixings arrive at your doorstep. All you have to do? Heat and serve! And presto, you have a stress-free, delicious Turkey Day meal. It's a no-brainer if you ask us.
Sure, you might love to cook. But not having to slave over a hot oven this Thanksgiving will free you up to spend more time with your family, shop for holiday gifts or drink that long overdue glass of wine (or three). It's Harry & David to the rescue this November 22. And whether you tell your holiday guests the food was delivered, or claim the culinary credit for yourself (we'll never tell), you will enjoy everything from mouth watering oven roasted turkey to dreamy pumpkin cheesecake. But beware — once you've gone Harry & David, you may not go back.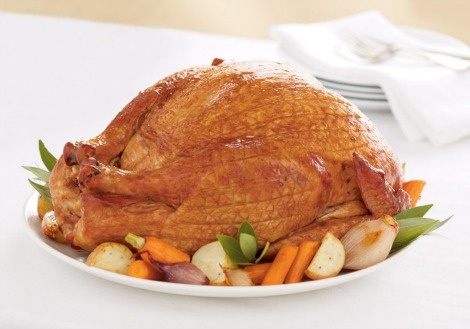 Oven roasted turkey
Whether you're too busy picking up last minute gifts or decking the halls before your guests arrive, this oven roasted turkey is the perfect gourmet entree, without any hassle. It's roasted to perfection, deliciously seasoned and has a quality taste you and your holiday guests won't be able to get enough of. With classic and gourmet meat like this, next year it just won't be the holidays without it. At nearly 10 pounds, this turkey will likely be more than enough to go around — think: seconds and thirds! (Harry & David, $80).

Table rock ham and turkey buffet
This meal will surely be the highlight of your holiday menu (and your day since it comes ready to heat and serve!). The spiral sliced ham and spiral sliced turkey have been lightly smoked for a mild, delicate flavor. Deliciously seasoned and a quality taste you won't be able to get enough of. With classic and gourmet meats like this, next year it just won't be the holidays without them. Your party guests will definitely be trying to secure their seat at your Turkey Day table for next year before the meal is even over (Harry & David, $60, serves 6 ­to 8).

Traditional fruitcake
Genuine old-fashioned flavor for your holiday gifts. The recipe is moist and spicy because it's made with generous scoops of raisins, walnuts, cherries and pineapple ­delicately spiced with cloves, cinnamon and a touch of ginger, ­ then sweetened with a dollop of real molasses. Arrives in a festive gift tin (Harry & David, $20, serves 4 to 6).

Pumpkin cheesecake
They say a picture is worth a thousand words. Mouth-watering, delicious and heavenly are just three that come to mind when we look at this picture. Premium ingredients and the exclusive Harry & David recipe make this pumpkin cheesecake extra special. This creamy, dreamy cheesecake layers original cheesecake and pumpkin together for a taste that defies description (Harry & David, $30, 3 pounds).
More easy meals
Fall squash soup shooters
Speedy weeknight broccoli and pesto pasta
5-Ingredient dinner for the busy mom