Posted: Nov 17, 2012 6:00 PM
Yes, a delicious sweet potato dish with a sweet, crumbly topping can be gluten-free! Using almond meal to create a gluten-free dish adds a wonderful nuttiness. Savory, delectable and the perfect side dish for Thanksgiving or any fall meal — you will be licking your plate clean!
The best part about Thanksgiving side dishes is the variety of flavors. A sweet side is a must to have alongside the savory ones. You'll be smacking your lips with this delicious sweet potato dish. The gluten-free nutty topping is an excellent contrast to the sweetness of the mashed sweet potatoes.
So get out that hand mixer and get ready to mash some sweet potatoes for your turkey dinner!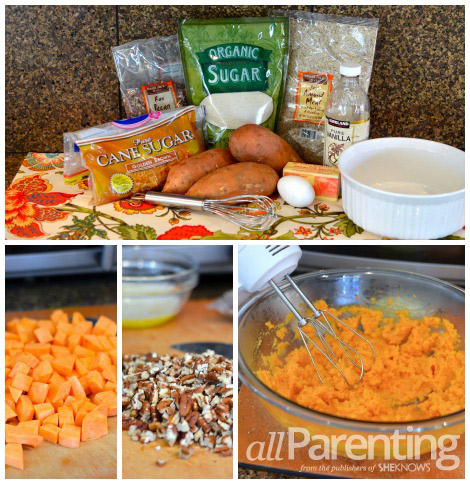 Gluten-free sweet potato souffle
Serves 6
Ingredients:
3 sweet potatoes, peeled and diced
1 egg
1/4 cup sugar
1 teaspoon vanilla extract
3 tablespoons melted butter
1/4 cup milk
Topping:
1/3 cup butter, melted
1/3 cup brown sugar
2 tablespoons almond meal
1 cup pecans, roughly chopped
Directions:
Preheat your oven to 350 degrees F. Bring a large pot of water to a boil and add the sweet potato pieces. Boil the potatoes for 20 minutes, drain and add to a large mixing bowl.
Using a hand mixer, mash the sweet potatoes until smooth. Add the egg, sugar, vanilla extract, butter and milk to the sweet potatoes. Mix altogether using a hand mixer. Transfer to a ceramic- or glass-baking dish.
In a small bowl, combine the ingredients for the topping and mix until well combined. Evenly spread the topping over the sweet potatoes.
Bake in the oven for 20 minutes or until you see bubbling.
Serve alongside the turkey, green bean casserole and your other Thanksgiving dishes!
More recipes for autumn
Fall squash soup shooters
Roasted pumpkin and crispy prosciutto macaroni and cheese
Green bean casserole with sauteed mushrooms & shallots